Spartans earn second consecutive upset, defeat No. 4 Ohio State
EAST LANSING – After pulling off a monumental upset on Tuesday against No. 5 Illinois, Michigan State was able to keep its momentum rolling with a 71-67 upset over No. 4 Ohio State on Thursday night in East Lansing. 
The Spartans didn't allow a Buckeye field goal during the final 4:46 of the game, getting clutch shots from Aaron Henry and Joshua Langford to secure another monumental win in pursuit of an NCAA tournament berth. 
Henry finished with 18 points for the Spartans, while Gabe Brown added 11 points. Langford, Joey Hauser and Marcus Bingham Jr. all scored eight points. 
"I got away from overthinking, I was just trying to win," Henry said. "Coach (Izzo) puts me in a great position. I'm really proud of our team. Guys fought tonight, played their hearts out and played together."
The victory moves Michigan State to 13-9 overall on the season and 7-9 in Big Ten play. Michigan State's three-game winning streak has moved the Spartans to ninth in the Big Ten standings.
"I did not think we played great, yet we found a way to win," Tom Izzo said.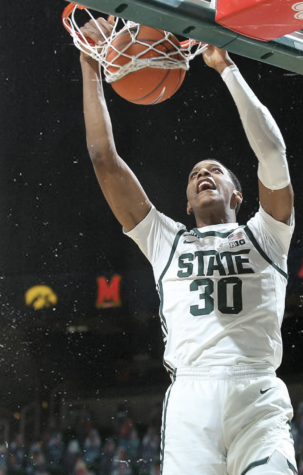 Michigan State opened Thursday's game with a hot shooting start from the field, making five of its first seven baskets in the game's opening four minutes of play. Henry, who scored 20 points in the Spartans' win over Illinois, paced Michigan State early with seven points to give his team an 11-9 lead with 15:21 remaining in the first half. 
The two teams would continue to go back and forth well into the first half, but Ohio State offered a counterpunch to Michigan State's hot start, making four straight field goals to take an 18-17 lead with just over 11 minutes remaining in the half. Grand Rapids native Duane Washington Jr. led the Buckeyes early with nine points. 
"He drove us crazy in the first 10 minutes of the game driving the ball," Izzo said about Washington's first-half performance. 
As the first half clock ticked to under 10 minutes, fouls started piling up for the Spartans, as Langford and Mady Sissoko each picked up two fouls and were forced to vacate the game. The game would still remain close, as the Buckeyes led 24-22 with 7:25 to go in the half. 
The Spartans, who continued to be plagued by fouls, picked up 10 team fouls with under four minutes remaining in the first half. But nine early points from Brown and six points off the bench from Bingham Jr. kept the Spartans within six points of the Buckeyes, 35-29, with 3:32 left in the half.
In the final minutes of the first half, Michigan State's shooting would go cold, as the Spartans carried a scoring drought of 3:05 into the halftime locker room to trail 38-33. Michigan State totaled nine turnovers in the first half, but was able to counter 56% shooting for the Buckeyes with clutch baskets to curb any potential Ohio State runs. 
Henry and Brown each had nine points at halftime for the Spartans, who showed consistent fight from the opening tip. Michigan State also had a better effort on the boards, leading the Buckeyes in rebounding and matching them with 20 points in the paint at the half.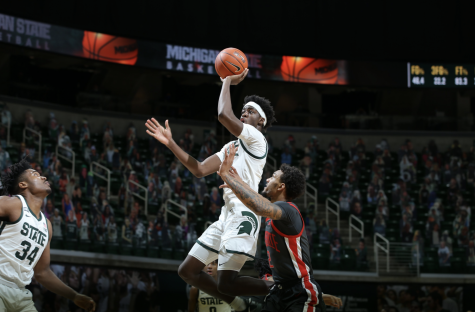 Momentum would swing in Michigan State's favor early in the second half. Rocket Watts' first points of the game, two free throws and a 3-pointer, coupled with two free throws from Joshua Langford after a technical foul on Ohio State coach Chris Holtmann, cut the Ohio State lead to 42-40 with 16 minutes remaining in the game. 
Ohio State would then respond, going on a 7-0 run to take a 49-40 lead and force a timeout from Izzo with 13:24 to go in the second half. Michigan State opened the half 1-for-9 from the field, as Ohio State cut off the paint effectively and appeared more locked in defensively. 
Henry was able to end the Buckeyes' run with a much-needed jumper, cutting Ohio State's lead to 49-42 with just over 11 minutes left in the game. Michigan State would keep fighting from there, as back-to-back baskets from Julius Marble II and Henry drew the Spartans within three of the Buckeyes, 53-50, with 7:49 to go. 
"We rode (Henry) like a horse, and he answered the bell," Izzo said.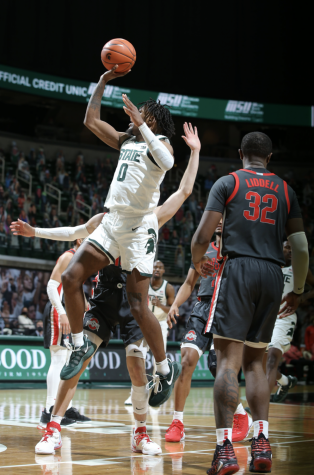 The two teams would go back and forth from there, and when a basket from A.J. Hoggard got the Spartans within two, Washington responded with a jumper from the elbow to give Ohio State a 61-57 lead with 4:46 remaining. Hauser would respond with a 3-pointer to make it 61-60. 
Two free throws from Malik Hall would then give Michigan State its first lead of the second half, 64-63 with 2:32 to go. Henry would follow Hall's free throws with a deep two-pointer to stretch Michigan State's lead to three points with one minute remaining in the back-and-forth game. 
Ohio State's E.J. Liddell drew a foul on Hauser and responded with two free throws to cut the MSU lead to one. A free throw line jumper from Langford would then grow Michigan State's lead to 68-65 with 30 seconds left. Two more free throws from Liddell then cut the lead to one again, 68-67.
With 12 seconds to go, a Buckeye foul put Hauser on the free throw line for Michigan State, and he would make one free throw to give the Spartans a 69-67 lead. After a missed basket on the other end from Washington, Langford would hit one free throw. Holtmann then received his second technical foul of the game, giving the Spartans another free throw to earn the 71-67 victory. 
"Never too high, never too low," Henry said of the team's mindset after the game. "You've got to stay even keel."
Follow Luke Sloan on Twitter @LukeSloan_7.