The Sci-Files
The Sci-Files is Impact's podcast, hosted by Chelsie Boodoo and Daniel Puentes, featuring student researchers discussing what projects they are working on. The Sci-Files is your source of the latest research happening at Michigan State University.
Check out the latest episodes below or on Impact 89FM | Spotify | Apple Podcasts
Follow The Sci-Files social media for all the latest info including any upcoming events!
Twitter | Facebook | Instagram | YouTube | LinkedIn
Questions for the show:
Have any questions for the hosts of The Sci-Files? Join any of the following episodes by submitting your questions, comments or opinions for a chance to have your question featured! Remember to submit your audio comment by 3 p.m. on the corresponding date. Please tell us your name and where you're from before your question.
Forensic Anthropology: Skeletal Analysis – May 5
Cancer Patient Care – May 19
Coronavirus and the stomach – May 26
Novae and the Milky Way – June 9
About the hosts: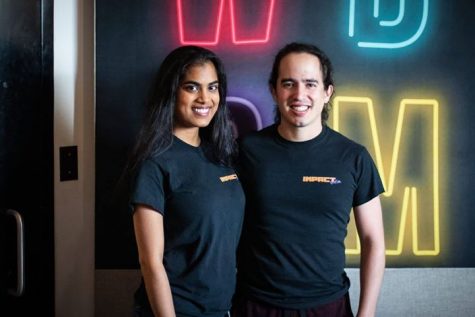 Chelsie Boodoo and Daniel Puentes co-host the award-winning Impact 89FM specialty show, The Sci-Files. Chelsie is a Biomedical Engineering Ph.D. student at Michigan State University. Daniel is a Ph.D. candidate in the Department of Physics and Astronomy, where he does research at the National Superconducting Cyclotron Laboratory. Together they explore the different topics that students research on The Sci-Files at WDBM.