The Sci-Files
The Sci-Files is Impact's podcast, hosted by Chelsie Boodoo and Daniel Puentes, featuring student researchers discussing what projects they are working on. The Sci-Files is your source of the latest research happening at Michigan State University (MSU). The Sci-Files airs new episodes every Sunday at 9:30 AM on Impact 89FM, the episodes are available as a podcast the next day.
Follow The Sci-Files social media for all the latest info including any upcoming events!
Twitter | Facebook | Instagram | YouTube | LinkedIn
Check out the latest episodes below or on Impact 89FM | Spotify | Apple Podcasts
Click here for a full description of the episodes.
Questions for the show:
Have any questions for the hosts of The Sci-Files? Submit them here or email [email protected].
About the hosts: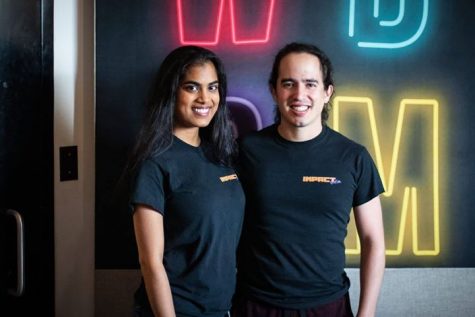 Chelsie Boodoo and Daniel Puentes co-host the award-winning Impact 89FM specialty show, The Sci-Files. Chelsie is a Biomedical Engineering Ph.D. student at MSU, where she does research at the Institute of Quantitative Health. Daniel is a Ph.D. candidate in the Department of Physics and Astronomy at MSU, where he does research at the National Superconducting Cyclotron Laboratory. Together they explore the different topics that students research on The Sci-Files at WDBM. You can follow Chelsie on Twitter at @SciWithChelsie and Daniel at @NuclearPuentes.
Science-Art by The Sci-Files: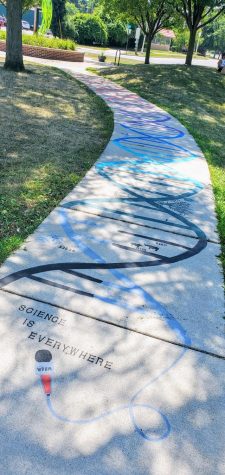 Have you seen the latest art in The City of East Lansing's Valley Court Park by Chelsie and Danny? "The Sci-Files Galaxy" is inspired by the image that Danny captured of the M81 galaxy using the 24-inch telescope at the Florida International University (FIU) Stocker Astroscience Center. Both Chelsie and Danny went to FIU for their undergraduate degrees, where they first met. Their time at the Stocker Astroscience Center strengthened their appreciation and love for science. This galaxy helps them convey that science is everywhere.
Through "The Rainbow DNA" they show that not only is science everywhere but for everyone too. On The Sci-Files, they cover a wide range of topics that everyone can understand and appreciate. The icons on "The Rainbow DNA" represent some of the episodes of The Sci-Files. Next to the icons has S to represent season and E to represent episode with the numbers next to them, so that people can find the episode they're interested in.
Use #scifiles to tag pictures you take with the art!
This project was funded through contributions by the East Lansing Downtown Development Board and East Lansing Downtown                                                                                      Development Authority.
Featured in the MSU SciComm 2020 Catalyst Virtual Science Art Exhibition.