Join Us!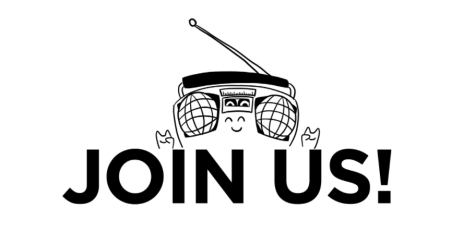 The Impact is one of the largest college radio stations in the country with currently over 200 students working or volunteering at the student-run media outlet.
Volunteer Staff Positions:
To volunteer at the Impact you must be a Michigan State University student (undergraduate or graduate) and complete the following MSU Student Radio volunteer form.
The department(s) corresponding to your interests will be notified of your enthusiasm and will reach out to you to further discuss the current possibilities within their specific department.
Below is a list of our teams of which new staff members can join, no experience is necessary and all teams are open.
Entertainment Team: The entertainment team is a group of journalists who write about music and other aspects of pop culture. Some of their content includes Spotify playlists and exposing new music through Jams of the Day.
Audio Team: The audio team creates bumpers and PSAs that play on air. They also pay a key role in recording the music for our in-studio sessions.
Media Team: Video team creates all of our promotional videos & photos as well as documents in-studio performances and concerts. Take a look at some of their work on our video page!
News Team: Our news team writes articles and produces our flagship podcast – The Undercurrent. They keep our audience up to date with current events from campus to the Lansing community to the nation, often while bringing a unique perspective.
Sports Team: Our sports team writes articles about Big Ten and professional sports. They also a number of podcasts covering a variety of sports and topics. They also specialize in live reporting on air and online.
Marketing / Street Team: The street team contributes to our marketing department by helping with our station events. They also come up with ways to unify the station through our social media, events, graphics, and so much more!
Music Review Team: Music review is a group of volunteers that debate and listen to new music. From there, staff members suggest songs to our music director to be added to our rotation.
Graphics Team: The Graphics team is dedicated to creating graphics and marketing materials to support the Street Team or station-wide marketing initiatives.
Diversity, Equity & Inclusion Committee: The Impact's DEI Committee is a dialogue-driven collaboration across our staff about inclusion, equity, and advocating for positive change – both within our workplace and MSU.
Team Meeting Times: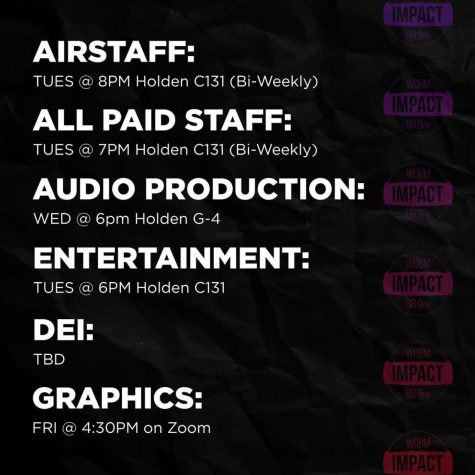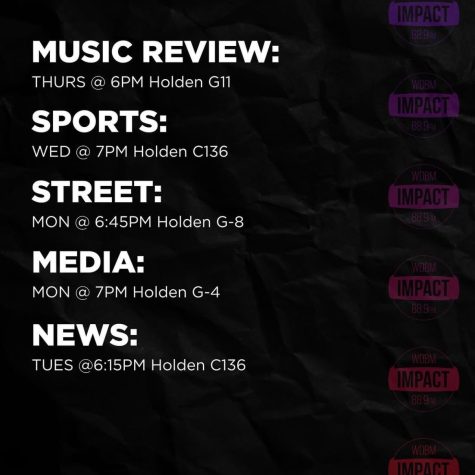 _______________________
DJs
Since we're a radio station, we have DJs! Apply to join our team and work your way up to being a live DJ on Impact 89FM. Once you're trained as a DJ, you can DJ our events. Contact our Marketing Director for more information.
We also have a variety of specialty shows covering different genres from our daytime programming. Week by week these hosts curate their own playlists to bring the audience a deeper look into genres such as hip-hop, punk, world music, and more. For more information, contact our Program Director at [email protected].
To apply for a paid student position at the Impact you must be a Michigan State University undergraduate or graduate student. Please apply for our current job openings on Michigan State University's Handshake system.
For questions or concerns, email our Operations Director at [email protected].