FINAL: Spartans upset No. 5 Illinois 81-72
EAST LANSING — To the surprise of many–except those who held out hope for some vintage late-season Michigan State basketball–the Spartans made it two wins in a row Tuesday with an 81-72 victory over the No. 5 Illinois Fighting Illini at home.
"Happy to get a win," MSU coach Tom Izzo said. "(It's a) big win because it's against a quality team who was on a seven-game winning streak."
The first half was highlighted by the Spartans' defense, holding the Fighting Illini to just 26 points. After Illinois jumped out to an early 5-0 lead, the Spartans went on a 10-0 run despite not getting their first bucket until more than three minutes in on a Rocket Watts layup.
With slow starts from leading scorers Ayo Dosunmu and Kofi Cockburn, sharpshooting senior Trent Frazier was able to keep the Fighting Illini within striking distance, dropping nine first-half points on three 3-point shots.
MSU's Aaron Henry looked like the best player on the floor in the first half, scoring at will with eight points on 4-for-7 shots while also dishing out three assists. Joshua Langford was close behind with seven points and a Herculean 10 rebounds. 
Spartan forward Joey Hauser stepped up big in the critical final minute of the first half. He hit a 3-pointer from the top of the arc and followed it up by drawing a foul on the other end under the basket. He hit the first ensuing bonus free throw and finished the half with six points. Watts also chipped in six, his entire total in the victory over Indiana over the weekend.
The Spartans took a 36-26 lead into halftime behind stifling defense, holding the Fighting Illini to 24.1% shooting while clipping at 53.3% themselves.
In the second half, the Spartans continued to build on their defense-driven lead, stretching it to as many as 19 points. A few minutes in, Langford and Marcus Bingham Jr. registered blocks on back-to-back defensive possessions.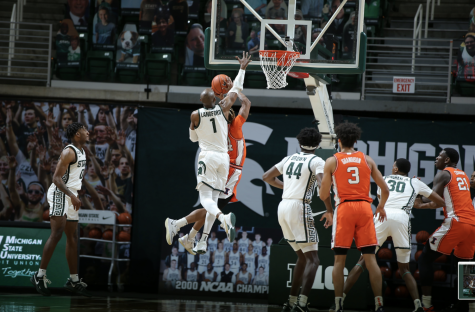 Things got a bit scary for MSU midway through the half, as the whistle started to favor Illinois. Julius Marble and Thomas Kithier fouled out within a minute of each other. The Fighting Illini began full-court pressing about 11 minutes in and trimmed the MSU lead down to as few as nine points. 
Ultimately, however, the Spartans made enough plays down the stretch to win this one in convincing fashion. Watts nailed a mid-range, fadeaway jumper with just over three-and-a-half minutes to play. Hauser also hit a 3-pointer from the top of the arc as well as some clutch free throws when the Fighting Illini tried to claw back by fouling.
Henry led the Spartans with 20 points, adding six boards and five assists. Langford finished with 15 points and 16 rebounds, notching his double-double with a healthy 16:45 to play.
"How can Josh get 16 rebounds?" Izzo joked. "That's Charlie Bell and Jason Richardson-type (of numbers)."
Watts had arguably his best game of the entire season, finishing with 13 points and five assists.
"It was really fun to see him (play well)," Izzo said. "He was really, really good in the huddles. He just kind of kept moving forward."
As for the Fighting Illini, the Spartan defense was pesky enough to hold Dosunmu to 17 points (4.2 below season average). Cockburn finished with 13 points and six boards. Frazier led the team with a game-high 22 points.
The game got chippy with physical fouls and tie-ups happening left and right, particularly in the second half. Langford and Izzo coined the game as a "street fight."
"The margin for error is really, really slim," Langford said. "Right now in the Big Ten, you're going to expect (physicality) every game."
The Spartans will look to make it three wins in a row Thursday as they welcome the No. 4 Ohio State Buckeyes into the Breslin Center. Tip-off is set for 9 p.m.
"Right now, it's great to have a win," Langford said, "but tomorrow's a new day. Ohio State is up on the clock."
Follow Trent Balley on Twitter at @TrentBalley.