EAST LANSING – On a beautiful homecoming Saturday in East Lansing, the Michigan State football team had the opportunity to recover from their blowout loss to No. 8 Washington on Sept. 16. The Spartans' struggles continued on Saturday afternoon, with a 31-9 loss to the Maryland Terrapins at Spartan Stadium. 
MSU's first possession of the game began with a turnover, as redshirt junior quarterback Noah Kim was intercepted, giving Maryland a short field. The Terrapins made it look easy, with a 1-yard touchdown pass to Sean Greeley from redshirt senior quarterback Taulia Tagovailoa to go up 7-0. 
The Terrapins controlled most of the game by going up 21-0 in the 2nd quarter and shutting down the Spartans offense with ease.
The Spartans had a season-high five turnovers in the Saturday afternoon loss, three of those coming from the quarterbacks. 
"You gotta value the football, and we do, we value ball security almost every day," said MSU acting head coach Harlon Barnett. 
Noah Kim's struggles continued against Maryland, going 18-for-33 passing, 1 touchdown, and 2 interceptions on the day. Kim's decision-making and accuracy were an issue all day long, causing the redshirt junior to be benched for redshirt freshman quarterback Katin Houser.     
Michigan State's offense struggled to move the ball down the field once again in its Big Ten opener. Despite out gaining the Terrapins in total yardage, MSU failed to take advantage of its opportunities. In the first quarter, redshirt sophomore running back Nathan Carter was stopped short of the goal line on fourth down, forcing a Spartan turnover on downs.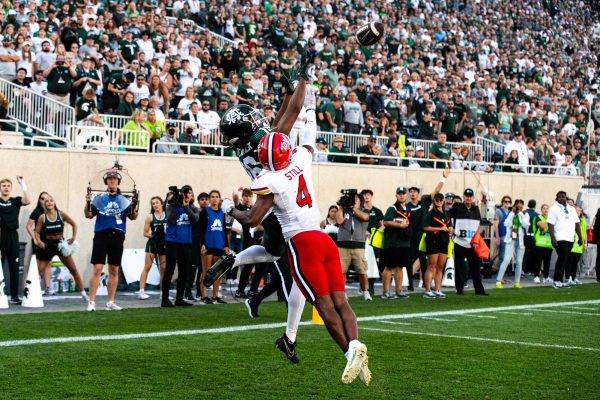 Carter finished his day with 19 carries for 97 yards.
"We can't dwell on the past, we can't change the past, but all we can do is learn from the past, " said Carter. 
Other miscues that plagued the Spartans included dropped passes, penalties, turnovers, and a lack of execution from the offense. 
 The one bright spot in another tough day for MSU football was the defensive effort. In the third quarter, defensive back Angelo Grose intercepted Tagovailoa's pass in the endzone, halting a promising Maryland drive. Defensive backs Dillon Tatum and Malik Spencer led the team with a combined 20 tackles. 
Late in the game, true freshman quarterback Sam Leavitt made a surprise appearance, going 2-2 for 9 yards. 
Despite benching Noah Kim, Barnett said there will be no quarterback controversy for the Spartans' next matchup at Iowa. 
"Noah's our quarterback, he's our guy," Barnett said. "Sometimes our guys are just trying to find a spark and trying to find something to help us get something going."
Michigan State will be on the road for the first time this season, as the Spartans travel to Iowa City to battle the Iowa Hawkeyes on Sept. 30. Matt Merrifield and Zac Slowik will be on the call from Kinnick Stadium with the SRZ pregame show starting at 7:00 p.m on WDBM.