Six Spartans shine in win over Detroit Mercy
EAST LANSING — In a game where almost the Michigan State Spartans' whole roster found its way into the scoring column, six of MSU's players scored in double-figures en route to the team's 82-45 victory over the Detroit Mercy Titans. 
The Titans' 2-3 zone defense proved to be effective against MSU in the first half, as the Spartans shot only 35% from the field. The struggle to find the bottom of the net did not last, though. MSU found its rhythm in the second half when the team shot just over 55%. 
Junior guard Nia Clouden led the Spartans once again in the scoring column, as she tied her point total from last game with 15 points, including three buckets from behind the arc. She also dished out four assists and snatched four rebounds.
Just behind Clouden was sophomore forward Taiyier Parks, who recorded 12 points while also dominating the paint by grabbing eight boards — seven of which came in the first half. Her rebound total was not the team's high for the game, however. Redshirt senior forward Mardrekia Cook concluded her performance with nine rebounds in just her second game since returning from injury.
Two guards, junior Tory Ozment and sophomore Alyza Winston each scored 11 points in the Spartan win. Ozment started the game hot with two 3-pointers made in the beginning of the first quarter.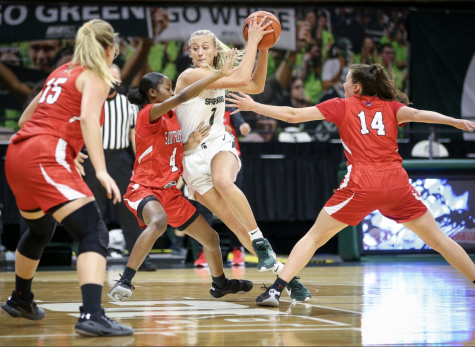 MSU coach Suzy Merchant praised her star guard's performance. 
"[Ozment] got us off to a good start, I thought," Merchant said. "Tory's really been playing well. She's just a versatile player for us — she's got the length for us to be able to do some things defensively. And then on offense, obviously, she's multi-dimensional — she gets out in transition and runs, she has a little pull-up, she can shoot the 3-ball, she's pretty decent in terms of getting that ball inside."
Sophomore guards Julia Ayrault and Moira Joiner finished the night with 10 points each. With the contribution of several key players, it's no surprise that MSU dominated in the fashion it did.
The Spartans will look to carry this win's momentum into Big Ten play as they visit Minnesota to play the Golden Gophers next Wednesday, Dec. 9 at 9 p.m.
Aidan Champion is a women's basketball beat reporter for WDBM Sports. Follow him on Twitter at @champion_aidan.