No. 8 Spartans make history, beat No. 6 Duke 75-69
The No. 8 Michigan State Spartans beat the No. 6 Duke Blue Devils 75-69 Tuesday to improve to 3-0 on the season. The win was the Spartans' first ever victory at Cameron Indoor Stadium. 
"Tonight, I'm going to smile and enjoy it," MSU coach Tom Izzo said.
The first 10 minutes of the game were dominated by the Blue Devils, and they controlled the pace of the game on both sides of the ball. MSU started its night shooting an abysmal 3-of-15 from the field and had seven early turnovers as Duke's defense seemed to have the Spartans out of sorts.
After the rough start, the Spartans proved yet again that they are an extremely deep and versatile team. Junior guard Foster Loyer came off the bench and drew two charges in a matter of minutes that seemed to get the team fired up, and after that MSU hit its stride.
Sophomore forward Julius Marble was another unexpected star for Izzo, as he scored a career-high 12 points and showed off his ability to step back and hit a big baseline jump shot, followed by a slam dunk in transition off a beautiful pass from junior forward Aaron Henry.
Izzo saw this breakout game coming. "He's been so good on the scout team," Izzo said, adding that Marble "earned it" against Duke. 
MSU went into the half on a 13-4 run that consisted of great defense and contributions from multiple players on offense, including a big 3-pointer by Loyer to tie the game. 
"Foster Loyer played like a captain and acted like a captain," Izzo said.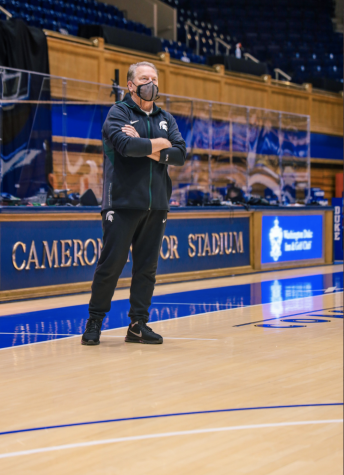 There was more of the same out of the gates in the second half. Sophomore guard Rocket Watts led the team to a 14-3 run out of the break, which allowed the Spartans to carry the momentum over the final 20 minutes. He was strong getting to the rim and finishing on his way to a team-high 20 points.
Henry proved yet again that he is the heart and soul of this team and showed how much he has matured since arriving to East Lansing. He filled the stat sheet with 14 points, five rebounds, five assists, three blocks and three steals; what might have been more impressive was his leadership in the second half. Henry could be seen standing on the sideline and actively coaching his teammates just minutes after being pulled out of the game. 
"I feel like I was (Izzo's) voice out there," Henry said of his leadership presence.
The best attribute of Izzo's team to this point has been its defense, and tonight was no exception. The Spartans held the Blue Devils to just 32% from the field and 22% from 3-point range while forcing 12 turnovers. 
"Right now we are making a statement," Izzo said. "Our defense is traveling." 
The Spartans come back to East Lansing to take on Detroit Mercy on Dec. 4 and Western Michigan on Dec. 6 before traveling to ACC country again to play No. 15 Virginia on Dec. 9.
Liam Jackson is a general assignment reporter for WDBM Sports. Follow him on Twitter at @Liamjackson1525.