MSU improves to 2-0 after blowing out Detroit Mercy 82-45
EAST LANSING — Michigan State (2-0) came into the game knowing that they needed to build upon their season-opening win over St. Francis. They did just that with a 37 point, wire-to-wire, 82-45 win over Detroit Mercy (0-3) on Wednesday night. Nia Clouden led the Spartans with 15 points and Taiyier Parks put in a near double-double with 12 points and seven rebounds. 
The Spartans started out slow in the first quarter, but Tory Ozment's two early threes helped to give the Spartans an early lead that they would not relinquish. Ozment also made some hustle plays early in the game that made an impact.  Michigan State led the Titans 21-17 at the end of one.
Taiyier Parks had a big game inside against the Titans' 2-3 zone. She put in eight points and seven rebounds in the first half, and finished with 12 points and eight rebounds. She was a force early and often for the Spartans as they slowly built upon their lead. Her strong first half helped catapult MSU to a 36-24 lead at halftime.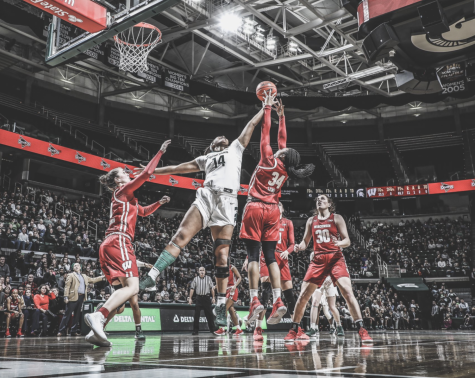 It was a slow start to the night for Nia Clouden, but she found her stride and scored 15 points for the second straight game to start her junior season.  She shot 5-for-13 on the game, including 3-for-5 from beyond the 3-point line. 
The Spartans dominated the Titans defensively and on the glass. They outrebounded Detroit Mercy, 47-t0-28 and 19-to-5 on the offensive backboard. They held the Titans to 36% from the field and 25% from three, as well as forcing 25 turnovers. Parks, Mardrekia Cook and Ayrault combined for 24 rebounds on the game.
MSU used a very balanced attack to defeat the Titans with six scorers in double figures. "I was a little surprised that we had that many because I thought we missed a lot of shots." Coach Suzy Merchant said. While the Spartans did miss 40 shots, including 19 threes, they still shot 44.4% from the floor. 
In addition to Clouden, Julia Ayrault, Ozment, Mo Joiner, ALyza Winston and Parks all scored in double-figures.  
"Assist to turnover ratio is something that we put a lot of emphasis on, so obviously we want to share the ball." Merchant said of the team's 26 assists on 32 made baskets. "But we just have to learn to take care of the ball and this was a good game to learn that because of all the trapping."
The Spartans are back in action on Dec. 9 against the Minnesota Golden Gophers (1-0)  in the first game of Big Ten play. MSU defeated Minnesota 66-54 last season. Tipoff is set for 9 p.m.