EAST LANSING – Michigan State women's soccer returned to DeMartin Stadium on Thursday evening after a victorious road trip at Minnesota and Wisconsin. The Spartans extended their winning streak to three, defeating the Maryland Terrapins 3-0 and improving to 8-2-2 on the season. 
It was a dominant effort from MSU right from the get-go, as senior midfielder Gabby Mueller found the back of the net, going up 1-0. 
"Scoring early, especially against a Maryland team that does a really good job of setting up in their mid-press and low-block, to score a goal just loosens up things," Michigan State head coach Jeff Hosler said.
MSU continued to overwhelm the Terrapins, with 25-3 shots on goal in favor of the Spartans. 
In the 15th minute, junior forward Jordyn Wickes made it 2-0 off a corner kick, connecting on the header that found the top right corner of the goal.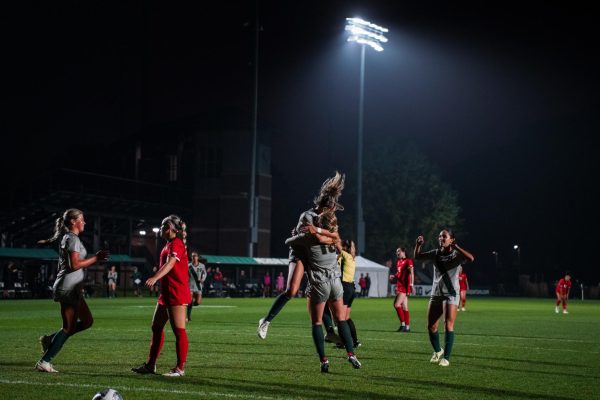 Four minutes later, senior defender/midfielder Zivana Labovic connected on another header, assisted by Regan Dalton on both corner kicks. 
Senior forwards MJ Andrus and Ranya Senhaji added goals late to put the match out of reach. 
The Spartans dominated in all areas of the pitch in Thursday evening's match, offensively and defensively. MSU currently sits in third place in the Big Ten, with a 3-0-1 record. Indiana and Penn State are the two teams above the Spartans, both with records of 3-0-0. 
Michigan State will continue its homestand on Sunday, Oct. 1, as No. 4 Penn State comes into East Lansing for a Big Ten Tournament Championship rematch from a season ago. The Nittany Lions defeated the Spartans in a 3-2 thriller in Columbus, Ohio. 
"Penn State for a long time has been the standard in the Big Ten," Hosler said. "We went 1-1 against them last year and it was two great contests. They're well coached and have a great roster with depth themselves. We want to play the best teams available, and they're the next best team, and that comes Sunday."