EAST LANSING – Michigan State football took care of business on Saturday afternoon in their second game on the season, pounding the Richmond Spiders 45-14 and improving to 2-0 on Saturday afternoon at Spartan Stadium.
With another slow start from the offense, MSU stepped on the gas with six straight drives resulting in points.
"We started fast on defense, we didn't start as fast on offense but we were able to get going," Michigan State head coach Mel Tucker said. "We just have to continue to get better, learn from our mistakes, and build on things we did well." 
After a muffed Richmond punt, the Spartans capitalized on the turnover with an 11-yard touchdown pass from redshirt junior Noah Kim to redshirt senior Tre Mosley. 
"I thought our performance was better. We showed some improvement, and that was one of the key things we focused on in practice this week," MSU quarterback Noah Kim said. "I still think there is a lot to improve on, but overall I thought it was a good win."
The second quarter  began with a 13-yard touchdown pass from Noah Kim to Boise State transfer tight end Tyneil Hopper. The sixth-year transfer scored his first touchdown as a Spartan. 
As MSU concludes play against two of its three non-conference opponents, the real test begins on Sept. 16, when the No. 8 Washington Huskies come into East Lansing.
We will quickly find out if MSU's defense improved from a season ago, as Heisman Trophy candidate Michael Penix Jr. will provide the toughest test yet this season for MSU's defense. Last season, Penix recorded  397 yards and four touchdowns against Michigan State. 
"I see a lot of communication and a lot of guys that know how to work with each other," said sophomore defensive back Dillon Tatum. "I think we're going to do very well. We have a lot of confidence and a lot of young guys. We just have to keep working."
Mel Tucker emphasized that his traditional 24-hour rule will not be in effect this week, as the team gets ready for Washington. 
"The team celebrated in the locker room. Washington is on the clock," Tucker said.  
Connecticut transfer running back Nathan Carter showed more flashes of his potential, with three rushing touchdowns on the day, including a 44-yard touchdown run. Carter finished with 111 rushing yards on 11 carries.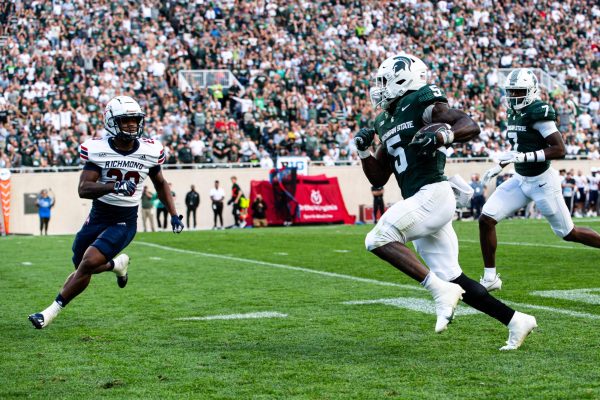 Richmond's two touchdowns of the day came off of MSU turnovers. Running backs Jordan Simmons and Davion Primm each fumbled on their carries, leading to two scores from the Spiders.
Redshirt freshman wide receiver Antonio Gates Jr. saw action late in the game, and caught his first touchdown in the green and white, with a 45-yard catch from Noah Kim, putting the Spartans up 38. 
Redshirt junior Noah Kim made his second career start on Saturday, and it was a good one. Kim finished his day completing 18 for 22 passes, 292 yards, and three touchdowns. After a sluggish first half against Central Michigan, Kim has looked calm and collected in his first two games as a Spartan. 
"He's a good player. He's got some talent. He can do a lot of things. We saw his ability to run the ball today, and he throws a really nice ball," Tucker said. 
Kim completed 15 straight throws in his outing, two of those going for touchdowns.
Michigan State will stay at home on Sept. 16, as the Spartans host No. 8 Washington for a 5:00 p.m kickoff at Spartan Stadium. You can listen to the game on 88.9 FM, with Zac Slowik and Matt Merrifield on the call.