EAST LANSING – On a night where students, children, and parents alike packed the stands of DeMartin Field, the Michigan State women's soccer team delivered on all ends of the pitch and defeated Eastern Michigan University, 6-0. The Spartans played in front of hundreds of fans tonight, including a roaring student section. Michigan State head coach Jeff Hosler voiced his delight with the students being back on campus and showing up for his team. 
"There's no question that our group fuels off the momentum and energy that the crowd brings," said Hosler. "It's so great to have the students back to bring that initial energy to campus. I think that shows in the way we played."
With two goals in two minutes from Mackenzie Anthony and Raegan Cox, respectively, MSU built up a lead inside the 15 minute mark of the match. Anthony connected on two more goals, for the first hat trick of her college career.  After a career night, Anthony emphasized the energy that the DeMartin Field fans brought tonight. 
"The amount of fans is incredible," said Anthony. "I've never been able to play in front of that many fans. It definitely gets your adrenaline pumping."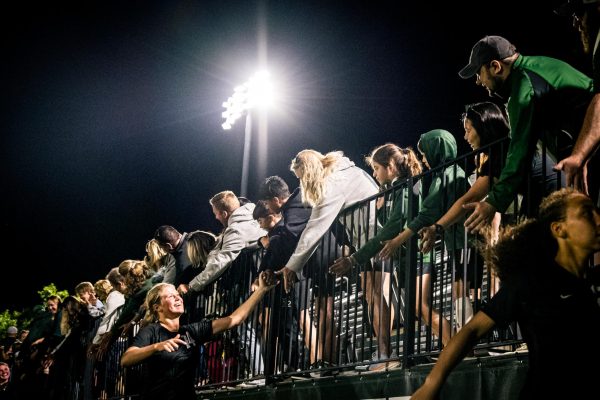 The second half was stagnant, until the 79th minute when Bella Najera scored her first goal of the season. Only a few minutes later, Sophia Piotrowski would connect on a penalty kick, to solidify this win for the Spartans and move them to 4-1. 
Michigan State will take on No. 15 Notre Dame on Sunday, marking a major test for the program this season against one of the best programs in the country. 
"Each match is a big match…But it's hard not to treat Notre Dame a little different. Tough competition," said Anthony.
The Spartans will kickoff against the Fighting Irish at 1:00 p.m. on Sunday, Sept. 3 at DeMartin Field celebrating Championship Sunday.