Michigan State prepared to restart season against Rutgers
EAST LANSING — For the first time in nearly three weeks, Michigan State is poised to take the floor for a basketball game, and it will occur Thursday night when the Spartans travel to Rutgers to restart their season. 
"We're prepared to play on Thursday, everything's a go for us on Thursday," Michigan State head coach Tom Izzo said. "Rutgers is prepared for us to play Thursday. Hopefully we'll get some people back as time marches on."
Due to numerous positive COVID-19 tests amongst players and staff, Michigan State's program has been paused since Jan. 13, one day prior to an away matchup with Iowa. The Spartans also missed games against Indiana and Illinois during the stretch.
Michigan State held its first full team practice since Jan. 13 on Monday, but Izzo did announce Tuesday that junior forward Gabe Brown and assistant coach Dane Fife are out indefinitely due to recent positive tests. 
Izzo called Monday's practice  a "great" workout and one when the Spartans could finally "get up and down a little bit."
Izzo, who tested positive for COVID-19 in November, held individual workouts with players during the pause. He worked with players one-on-one and in groups of two or three. 
"When we do individuals, he (Izzo) is never really down there," sophomore forward Malik Hall said."He definitely pushed us really, really hard. It was fun, it was a great workout." 
Since the team has returned to full practices, Izzo said he expects to have 11 or 12 players available for Thursday's game in Piscataway. 
Since August, Michigan State has had 13 of its 15 players and six staffers test positive for COVID-19. With virus concerns in the Spartan program seemingly in the rearview mirror, having games cancelled due to internal COVID-19 complications is an unlikely possibility for Michigan State moving forward. 
"We're running out of people for it to happen to," Izzo said.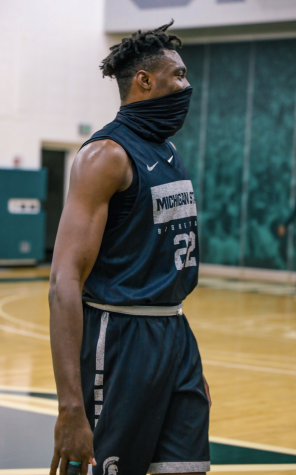 Joshua Langford, Mady Sissoko and Steven Izzo, who tested positive prior to the Iowa game, should return for Thursday's game. Brown and freshman Davis Smith, who both recently tested positive, will be out. At the front of the bench, the Spartans will remain without Fife. 
As Michigan State now aims to complete its 20-game Big Ten schedule, a number of postponed games will be rescheduled, setting up the Spartans with a gauntlet of a schedule in a competitive Big Ten conference.
"It's like you're redoing training camp, except the only difference is the other teams aren't necessarily redoing training camp," Izzo said on restarting the season. 
Michigan State has already rescheduled one postponed game, as the Spartans will travel to Iowa on Feb. 2 to make up the matchup scheduled for Jan. 14. 
But before then, Michigan State will look to complete a season sweep of the Scarlet Knights on Thursday. 
Looking ahead to Rutgers
Rutgers (8-6 overall, 4-6 Big Ten) is coming off a 74-70 upset win over Indiana in Bloomington. The last time the Spartans faced the Scarlet Knights, they came away with a convincing 68-45 victory on Jan. 5 in East Lansing. 
"They're (Rutgers) definitely on an upswing now. Big win at Indiana," Izzo said. "Two guys that had been struggling, Baker and Harper, really played well. It's a different team."
Aaron Henry led the Spartans (8-4 overall, 2-4 Big Ten) with 20 points during the first matchup of the season, as Rocket Watts and Langford both added 11 points. 
The Scarlet Knights are led by junior guard Ron Harper Jr., the son of five-time NBA champion Ron Harper Sr., who averages 18.3 points per game. Texas transfer Jacob Young, who recently moved from the starting lineup to the bench, averages 14.6 points per game. 
Preseason All-Big Ten point guard Geo Baker, who's struggled with inconsistency and injuries this season, averages just 9.6 points per game but broke out with 19 points against Indiana. He will be the focal point of the Spartans' defensive game plan.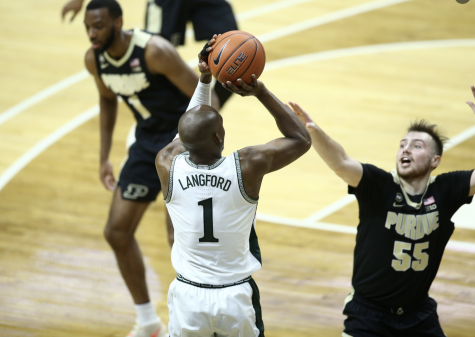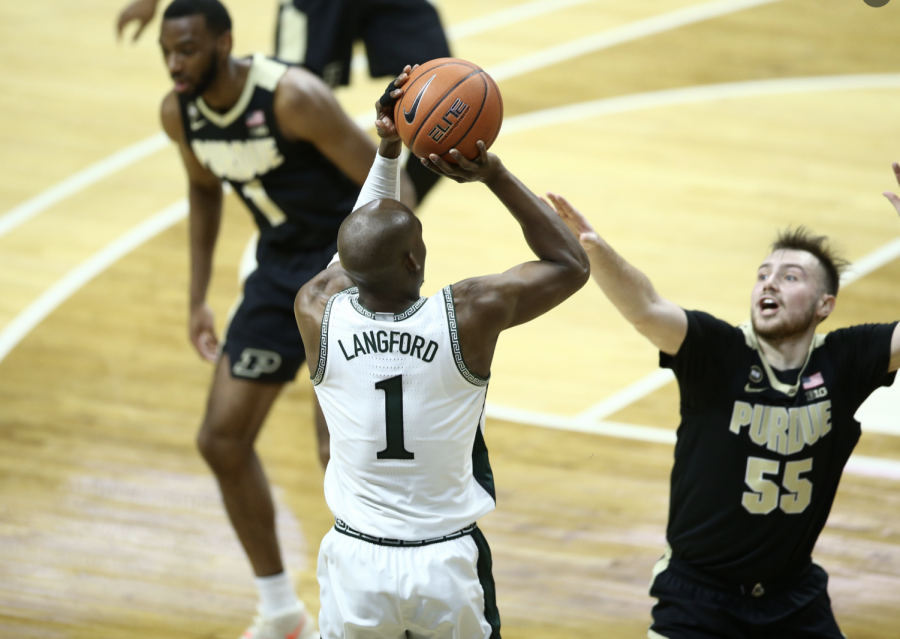 With the status of Langford against Rutgers up in the air due to conditioning concerns, Watts becomes an important player for Michigan State, and may have to join the starting lineup. Watts, who averages 9.7 points per game, has received less minutes since moving from point guard to shooting guard and out of the starting lineup.
"They've practiced hard, they've been focused," Izzo said. "How they'll respond to 20 days from playing a game, only time's going to tell."
Michigan State's depth will also be a potential key to victory, as Rutgers shoots just 57.9% from the free throw line, and the Spartans can afford to throw multiple defenders at dangerous Rutgers post players like Myles Johnson and Harper Jr. 
Prediction: Rutgers 71, Michigan State 65
Izzo has praised his team's effort in practice and mental toughness in the face of the program's pause, but having Langford and Sissoko limited while having to face a number of talented Rutgers big men and wing players is a tough task. 
The Spartans will need a heroic performance from Watts, but Rutgers has looked like a new team since head coach Steve Pikiell changed the team's starting lineup. Michigan State will compete, but won't have the needed firepower to pull off a road win.
Follow Luke Sloan on Twitter @LukeSloan_7.