Spartans earn series split with 2-0 win over Ohio State
EAST LANSING— After a demoralizing 5-1 loss in game one, Michigan State earned a split in game two with a 2-0 shutout win on Sunday afternoon over Ohio State. Forward Brody Stevens led the offensive charge for the Spartans with two points in the win.
With the win, the Spartans improved to 6-8-2 on the season and 5-8-1 in Big Ten play. The win also snapped a three-game losing streak dating back to Jan. 15. 
"The level of intensity and I talked about it last night (was unacceptable)," head coach Danton Cole said. "In terms of having battle, and skating and moving and making plays, (it was) completely different."
Michigan State started the game strong again, and they were rewarded for it. Forward Tommy Apap opened the scoring almost exactly halfway through the first period on an open look from the slot. Gianluca Esteves set up Apap, who put it above the blocker of Ohio State goalie Tommy Nappier.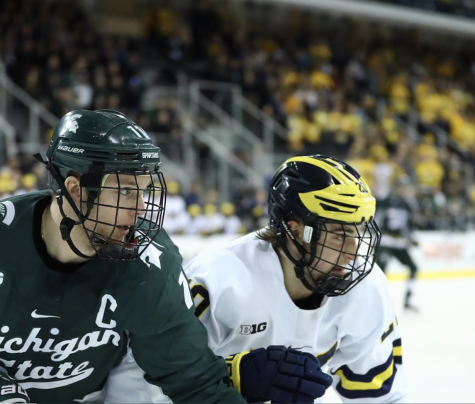 Nothing seemed to go well for Michigan State in game one, giving up 56 shots and only getting 22 shots on Nappier, but in game two, the Spartans had a much stronger game at both ends. 
The Spartans had 14 shots in the first period alone and only allowed nine shots on goal. MSU stopped chasing like it did in game one and kept the puck off the sticks of the Buckeyes' playmakers.
The middle period saw no scoring, but it was filled with special teams play. Four penalties were taken in the middle period, and the lack of scoring showcased the Spartans' biggest weakness this season, their power play offensive execution.
MSU came into tonight only going 3-for-39 on the man advantage;  the Spartans finished the night with an even worse conversion percentage. Michigan State went 0-for-5 on the man advantage to bring their season total down to 3-for-44, a  measly 6.82% clip. 
The third period saw Michigan State play a disciplined game to try and preserve their narrow lead, and it paid off when the Spartans increased their lead to two thanks to a rebound goal from senior forward Brody Stevens. After that goal, the Buckeyes pressured but weren't able to get anything past DeRidder, and as a result, MSU earned the split at home with the 2-0 victory.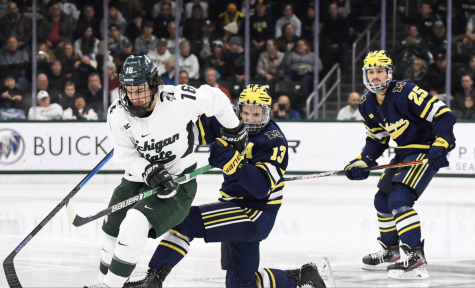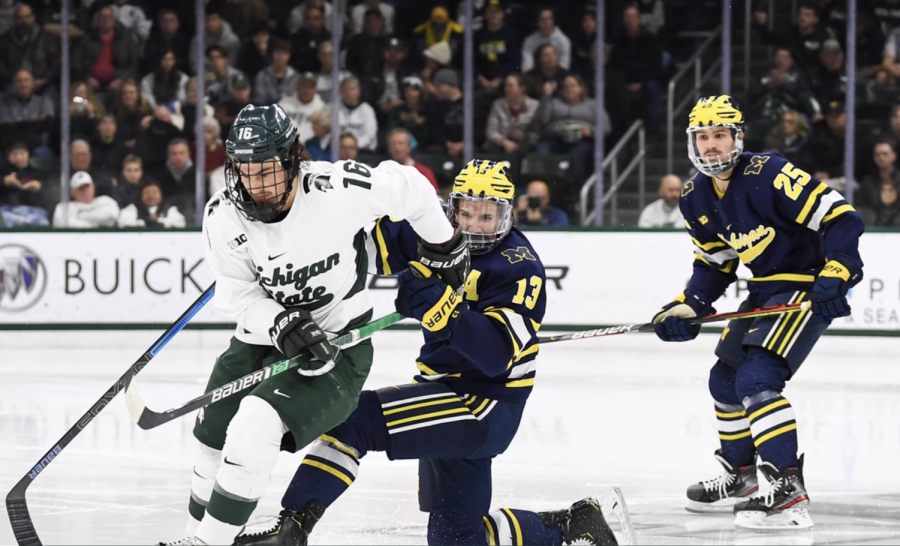 "They did a much better job today," Cole said. "They just worked harder all over the ice, and we didn't have just one guy going." 
DeRidder got his second shutout of the season after turning away all 28 Ohio State shots. This was his first shutout since a 2-0 victory on Nov. 20 against Arizona State.
Next up:
The Spartans will travel to Madison to take on No. 12 Wisconsin on Jan. 28-29. The Spartans were originally scheduled to play the Badgers on Dec. 8-9, but COVID-19 issues within the program forced both games to be postponed.
Ohio State (5-10-1) returns home to host No. 4 Minnesota, who just scored 20 goals in two games against Arizona State.