Spartans swept by dominant Wisconsin
EAST LANSING – Like so many other sports that the Big Ten Conference sponsors, the volleyball side of things is full of strong and disciplined teams from the top down. One of these conference behemoths is Wisconsin, while another solid team that is not quite at the level of the Badgers are the Michigan State Spartans.
Being part of such an illustrious conference comes with its advantages and drawbacks and depending on who you ask, playing two top-10 teams in a span of three days could be categorized as a massive opportunity or a gauntlet of difficulty. MSU would whiff on a massive upset opportunity on Friday, as they were swept in three sets by the No. 6-ranked team in the land. Service errors and poor coordination at times buried the hometown hosts.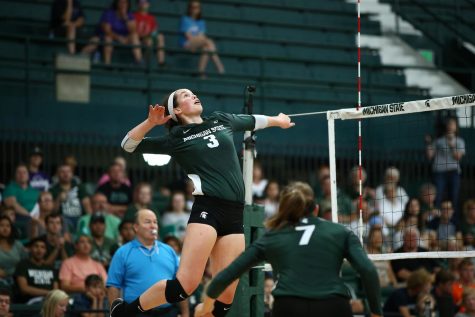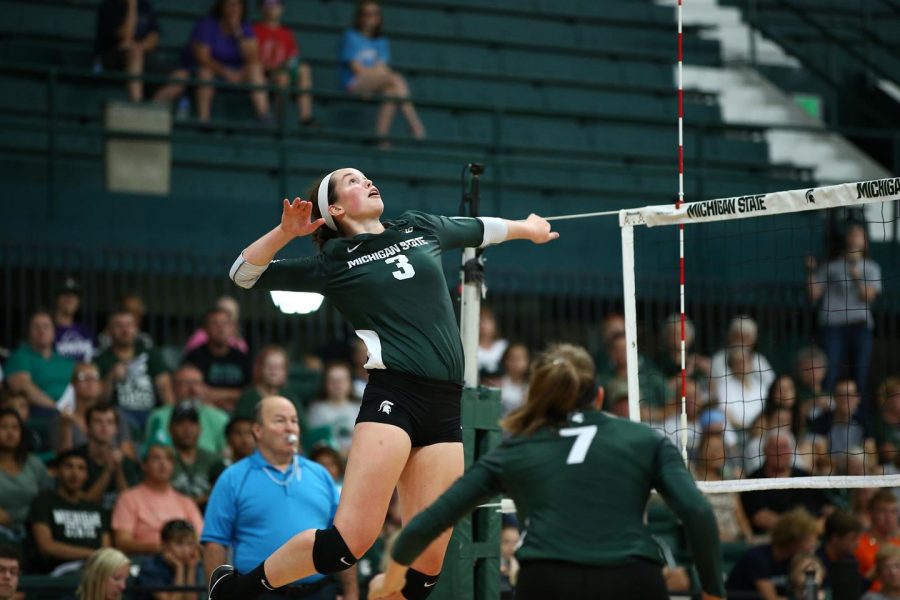 The inevitable reality of the situation on Friday was such that the Green and White would be squaring off against a superior foe which was in the midst of an eight-game winning streak. Despite strong performances in stages throughout the course of the game, the Spartans would be worn down by the perennial attacks of the Badgers en route to a 3-0 clean sweep for Wisconsin. 
After dropping contests against Marquette, Washington and Baylor early in the season, the Badgers have been on an absolute tear, winning eight straight games, including victories over highly-ranked Penn State, Minnesota and Illinois. MSU meanwhile has seemingly alternated wins and losses for the better part of a month. However, with the opening rally, all of the pregame trends went out the window. 
Behind strong play from Biamba Kabengele and Meredith Norris, the Spartans were able to go toe to toe with the Badgers for the better part of the first set. A strong performance on the front line by middle blocker Nia Gros also contributed to the early Spartan success.
Unfortunately for the Spartans, their offense would go dormant at the worst possible time. Combined with strong dig relays and attacks by Wisconsin, and the Spartans were vanquished in the first set 25-19. Syndney Hilley was a huge reason behind the late Badger run, as she collected 13 assists in that first set. 
"We came into this match with a lot of energy," said senior defensive specialist and libero Samantha McLean. "We really wanted to go after it, but we also knew that Wisconsin is the No. 6 team in the nation right now. They are a very tough team. They are a great serving team and their outsides are awesome."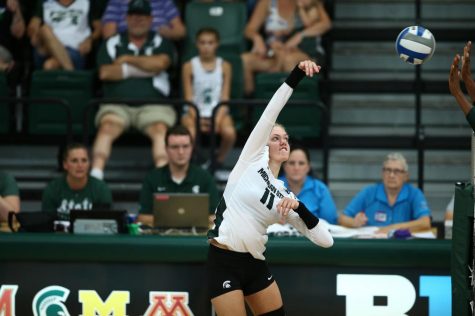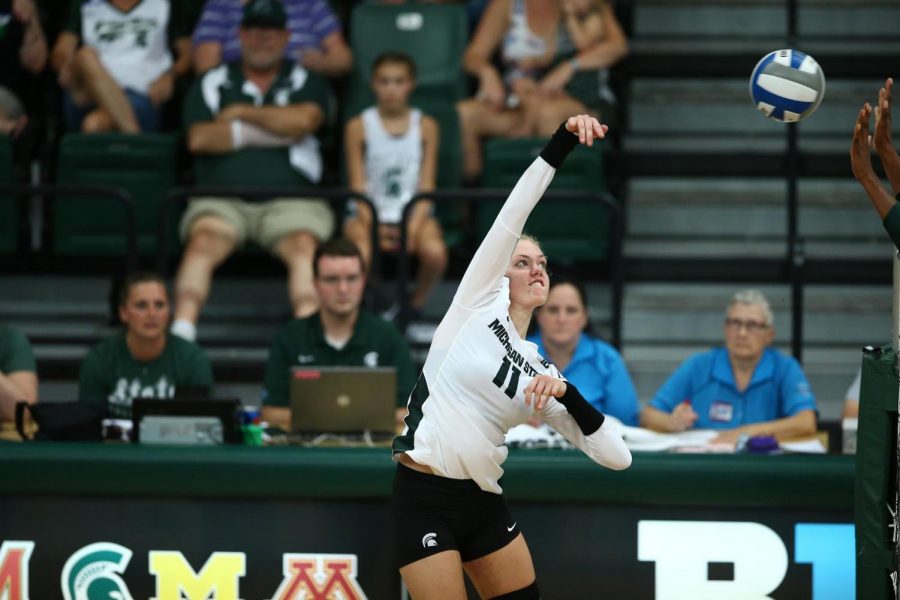 This sentiment would be echoed by teammate and outside hitter Meredith Norris. 
"We came out really strong and we scouted them really well, and then we just relaxed a little bit," said Norris. "They got a few serving runs and we just let some points go."
The second set would feature more hotly-contested action. MSU would get out to a 6-5 lead over the visitors, but just like the first set, MSU would have a hard time building on its early advantage. Wisconsin would respond with four out of the next five points that pushed the Badger lead to three. Wisconsin would keep its foot on the gas en route to an eventual 25-16 set win. Just like that, the Spartans found themselves in quite the predicament, down 2-0 as the third set got underway.
"We tried to bounce back in the third set, but it was a little too late," said Norris. 
The Badgers would be forced to fend off a ferocious rally from the Spartans in the third. MSU would make things interesting by drawing within one after falling behind 5-1 early in what would be the final set. This set and the larger game itself could be categorized by a general feeling of playing catch up for the Green and White.
Despite drawing close, they were never able to really make Wisconsin uncomfortable late in the third. MSU would find themselves down 20-18 late in the third, but again, they were unable to overtake Wisconsin. Wisconsin would go on to take the third set and the game by a final of 25-21. On the bright side, several talented underclassmen received crucial playing time against a formidable opponent. Norris touched on how important it was for the young players to understand what playing in big-time moments is like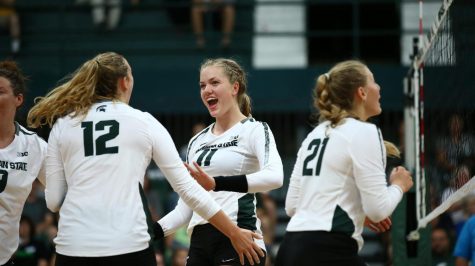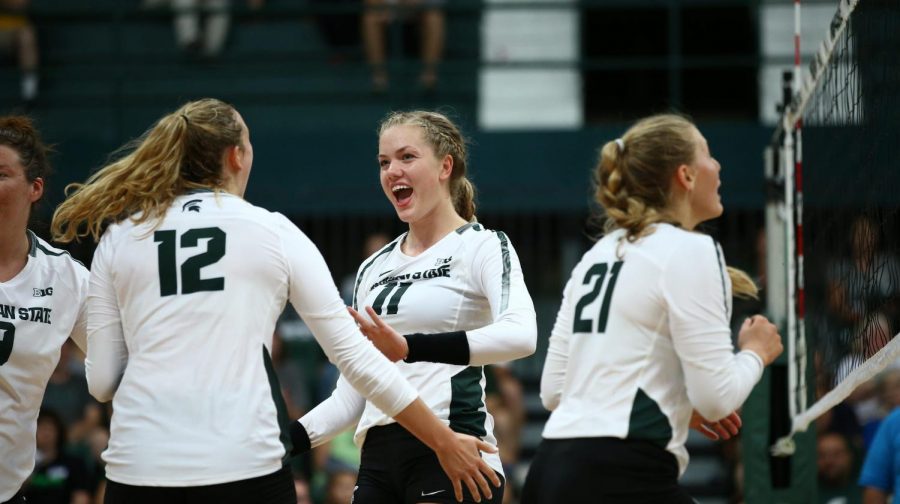 "We tried putting some of our middles on the right sides and getting some of the younger kids in," said Norris. "It was definitely a great experience for them to get out on the court and realize what Big Ten volleyball is all about."
The Spartans will be looking to draw even record wise in conference play again this Sunday, as they welcome another conference elite, No. 6 Minnesota to Jenison Field House at noon on Sunday. Like Wisconsin, the Golden Gophers have dispatched their opponents as of late, winning 12 out their last 13 contests. Minnesota's recent tear makes them that much more of a test for the Spartans.
"We've had a couple tough matches the last couple weekends, and now we have another tough match this Sunday, which is really exciting," said McLean. "We want to go after the tough teams, and we know that Minnesota is a great team as well. Our team is really good at bouncing back and sticking with the process."
Contact Nathan Stearns at [email protected]. Follow him on Twitter @NathanStearns11.