Michigan State Volleyball Falls to No. 3 Nebraska 3-0
EAST LANSING, MI – Michigan State lost in three sets to No. 3 Nebraska at home Thursday. Coming into this match MSU was coming off a loss at No. 13 Penn State while Nebraska was coming off five straight Big Ten wins. Nebraska has become a force to be reckoned with all season as it's off to a 13-1 record to start the season. Michigan State, too, has had one of its strongest starts since 2012 starting this season 6-0 under its new head coach Leah Johnson. 
In their last meeting on Sep. 23, the Cornhuskers swept the Spartans in a 3-0 match. Thursday's meeting resulted in the Cornhuskers taking the match 3-0, again, but the Spartans would not go down easy. 
"I think we were a better team in sets one and two than we were the first time around," said Johnson. "I thought we neutralized Nebraska in a lot of ways and that's been progressing for us."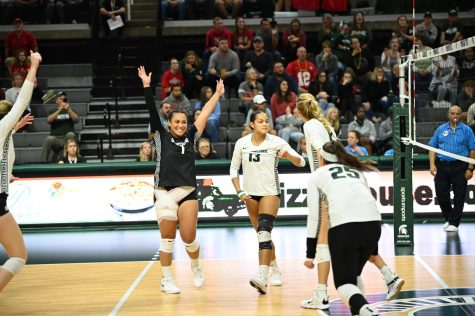 In the first set of the match, Michigan State trailed Nebraska the entire set but was still competitive. The Huskers benefited from various errors in this set by MSU. The Spartans tallied three service aces in the first set, two of those aces were earned back-to-back from freshman defensive specialist Jayhlin Swain. However, MSU lost the set, 25-19, to Nebraska with a service error. 
During set two, MSU had new aggression in its play. The energy rose in a packed Breslin Center that showed up to support Johnson and her team's battle against the No. 3 team in the country. The Spartans and Huskers remained neck and neck the entire set. 
"We were effectively in control of set two… We fought hard," said Johnson. On the other side, Nebraska continued its dominant play and clean kills. There were multiple extended rallies in this set and almost all of them favored the Huskers. Nebraska took set two and was poised to win the match but the Spartans gained momentum with their effort in the second frame.
All Michigan State momentum was immediately zapped in set three. Nebraska instantly dominated and racked up points quickly. "They had arms and all six positions attacking at certain times," said Johnson. Nebraska dominated the third set, winning decisively 25-9.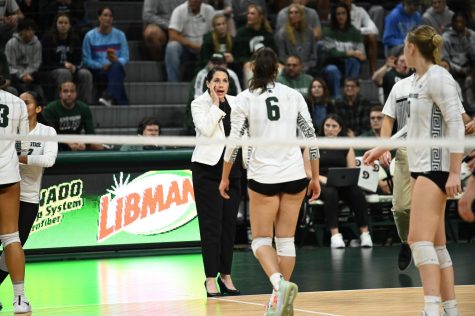 While it may have been demoralizing for MSU to remain competitive in the first two sets only to get decidedly shut down in the final set, Johnson understands the situation. This is a program building from the ground up and nights like Thursday are necessary to complete that process. "This is a team that has to go through these moments and so it doesn't scare me at all," said Johnson.
The Spartans will continue Big Ten Conference Play at home against No. 11 Minnesota  Sunday, Oct. 9 at 2 p.m.