Former U.S. Ambassador to Ukraine headlines webinar hosted by Michigan State amid Russian-Ukraine War
EAST LANSING – Former U.S. Ambassador to Ukraine, William B. Taylor spoke in a virtual event hosted by Michigan State on March 3.
The event was hosted during the same week as a student rally on campus. The virtual webinar was facilitated by the MSU Ukrainian Student Organization in association with the Center for European, Russia, and Eurasian Studies (CERES).
Taylor presented significant insight based on his experiences and the events happening during the last few months, describing it as a modern-day "David and Goliath" situation. Progress has been slow for the Russian troops despite amassing an estimated 190,000 troops around the Ukrainian border.
He also shares the viewpoint, Putin doesn't understand Ukraine in the first place. Putin has this idea of what Ukraine used to be, and this miscalculation is one of the reasons why Russia has struggled to gain control of Kyiv. Putin's impression was that he would be welcomed with open arms, viewed as a liberator.
The Russian people are also in disagreement with the actions of their government, with most soldiers not understanding what they're fighting and dying for. Over 4300 Russians were arrested by police due to anti-war protesting, going against the state narrative.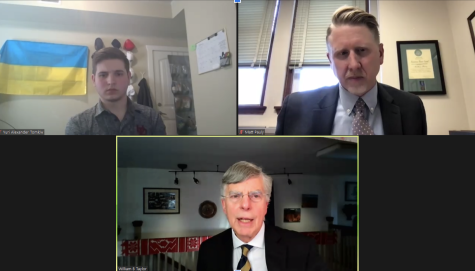 One question asked was about whether a no-fly zone would be created. Taylor shared that even though one was made for Iraq, one can't be established as of now over. If Russian pilots were shot down by NATO forces, it would likely spark a war between the two entities.
However, one strategy that was offered by Taylor was countering the jamming signal that Russia is using against the Ukrainian Air Force to provide support in that respect.
Coincidentally, later that day, the Zaporizhzhia nuclear power plant was attacked before being seized by Russia, renewing calls for a no-fly zone by Ukrainian officials. The shelling sparked a fire in a training area.
Taylor also shared that there's really not much Putin could do to save face after initiating a premeditated invasion of this sovereign nation. 
"He's boxed himself in. This is the result. There's one man responsible for all of this, and that's Vladimir Putin."