Rally held to show solidarity with Ukraine held at Michigan State
Michigan State students hosted a rally on Tuesday, Mar. 1  in solidarity with Ukraine called 'Spartans Stand with Ukraine.' Students, staff, and citizens from around the Lansing area came together to hear the words of Ukrainian students.
Since the Russian invasion of Ukraine began, the regional city of Kherson was the first major city to fall under Russian control on Wednesday, Mar. 2nd. Citizens have since protested against their Russian occupation. 
Russians have been protesting the invasion due to the harsh impact of sanctions on their economy. Russia isn't the only place seeing these protests, however.
Andrew Haftkowycz was one of the main speakers at the event near Demonstration Hall on the campus of Michigan State. Haftkowycz is a first-year law student at Michigan State.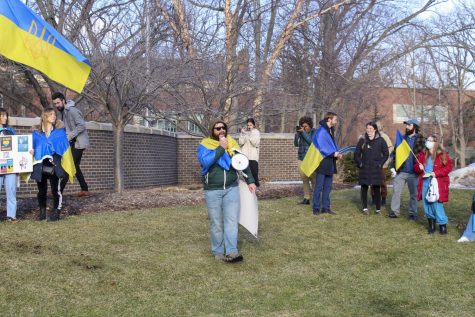 "This is an attack on democracy," Haftkowycz said. "When you see democracies being compromised, then systems break down. Many people don't want to think this is an American problem; they think it is a Ukrainian problem. But the thing is that the threat of democracy there, whoever wins or loses, dictates what the next 20 years will look like in that region, in the regions around it. These things all have ripple effects."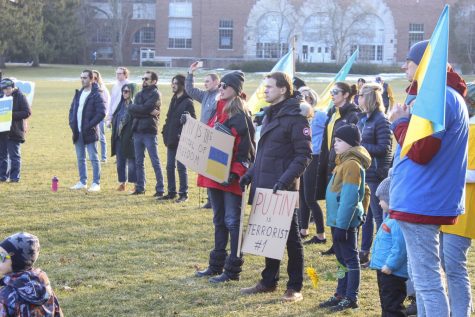 The invasion sparked a massive exodus of Ukrainian citizens from the nation, except for men between 18 to 60 years old who were banned from leaving the country. Over 1 million Ukrainian people have crossed the Ukrainian border after being displaced by the Russian invasion as of March 7. Nearly half of them have left for Poland, while others went to Romania, Slovakia, Moldova, and Hungary.
"Democracy being compromised anywhere is democracy being compromised everywhere because it is an idea. It is a system that has given us America, that has given us the west, and Vladimir Putin doesn't think that's a good thing, and Vladimir Putin thinks a genocide of Ukrainians is a reasonable way of getting there," Haftkowycz said.
Haftkowycz led a spirited chant popular in Ukraine. He began the chant by yelling, "Slava Ukraini!" This means "Glory to Ukraine." The crowd gathered was instructed to respond by yelling back, "Heroyam slava!" This means "Glory to the heroes."
Michigan State history professor Matthew Pauly spoke at the event. Pauly is an expert on the history of Russia and Eastern Europe and has worked and studied in that area of the world for an extended period of time.
"I would say that today, we are all Ukrainians" said Pauly.