Positive point guard play propels Michigan State past Penn State
EAST LANSING, Mich—Michigan State leaned on the play of its guards to defeat Penn State 80-64. After a windy night and early morning, many parts of East Lansing were left with no electricity. Breslin Center was not one of those places. 
A loud and engaged crowd was involved from the beginning of the game and kept it up throughout. 
Historically, Michigan State has been dominant at home against Penn State and there was much more of the same today. The Spartans improved to 26-2 all-time as the home team against the Nittany Lions. 
Early on, Gabe Brown and Marcus Bingham Jr. were key players for the Spartans. Bingham opened the scoring with an elbow jumper. Bingham collected another double-double with 13 points and 12 rebounds .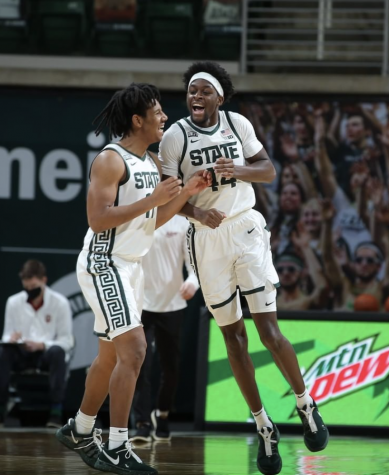 Brown hit a three from the wing in transition where he has countless times before. Soon after, Brown flew above the rim to hammer down a dunk in transition as MSU wasted no time pushing the ball after a made basket on the other end. He also finished with a team high plus 19.
Head coach Micah Shrewsberry is in his first season at Penn State, but there is a lot of experience in the starting lineup. The junior Seth Lundy is the only non-senior that starts and he was the straw that stirred the drink for the Nittany Lion offense. 
Lundy showed an impressive bag of moves on the offensive end. He bullied MSU defenders to get to the paint and finish. He also showed some finesse by hitting fall-away jumpers from the wing and baseline. Lundy would finish with 18.
Jaden Akins grew up dreaming that he would one day be able to lace up for the green and white. The freshman has taken full advantage of the opportunity and has basically forced Tom Izzo to include him in the rotation. "He's just a fun kid to coach," said Izzo. "He can take it, he understands it. "
Akins continued to impress and made two of his best plays of the season in this game. Both were in the fast break. The first was a no-look pass from the wing to Bingham who had an easy dunk. The encore was after a Penn State turnover where he was able to leak out and get ahead of the Nittany Lion defense. As he soared through the air, the crowd held their collective breaths. When Akins finally finished his attack on the rim, the crowd exploded and reached noise levels that would not be matched all evening.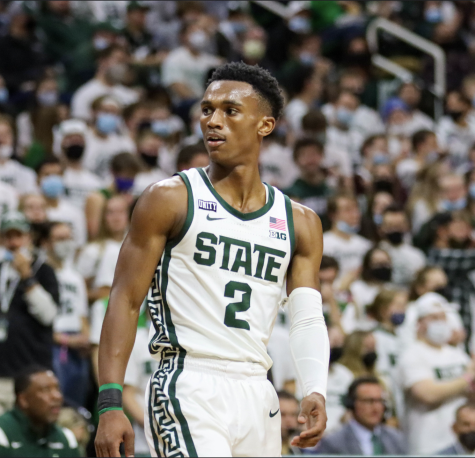 Not to be outdone, Tyson Walker and A.J. Hoggard handled their duties in the guard role as well. Walker has been a pest for opposing point guards all season and today was no exception. Walker had three steals and was in the passing lanes the entire game. On offense, Walker was the motor as he collected nine assists compared to only one turnover.  
Penn State had a very tough time defending Walker and Hoggard when they were able to get downhill and attack the basket. Hoggard especially caused problems with his size and strength. 
The transition game took a toll on the shorthanded Penn State rotation. MSU outscored Penn State in transition 31-3. Shrewsberry said that he needs to do a better job preparing his team for the speed at which MSU pushes the ball next time. "The basketball gods don't reward you for not getting back on defense," he said.
Michigan State has two non-conference games on the schedule next before Big Ten play resumes. MSU plays Oakland in a neutral site game at Little Caesars arena on Dec. 21 and High Point will travel to East Lansing on Dec. 29.