Putting the tender in tenderpunk | The Sway by illuminati hotties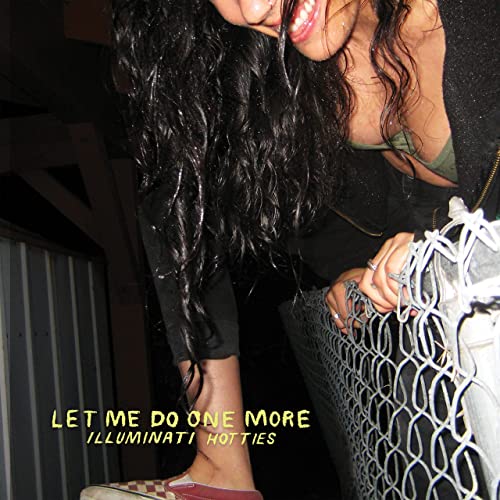 "If you're not laughing, baby, then you're not making money," Sarah Tudzin cackled on "Mmmoooaaaaayaya," the aptly-titled lead single for Let Me Do One More, the newest release from her solo project illuminati hotties. Now that the album is out, it's clear Tudzin is rolling in it. Whether she's having Big Thief guitarist Buck Meek play cowboy on a campy spoken-word outro or "toasting a pop tart and thinking of you," Tudzin is laughing her way to the bank, so to speak. 
After establishing her idiosyncratic brand of tenderpunk — as Tudzin terms it — on 2018's Kiss Yr Frenemies, she has since made a reputation as a whip-smart provocateur and prankster. Take it from the first song on her label-evading FREE I.H: This Is Not the One You've Been Waiting For mixtape, titled "Will I Get Cancelled If I Write a Song Called, 'If You Were a Man You'd So Be Cancelled," and its first line: "Let's smash to a podcast."
Elsewhere, Tudzin flashed her sensitive side with tracks like "For Cheez (My Friend, Not the Food)" and "Reasons 2 Live." While she's never been one to flinch at ugly emotions and scathing confessionals, Tudzin always managed to keep a quip up her sleeve and a barrier of irony surrounding her.
That is, until "The Sway" came around. The climax of Let Me Do One More, it's Tudzin's most vulnerable track to date. She's uncharacteristically soft-spoken over spacey trills, tinkling percussion and an easy-going acoustic guitar. "The Sway" winds up into a signature illuminati hotties pinnacle as walls of noise close in and Tudzin lays her heart on the train tracks.
By all but abandoning illuminati hotties' tongue-in-cheek demeanor, Tudzin paints an affecting portrait of disconnected romance. "You think you could love me through the sway," she observes plainly. The song is full of cutesy imagery like splitting a 12-pack of Modelo and twirling a vape in your fingers while your partner sleeps beside you. 
But that's not to call the song a feel-good love story. It culminates in abandon and receiving less than you bargained for:
"And when you fell from my mouth/
Crashed on the corduroy couch/
You couldn't bear to bring me/
Downstairs in the morning."  
At the heart of the track is a subtle meditation on the transactional qualities of love and whether two people can make a whole. "Made sense to get your confidence polished with me," Tudzin reflects with a shrug. Surprisingly, Tudzin is not combative or facetious about this, but sincere:
"Had some discourse on the nuance and confusion 'bout the/
Difference between your lovers and your muses/
I can't help the way that I've been cruising, oh, but/
Please share all your stains and bruises with me."
Like any true jokester, it appears that Tudzin has reached the point where she feels she's finally had enough laughs to allow herself a watershed moment of vulnerability. If she hadn't already, Tudzin has truly put the tender in tenderpunk.