Langford, teammates' faith prevailing in midst of injury news
Trent Balley, Men's Basketball Beat Reporter
October 22, 2019
EAST LANSING – An emotional Tom Izzo stepped to the podium on Tuesday to announce that his senior guard Joshua Langford would miss substantial time due to a left foot stress reaction. Langford was sidelined just 13 games in during the 2018-19 season when the injury first took place, and now he has reaggravated it. Izzo stated that he'd be reevaluated in January.
Despite the upsetting news, Langford is standing tall, remaining positive and continuing to work hard. And he attributes it to one thing only: his faith in God.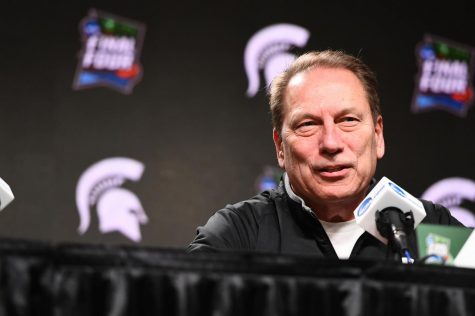 "The Bible says God can do exceedingly abundantly above all we ever ask or imagine," Langford said. "Whatever God's plan is for me, it'll happen. If I come back and play — if I do or don't — I'll stay in my faith and be grateful for many things."
The Bible verse that Langford alluded to is Ephesians 3:20, which states: "Now to him who is able to do immeasurably more than all we ask or imagine, according to his power that is at work within us" (New International Version).
Several of Langford's teammates echoed the positivity and gave the glory to God as well.
"Josh and I talk every day about Jesus and God, and just being yourself," sophomore forward Gabe Brown said. "If there's one thing he's always told me, it's to never take a day for granted. People plan for the next day but don't get to see it, so never take anything for granted, and always be there for everybody."
Langford's fellow Spartans sure have been there for him, as he pointed out very adamantly. 
"The family atmosphere that Michigan State promotes gets you through certain situations and adverse moments," Langford said. "When a brother is going through something that may be a down moment, you lift your brother up. I think our family environment, our chemistry off the court, the way that Michigan State basketball players mesh together… it's definitely helped me because my teammates have been there for me."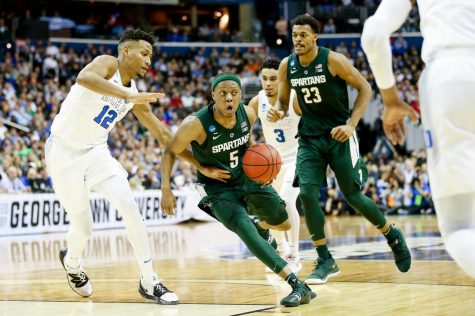 When asked about the faith of the team as a whole, senior point guard Cassius Winston credited it as a vehicle to help Langford endure the unfortunate setback.
"We don't necessarily go into how deep each person's religion is," Winston said of his team, "but just the sense of knowing that everyone's here for a purpose, everyone has their reason for being together, everyone has their reason to be in each other's life. With those types of things, you can make an impact on the person next to you."
Michigan State basketball alumni and graduate manager Lourawls "Tum Tum" Nairn Jr. also stated that faith is "definitely" something that strengthens the brotherhood of the team. He even had a special Bible verse to offer his friend and former teammate.
"Psalm 34:19 says the righteous man may have troubles, but the LORD delivers him from them all," Nairn said.
The No. 1-ranked Spartans will surely miss their star on the court, as Langford was averaging 15 points per game before injury a season ago. However, they will not have to bat an eye about his leadership subsiding whatsoever.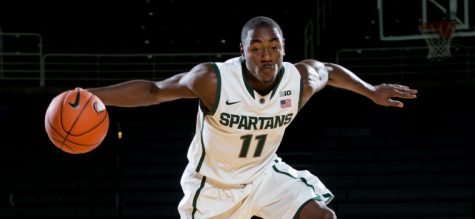 And if he's ready to lace them up again in January, it will be prime time for Izzo's Spartans to really gel ahead of the Big Ten tournament and of course the NCAA Tournament.
Regardless of physical condition, Langford knows that God will take excellent care of him. When asked about a Bible verse that came to mind when doctors gave him the injury news, he chose Romans 8:28. 
It states: "And we know that in all things God works for the good of those who love him, who have been called according to his purpose." (New International Version).
"It doesn't say some things or a few things, it says ALL things," Langford highlighted. "So no matter what you go through in life, if you're in Christ, all things will work together for your good."
Contact Trent Balley at [email protected] Follow him on Twitter at @TrentBalley.