Behind masterful performance from Powers, Spartans down Boilermakers 5-2
EAST LANSING— Behind a sensational outing from freshman pitcher Nick Powers and a three-hit, three-RBI day from shortstop Zaid Walker, Michigan State downed Purdue in the first game of the mini two-game series to get back above the .500 mark.
The win was the Spartans' third in their last four games. The Boilermakers, meanwhile, dropped their third game out of their last four and fell to 5-15 overall.
Senior outfielder Bryce Kelley broke the Michigan State stolen base record with his 80th career swipe in the bottom of the first inning. Kelley, who broke former outfielder Anthony Cheky's record, had two walks and one RBI on the day.
Meanwhile, on the mound, Powers was nothing short of fantastic on the bump. As a result of pitching 7 ⅔ innings of one-run ball, Powers improved to 2-1 on the season and saw his season ERA drop to 3.34. He also allowed six overall hits and struck out seven batters against the Boilermakers. The seven strikeouts and 7 2/3 innings of work were also both career-highs for Powers.
The Spartans cracked the scoreboard in the first inning with a two-run RBI single from Walker. An inning later, Kelley walked with the bases loaded to force in a run. Purdue starting pitcher Jackson Smeltz couldn't make it out of the third inning as he yielded five walks, three hits and three earned runs in 2 ⅓ innings of work.
Smeltz was charged with the loss and saw his season record drop to 2-1.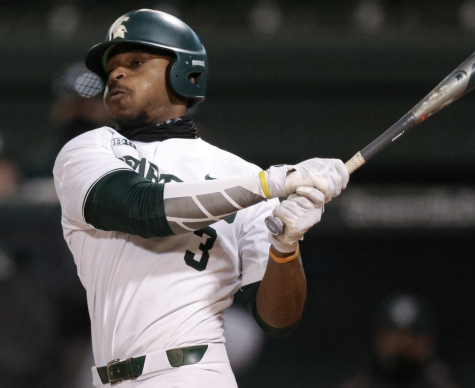 Purdue catcher Steve Ramirez was able to make the game interesting in the fourth inning when he singled in outfielder Mike Simington to trim the Spartan lead to 3-1.
The Boilermaker offense wouldn't cash in another run off of Powers, and RBI singles from infielder Mitch Jebb and Walker in the seventh inning would extend the MSU lead back to 5-1.
Junior Zach Iverson came into the game in the ninth inning and gave up a run but was able to earn his sixth save of the season.
With the win, the Spartans improved to 11-10 on the season and will be back in action tomorrow at 3:05 pm to finish off the final game of pod play against Purdue.