Four takeaways from MSU's loss to Iowa
INDIANAPOLIS 𑁋 Michigan State lost to Iowa by a score of 87-72 in a fast-paced, action-packed semifinal game in the Big Ten tournament. Here are some key takeaways from the game:
Nia Clouden continues to dominate
Clouden has put up totals of 18, 30 and 24 points in three games this tournament. She had 14 points on 6-of-8 shooting in the first half and finished the game with 24, picking up right where she left off last game versus Indiana, when she dropped a 30-bomb on a Hoosier team that is second in the Big Ten in scoring defense. She has been the Spartans' No. 1 scoring option all season, but has taken it to another level these past few days. 
After the game, Clouden gave some insight on what has motivated her throughout the tournament.
"I think what motivated me was to just try and win the Big Ten tournament," Clouden said. "I feel like it was a good opportunity for us. We hadn't really won a big game yet, and we were able to do that yesterday. We came up short today, but that was really the main motivating factor for me."
Clouden did not get a lot of scoring help today though, as Moira Joiner and Kendall Bostic were the only two other Spartans in double figures. When going up against an offensive machine like Iowa, you'll need a little more than that to pull off the victory.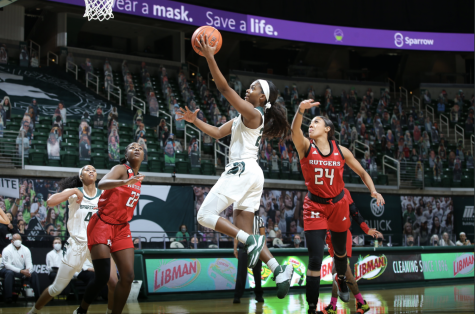 The second half killed the Spartans
Michigan State was up by one point at halftime, 41-40. But as we'll dive into later on, the Hawkeye offense proved to be too much for the Spartans. They were outscored 47-31 in the second half, and a big part of that was Iowa's ability to get to and convert at the foul line. Iowa shot 19-of-21 from the charity stripe on the game and went 13-of-14 in the second half. 
Despite the loss, MSU is playing their best ball right now
In this tournament, Michigan State has gone against youth, experience, great offense and great defense. Earlier in the season, it struggled mightily with consistency, especially on the offensive end. But during the madness of March, there is one goal: survive and advance. 
MSU has come into each game with a specific game plan. Against Penn State in the first round, it was to get it to the hot hand, whether it was Alyza Winston (23 PTS), Clouden (18 PTS) or Joiner (13 PTS). Against Indiana, it was to use ball movement to get Indiana moving on defense and force its star players to foul. Versus Iowa, it was to get the ball out of Caitlin Clark's hands and try to keep up with the No. 2 scoring team in the conference. 
Unfortunately Michigan State fell short, but coach Suzy Merchant thinks this experience will really help the team come March Madness.
"To kinda get this opportunity here to get [to] survive and advance a couple times, to be close then to not be able to go into this championship game is frustrating," Merchant said "Hopefully it's something we can think about, and if we don't want that to happen, then you know, we gotta at least go down there in Texas and kind of get our minds right."
Spartans could not keep up with the Hawkeye offense
Coming into the game, Caitlin Clark led the nation in scoring at 27.2 points per game. After Clark only scored six points in the first half, she scored 14 in the second. It's tough to keep a player of her caliber down for a full 40 minutes. It also helps when McKenna Warnock and Monika Czinano are in a groove as well, with Warnock contributing 17 points, 11 rebounds and six assists and Czinano with 27 points on 12-of-16 shooting. 
The Hawkeyes also did a great job on defense for a team that gives up an average of 81 points per game, as they turned that defense into offense. They forced Michigan State into committing 16 turnovers and scored 26 points off those turnovers. Iowa also had 24 assists on 30 made field goals with only 11 turnovers, which means the ball was moving around, and Iowa was executing on offense at a high level.  
We will find out who the Spartans will open with in the NCAA Tournament on Monday with the NCAA Women's Basketball Tournament Selection Show. The first rounds will be played March 21 and 22 in San Antonio, Austin and San Marco, Texas.