MSU vs. Michigan game set for Feb. 9 postponed
The Michigan State men's hockey program has postponed its scheduled Feb. 9 meeting with No. 7 Michigan after both schools mutually agreed to postpone the game for health and safety concerns. The one-game series that was set for 7 p.m. in Ann Arbor will be pushed back due to continued COVID-19 related issues within the Wolverines' athletic program.
Athletic activities at Michigan have been paused since Jan. 23 when five student-athletes tested positive for the more contagious B. 1.1.7 variant of COVID-19; in response, the Michigan Department of Health and Human Services recommended that the university immediately pause all athletic activities including games, team and individual practice sessions, for up to 14 days. The COVID-19 B.1.1.7 variant is thought to be 50% more contagious than the standard form of the virus.
MSU split the first two meetings this season against the Wolverines, dropping the Jan. 8 meeting in Ann Arbor, 9-0, and winning the Jan. 9 meeting in East Lansing 3-2.
In the first meeting, Michigan doubled the Spartans shooting total, 44-21. The Spartans also lost the faceoff battle 38-26 and allowed the Wolverines, who are third in the NCAA with a 28% conversion percentage on the power play, to score two power-play goals in seven attempts.
The next day, the Spartans responded well, limiting Michigan to only four power-play attempts. MSU also fared better in the faceoff category, as it only lost by a 30-28 margin. MSU's goalie Drew DeRidder, who had 28 saves in the Jan. 9 victory, also bounced back after allowing three goals in the first period of the 9-0 loss on Jan. 8.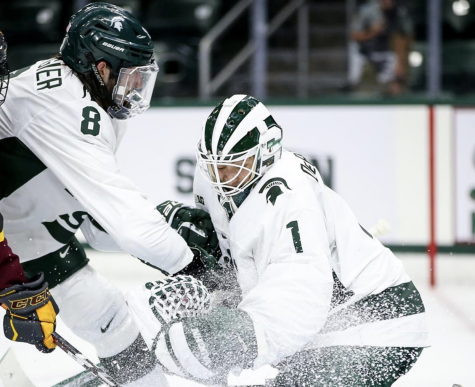 Overall, Michigan State is 6-9-2 on the season. The Spartans will host Arizona State on Feb. 14-15 in a two-game series.  MSU tied the Sun Devils 1-1 on Nov. 19 and defeated ASU 2-0 on Nov. 20.
MSU will then travel to No. 2 Minnesota on Feb. 19-20. The Spartans dropped two games to the Golden Gophers on Dec. 3 and Dec. 4, 3-1 and 4-2. They will then host Notre Dame for a brief two-game home set on Feb. 26-27 and No. 11 Wisconsin on March 5-6.
The Badgers swept the Spartans 6-0 and 4-1 on Jan. 29-30; they also tied Notre Dame 1-1 on Dec. 19 and defeated the Fighting Irish 4-3 in overtime on Dec. 20.
MSU's next game against Michigan is scheduled to be the regular season finale on March 10.