MSU suffers worst loss of season at the hands of No. 7 Maryland
EAST LANSING — Michigan State women's basketball lost its second game against No. 7 Maryland, only this time, in a much more devastating fashion for the Spartans. MSU lost 92-52 in its trip to College Park, marking its third loss of the season and in Big Ten play.
With the loss, the Spartans drop to 9-3 on the season and 4-3 in Big Ten action. 
MSU had arguably its worst half so far this season, as it committed 12 turnovers and allowed the Terrapins to make nine 3-pointers, shooting 47% from behind the arc. To make matters worse, the Spartans' star floor general, junior guard Nia Clouden went scoreless before lighting it up just before halftime.
Maryland's early full court press proved to be troubling for MSU in the first half. There were multiple times that the Terrapins stripped an inbound pass and laid it in for consecutive made buckets. 
At one point, Maryland led 17-7. From there, MSU scored just two points less than UMD to end the first quarter, but the Spartans entered the second quarter with five turnovers.
It wasn't until late in the second quarter when Clouden made her first basket with a triple. She hit a second 3-pointer on the next offensive possession, and then made four straight free-throws before intermission. She led the Spartans in scoring at the half with 10 points. 
Momentum didn't really pick up for MSU in the third quarter. The Terrapins made four 3-pointers, while the Spartans turned the ball over five times and scored less than half of UMD's point total in the quarter.
The only real positive for MSU's third quarter play was redshirt senior forward Mardrekia Cook's six-point surge within a one minute span. Cook finished the game with 11 points.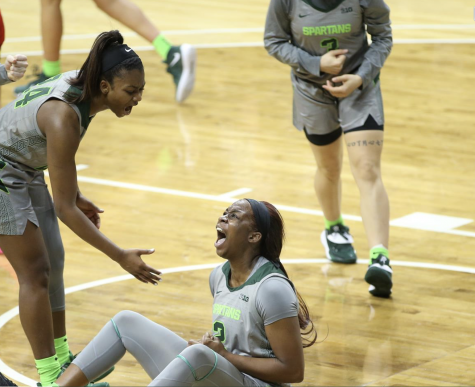 As if things couldn't get any worse, MSU scored only nine points and gave up seven turnovers in the fourth quarter. 
Coach Suzy Merchant gave credit to her team's opponent.
"Maryland's a great scoring, offensive team, so if you don't score with them or play with them offensively, you're going to be in trouble for sure," Merchant said.
Maryland's sophomore guards Diamond Miller and Ashley Owusu each scored 20 points in the Terrapins' victory. UMD made 14 3-pointers and made half its shots from behind the 3-point line.
Clouden led MSU with 15 points despite only going 3-for-9 from the floor. The Spartans turned the ball over 24 times in the contest and only shot 34% from the floor in the game.
Merchant and the Spartans will look to move on from this ugly  defeat when they face another ranked opponent in No. 16 Indiana at Assembly Hall on Sunday at 4:30 p.m.