MSU women's soccer 2021 season preview
EAST LANSING — The Michigan State women's soccer team released its 10-game conference schedule for the 2021 season on Friday. 
Coach Tom Saxton and his team look forward to the new Big Ten season after a difficult 2019 campaign, where they finished with a conference record of 1-9-1. The Spartans will travel to College Park, Maryland on Feb. 20 to open their season.
Gia Wahlberg, who scored nine goals last season, will lead the line again this season for the Spartans. Alongside Wahlberg, sophomore Paige Webber will be returning to the lineup after an impressive freshman year in which she scored six goals and tallied two assists.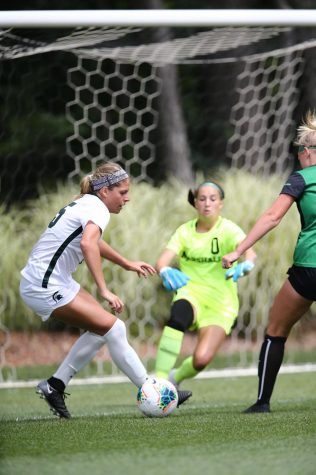 The Spartans will immediately return to East Lansing to play consecutive home games against Nebraska and Minnesota. After a thrilling double-overtime stalemate against Minnesota last season, the Spartans will be anticipating a tight matchup against a strong Minnesota side. 
Following that stretch of home games, the Spartans will be traveling for five games against perhaps the most dangerous teams in the conference including Penn State and Indiana on March 7 and 18. 
The traditional game against Michigan will be on March 13 in Ann Arbor. The Spartans will be on the hunt for revenge after a devastating 3-2 loss in last season's encounter. 
After being held winless in away games last season in the Big Ten, the Spartans will look to their veteran players, forward Camryn Evans and midfielder Bella Jodzis, to ensure victories on the road. 
The Spartans will conclude their season at home against Northwestern, Illinois, and lastly, Ohio State on April 3 at DeMartin Stadium.
Saxton looks forward to improving this season and showcasing his deep roster of young, talented players.
Luca Melloni is a soccer beat reporter for WDBM Sports. Follow him on Twitter at @mellonluca.