Michigan State defeats St. Francis 77-44 for first win of year
EAST LANSING – The Michigan State women's basketball team opened its 2020-21 season in an empty Breslin Center with a 77-44 win over Saint Francis University (Pa.). 
Not surprisingly, junior Nia Clouden was the star, but the only true freshman on the roster, Kendall Bostic, played exceptionally well and helped lead the Spartans to their first win of the year. Clouden finished with 15 points and 10 assists, while Bostic finished with 15 points and six rebounds.
Head coach Suzy Merchant now moves to 11-3 in season openers at MSU, but today was much different than any other she has been a part of. Merchant mentioned that she has implemented a different offensive system due to COVID-19 that relies less on set plays. She also added that "there are areas to improve on, but it is a good starting point."
After losing their senior leader and the program's all-time leading assist getter Taryn McCutcheon to graduation, Merchant and the Spartans leaned heavily on Clouden to carry the offensive load, and she did not disappoint. She helped lead the team to a fast start in the first quarter, where she scored seven points and tallied five assists.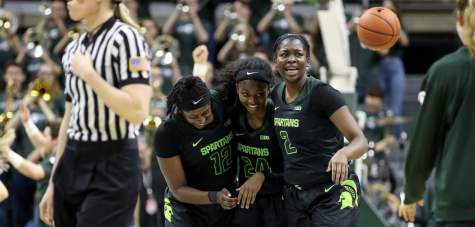 The quick start really set the tone for the rest of the game as MSU dominated in almost every phase. They shot a better percentage from the field, forced 26 turnovers, and had 25 assists to Saint Francis nine.
The Spartans took a 20-point lead into halftime and did not look back the rest of the way. After a sluggish start to the third, Michigan State began to pull away for good  and ended up winning the game by a score of 77-44. 
Clouden racked up an efficient double-double with 15 points and 10 assists in 30 minutes. It only took her 11 shots while turning the ball over one time the entire game. She controlled the pace for the offense and looked very calm with the ball in her hands. 
"It was very fun to be back out there and share the ball, " Clouden said.
Bostic played in her first collegiate game and shined on both sides of the court. She scored 15 points on only seven shots and even showed off her range behind the 3-point line, where she hit the only attempt that she took.
On defense, Bostic was communicating exceptionally well, calling out screens and double teams for her teammates. She was also able to switch and defend multiple positions, making her an extremely valuable asset for Merchant.
"Her work ethic is off the charts," Merchant said about Bostic. "She is a sponge." 
Merchant also praised her ability to play multiple positions and said that that skill is "unusual for a freshman."
Michigan State also had significant contributions from their bench. The second unit scored 33 points and was aggressive on defense when they were on the floor. Even with a lack of depth, the bench proved to be a positive.
Detroit Mercy comes to East Lansing next on Dec. 2, followed by the Big Ten opener when the Spartans will travel to Minnesota on Dec. 9.