Where The Cold Wind Blew | "Where Did You Sleep Last Night" by Lead Belly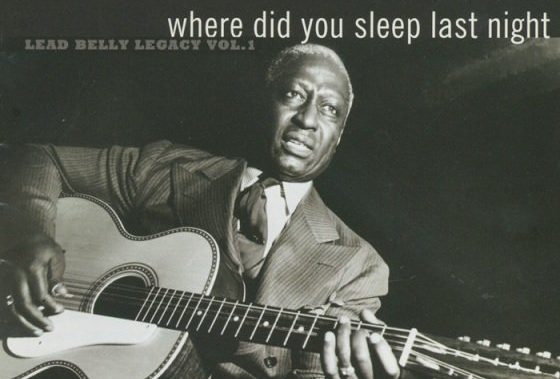 For this week's Throwback Thursday we are going way back. This American folk song is thought to have originated around the time of the Civil War, but was first recorded in the 1940's by Dock Walsh and was then recorded by Lead Belly a year or so afterwards. Lead Belly released numerous versions of the song, some sources say the final number was around half a dozen. These versions went by a mixture of names, among the most prevalent were: "Where Did You Sleep Last Night," "Black Gal" and "In The Pines". 
The blues singer brought his rendition of "In the Pines" to popularity after he was discovered by Alan Lomax, an American ethnomusicologist. During this time period, the ability to record music was relatively new, so it was very important for music scholars like Lomax to capture the recordings of many different regions and cultures. These recordings were often created for the Archive of American Song of the Library of Congress. Alan Lomax had been touring prisons in the deep south when he first met and recorded the musical talent of Lead Belly. Lomax was so impressed with Lead Belly's talents that he brought him along to perform for many different types of audiences. Lead Belly often even performed in a prison uniform, adding to his already mysterious reputation. 
Although there are many different versions of the song, Lead Belly's rendition of "Where Did You Sleep Last Night" has an incredibly sinister feel compared to performances by other artists like Bill Monroe, who framed the lyrics as more of a story of mystery and heartbreak. Lead Belly's style emphasizes the murderous and violent aspects of the song, which is very appropriate for the blues genre.
Throughout music history many artists created their own version of "Where Did You Sleep Last Night" mostly following the framework laid down by either Monroe or Lead Belly. One of the most notable performances is that of Nirvana. Kurt Cobain, having been a longtime fan of Lead Belly, performed "Where Did You Sleep Last Night" as the final song of his MTV Unplugged set on Nov. 18 1993. This chilling performance was one of his last before his tragic passing in 1994. In the video below you are able to hear Cobain speak about Lead Belly before he transitions into the performance. Cobain's take on "Where Did You Sleep Last Night" is much more somber than that of Lead Belly, but, for me at least, it brings out the same emotions.
"Where Did You Sleep Last Night" is a song of many meanings and voices. It is a story that has been told for decades, and will continue to be told for many more.