FINAL: Spartans shock Wolverines 27-24
ANN ARBOR, MI — Following a massive loss to Rutgers last week, it seemed like Michigan State would need something spooky to happen to pull off the upset against rival Michigan. 
Playing the game on Halloween worked out perfectly, as the Spartans did just that, upsetting the Wolverines 27-24. 
Michigan State started out the game moving the ball well and went up 7-0 early, thanks to a 30-yard touchdown pass from Rocky Lombardi to Ricky White. In a game that Michigan was so heavily favored, having early hope was exactly what the underdog needed. 
While Lombardi wasn't necessarily the most accurate Saturday, he hit the deep ball when needed and forced a lot of penalties on Michigan defensive backs. 
One of the main reasons for the success was White, a true freshman receiver, and his ability to make contested catches and run crisp routes. He finished with eight receptions for 196 yards and a touchdown.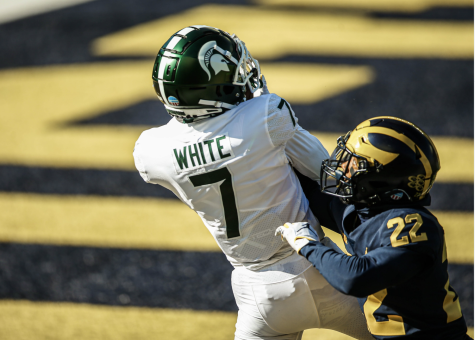 "Ricky is a player, and we have dogs all over the field," Lombardi said. "We have a lot of playmakers." 
Another one of those playmakers was Connor Heyward, who had a quality day with two touchdown catches and 13 carries for 28 yards. For being in the transfer portal at the end of last year, coach Mel Tucker has taken a liking to Heyward's skill set. 
"(Connor) has worked really hard in the weight room, been a good teammate," Tucker said. "He's been working on all the fundamentals. He's about the team, that's why he's out there. He showed that in practice." 
Converting on third down helped the Spartans move the ball and keep it out of Michigan quarterback Joe Milton's hands. Making Milton and the Michigan offense earn every yard is what allowed the defense to be successful. 
"We wanted to play complementary football. Offense, defense, special teams," Tucker said. "This is just the beginning." 
Zero turnovers for the Spartans was a nice response following the seven-turnover game just a week ago. Michigan was never able to get in a rhythm and always had to go the full length of the field. 
On the defensive side of the ball, holding Michigan to only 24 points is super impressive after Michigan put up 49 last week against Minnesota. 
MSU was able to get some nice pressure from the defensive line and the defensive backs kept the speedy receivers in front. 
"It was a focused week," said MSU linebacker and Ann Arbor native Antjuan Simmons. "I made sure everyone knew we were coming into a big game. It was going to come down to the last play." 
After a late fourth quarter screen touchdown catch from Heyward, Michigan was running low on time. The Wolverines managed to put together a touchdown drive, but were unable to do so fast enough.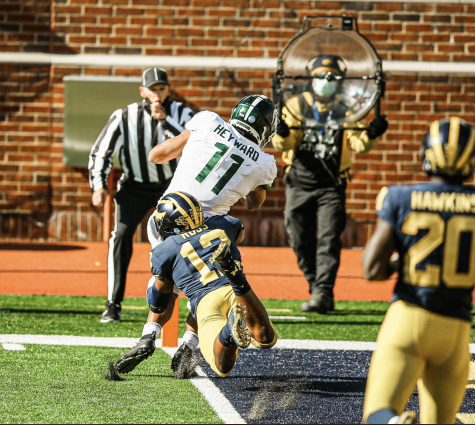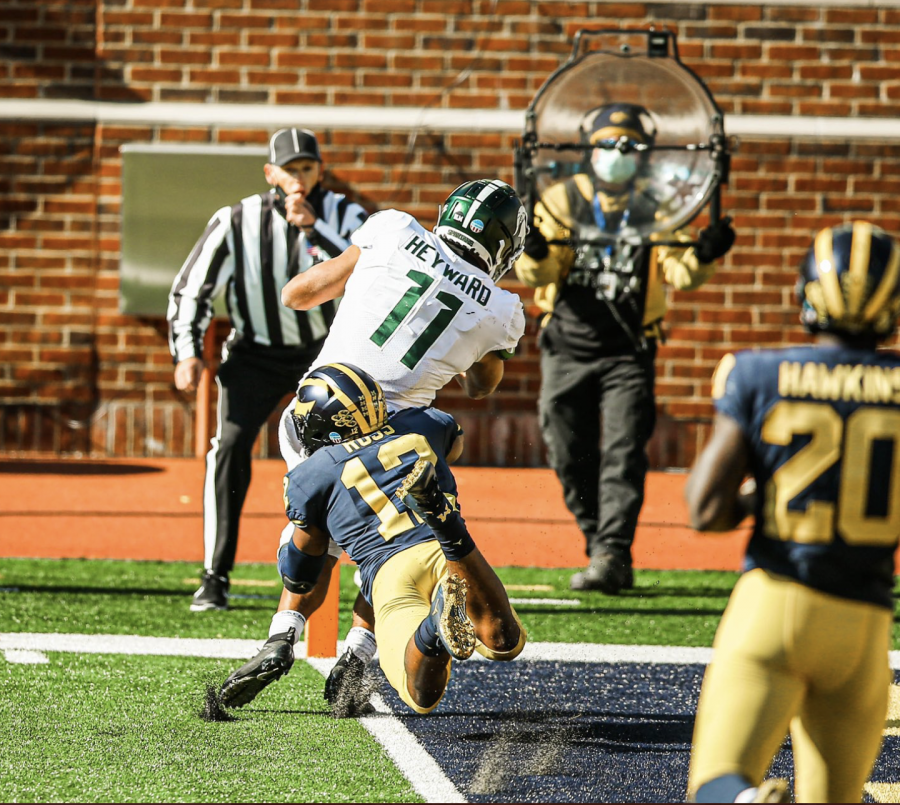 Michigan coach Jim Harbaugh was trying to save his timeouts for the following defensive possession, but he ran out of time after a fourth-and-2 conversion from Lombardi. 
"I knew I had it," Lombardi said of the play that iced the game.
The clock hit zeros and Paul Bunyan is coming back to East Lansing for the first time since 2017. This is definitely something positive to build on for Tucker and his staff. 
"Pauly B is back with us," Simmons said.
The Spartans next matchup comes next Saturday vs. the Iowa Hawkeyes.
Sutton Magee is a football beat reporter for WDBM Sports. Follow him on Twitter at @SuttonMagee12.