Suzy Merchant talks key players for upcoming MSU women's basketball season
EAST LANSING- Michigan State women's basketball head coach Suzy Merchant took the podium Wednesday morning for her first media availability of the 2020-2021 season. Right off the bat, Merchant addressed the difficulty of preparing for the season during a pandemic.
"I feel like I'm on a golf cart that isn't working very well," said Merchant. "It's just been very bizarre."
Ahead of her team's first official practice of the season on Wednesday, Merchant discussed some of the vital players that she believes will have an effect on the team and its success this season.
Merchant said that her Penn State transfers have already had an impact on the team.
"Smitty (redshirt junior forward Alisia Smith) can run," said Merchant. "She is in great shape, and she really strides things out, and she's extremely mobile in transition. So that post-highway that she runs to the front of the rim—she puts a lot of pressure on our current post players to really get out of the gates and get up the floor and try to beat her up the floor."
She added, "I think she brings a sense of leadership and calmness as well 'cause she's been through the Big Ten grind for three years."
Merchant also offered praise to her other PSU transfer, redshirt sophomore forward Jayla James.
"She's a big power guard, a very good offensive rebounder, so I will tell you that I think she's really kind of forced the action on the defensive boards and make sure we're making contact," she said. 
Sophomore guard Moira Joiner, who averaged seven points per game in her freshman season, was also a topic of discussion Wednesday morning. Merchant said Joiner is "a natural leader."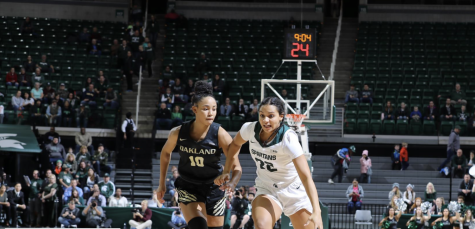 "I think Mo had a really really solid freshman year," said Merchant. "I think … she's a competitor, and if you do anything on a floor well, it better be that at this level, you need to compete. She's really improved her outside shot, I would say. She has a goal to increase her percentage by six percentage points this year from behind the arc."
Junior guard Nia Clouden, who led the team in points and steals in her sophomore season, is a player that Merchant said will continue to be an important asset for the team after she stepped up when three crucial veterans—Victoria Gaines, Shay Colley and Mardrekia Cook— faced injuries last season.
"Nia Clouden is as good of a guard as anybody in this league," Merchant said. "She should've had more help last year, but those three kids that went down were pretty significant to her. She became a little bit more of the focal point for other teams' defense because those three weren't around."
The Spartans will conduct their first official practice on Wednesday evening.