The Sci-Files – 08/16/2020 – John Williams – Characterizing Killer Compounds for Treating Tuberculosis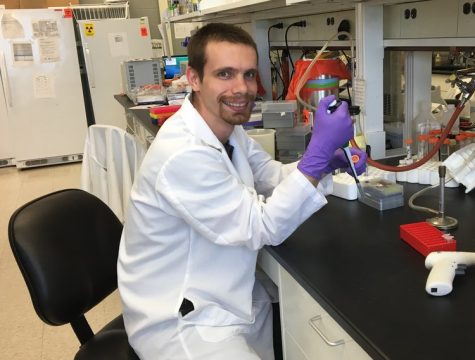 On this week's The Sci-Files, your hosts Chelsie and Danny interview John Tison Williams. John is a PhD-candidate in the Department of Microbiology and Molecular Genetics through the College of Natural Sciences. John is in his 5th year and completing his dissertation, which focuses on understanding how small molecules inhibit the growth of Mycobacterium tuberculosis in Dr. Robert B. Abramovitch's lab. M. tuberculosis is the primary cause of Tuberculosis (TB), a respiratory infection and the number one cause of death due to a single infectious microbe in the world. TB is a chronic infection, and treatment requires four drugs to be taken daily for 6 months. However, inadequate treatment in some people, has led to the evolution of drug-resistant strains of M. tuberculosis, which are spreading person to person. Therefore, new drugs are needed that can successfully treat these resistant strains. The Abramovitch lab previously identified over one hundred and fifty compounds that inhibit M. tuberculosis growth. John's research revolves around understanding how these compounds prevent M. tuberculosis growth with the hope of developing these compounds into new antibiotics to treat these resistant strains.
If you're interested in talking about your MSU research on the radio or nominating a student, please email Chelsie and Danny at [email protected]. You can ask questions about future episodes here. Check The Sci-Files out on Twitter, Facebook, Instagram, and YouTube!