Expectations, improvement and Foster Loyer in year two
EAST LANSING — Hundreds of college students walk to and from class every day on the campus of Michigan State. Headphones in, hoods up, mainly keeping to themselves as everyone just tries to get by. 
Among the crowd, about average height, a little stronger looking than a year before and usually in Spartan green is Foster Loyer. 
Just walking along like the average student.
He doesn't fit the mold of the stereotypical hooper, at a generous 5-foot-10-inches.
Of average height yes, but the Cincinnati, Ohio native is far from it.
Often during his days at Clarkston High School, you heard murmurs of the short kid who took down his eventual college teammate Xavier Tillman's Grand Rapids Christian team by scoring 29 points.
Then the whispers became conversations – when he surpassed the feat with back-to-back 40-point games the following year in the championship and semifinal games during a senior year state title run in which he averaged 27 points per game.
Now at Michigan State and one year removed from an up and down season that opened with expectations as heavy as he is weighing on his shoulders, Loyer is back for year two after averaging 1.6 points a game as a freshman.
He's back in the same place that he has always been, in the gym, working on his craft. A pull up jumper drops as he pump fakes a teammate into the air, he dives onto the ground and fights for the ball with teammates that are sometimes destined for the NBA. 
"You know when anybody looks at me as a player, that's going to be one of the first things they mention (my height)," said Loyer after practice Tuesday. 
"I think, no matter where in my career … high school or AAU playing on the EYBL circuit, you know I've always been able to overcome those physical factors. That's not something I really look at, I'm more focused on what kind of passion I play with, the heart that I have on the inside and just knowing where I need to be."
That same mentality that helped build up the high school basketball phenom that Loyer was, applies even now as he dribbles down the floor with Tom Izzo screaming in his ear.
"When I was going through the recruiting process, I knew I wanted to go somewhere in the Big Ten," said Loyer. "My family is kind of from the midwest, so I wanted them to come to my games … when it really came down to it Michigan State was the place that kind of felt like home."
Growing up
Loyer is the son of two division one athletes. A father that played basketball at Akron and a mother who played volleyball at Indiana. 
Athletics, to say the least, ran in the family.
"Growing up, I was always around and in the gym. My dad was a basketball coach, my mom was a volleyball coach," said Loyer. "So regardless of where I was at or what I was doing, I was always around kind of the game of basketball. So from an early age  it was something I fell in love with, you know, I fell in love with working on my game."
When your father is a former NBA assistant coach and Director of Pro Scouting for an NBA team, it's hard to imagine a world where you don't play basketball.
"Regardless of what I was doing I always in the gym."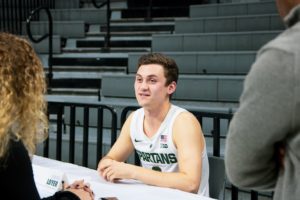 Getting shots up anywhere whether it be the high school he attended or his church gym, his thing was basketball from an early age – regardless of stature.
Now at Michigan State, the same player that erratically scored 14 points in one of the biggest stages of his young career against Ohio State at the Big Ten Tournament has become one of many.
The transition from being "the guy" in high school is one that many have to make when playing at the next level. But that transition wasn't as intense for the four-star recruit.
"It was just an adjustment just because of the role you had to play," said Loyer. "A lot of times your stats … a lot of that's contributed to what role your playing."
Year two
After one year under Izzo and his staff, Loyer is ready to make another jump. Aided by adding "almost 20 pounds" he said. 
And in the recent news that Joshua Langford would be out until January with a stress reaction injury to the same foot he injured just thirteen games into last season – it may be time for Loyer to step into a larger role than last season off the bench.
"It's heartbreaking, because you see how hard he works, how much passion he has for the game of basketball," said Loyer. "As his teammate, it's gonna be our job to kind of try to fill his shoes."
As he knocked down jumper after jumper at practice on Tuesday, you saw flashes of the player he can be.
Loyer stepped back for a 3-pointer, steps to the free throw line to close out the evening of practice, joking around as though the expectations to perform as he did on the Breslin Center floor in high school weren't there.

"We know what he can do," said former MSU guard Lourawls "Tum Tum" Nairn Jr.,  who is now an assistant at MSU. "Everybody knew what he did in high school, but like you said when you come to college you have a lot more good players as well … I think he understands what his role is, run the team when he's out there."
That is exactly what he will be tasked with doing, and his development on defense will play just as large a role if Loyer wants to get on the floor to replicate the same success he had against Ohio State near the end of last season.
"The same issues that Cassius had as a freshman, Foster has," said Tom Izzo at MSU's media day. "Can he guard people and get better at that? He's done that. The added strength has helped. So he's made progress."
And with time, that progress comes.
Loyer, who many saw play such a pivotal role in leading Clarkston to back-to-back state titles, will now become more important to an NCAA championship. 
Maybe more so than he knows now.
Contact Joe Dandron at [email protected]. Follow him on Twitter @JosephDandronMI.
Leave a Comment
About the Contributor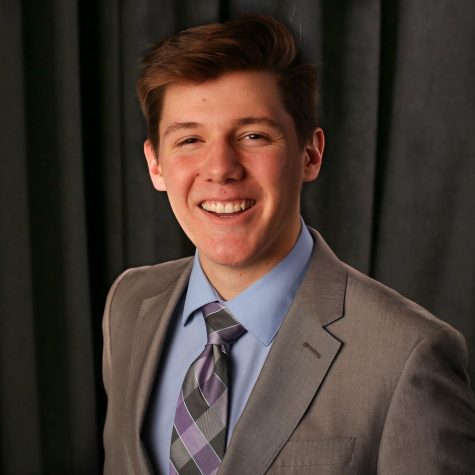 Joe Dandron, Station Manager
Joe is a junior journalism student from Montague, Michigan. Joe serves as the Station Manager for Impact 89FM after spending his sophomore and junior year as Sports Director. Joe covers primarily MSU football, cross country and track and field but fills in covering men's and women's basketball. Joe also broadcasts these sports and has a degree focus in writing, editing, and reporting.  Joe currently works at the Lansing State Journal as a news assistant covering prep sports in the Lansing area and...