Izzo, Spartans poised for bounce-back 2021-22 campaign
INDIANAPOLIS — It's no secret that the 2020-21 college basketball season presented endless grueling challenges for every program in wake of COVID-19. Michigan State men's basketball coach Tom Izzo believes his Spartans were hit particularly hard. Friday, Izzo took the podium at Gainbridge Fieldhouse to discuss his team's poise as the 2021-22 season approaches quickly.
"We're all coming off something that nobody dealt with," Izzo said. "I think we've kind of seen some light at the end of the tunnel. We're excited about that."
Izzo and the Spartans had somewhat of a disappointing 2020-21 campaign that saw them finish the season with a 15-13 record and just 9-11 in the Big Ten. The Spartans played their way into the NCAA Tournament field following a trio of AP top-five wins at the end of the regular season, but were bounced by the Final Four-bound UCLA Bruins in the play-in round.
Some of the Spartans' struggles can surely be attributed to the team experiencing a COVID-19 outbreak midseason. Then-junior wing Gabe Brown, a vital part of the rotation, was forced to miss games among others.
"Yeah, (the outbreak) rocked us a little bit," Izzo said. "Maybe some confidence (was lost) both in players and in coaches. But we're through that now."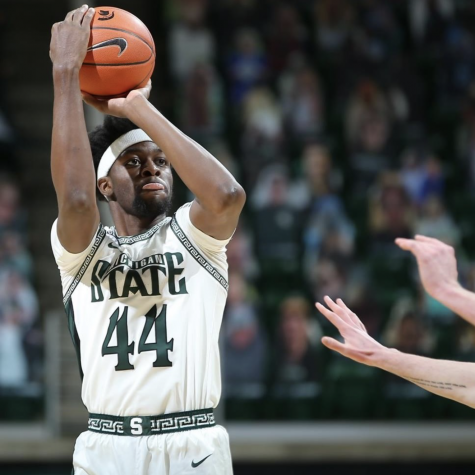 Another major obstacle that the Spartans faced on the court was the lack of a primary ball-handler. Following the departure of Cassius Winston for the NBA in 2020, the Spartans struggled with wings Aaron Henry and Rocket Watts taking on that unfamiliar role. Moreover, Henry moved onto the NBA and Watts transferred to Mississippi State. Senior point guard Foster Loyer also transferred to Davidson.
"With my team this year, I think we're better because I think we have a couple guys that will play the point guard position," Izzo said. "We were trying to put round pegs in square holes last year." 
Izzo proceeded to take responsibility for those struggles, but made sure to emphasize his excitement to revert to some familiar offensive sets with his newfound floor generals. Point guard A.J. Hoggard returns as a sophomore, and per Izzo, he's slimmed down and will be a "definite positive" for the squad. 
On top of that, junior combo-guard Tyson Walker has joined the team after transferring from Northeastern, where he won the CAA conference's Defensive Player of the Year award while still dropping 18.8 points per game for the Huskies. Walker and Hoggard might even get some run together, as Izzo alluded to.
"Unlike football, where you kind of get one quarterback, in basketball you definitely can play two guys," Izzo said. "The way Tyson shoots it, I think these guys can play together some, too. I think you'll see some of that."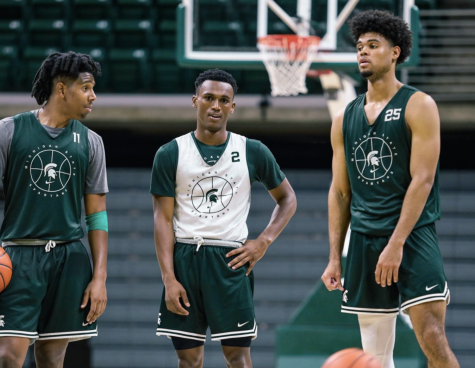 One final point that Izzo hammered home was his confidence in his freshmen. Max Christie, Pierre Brooks and Jaden Akins are a trio of athletic guards who are looking to make a direct impact for the Spartans. Izzo even drew a former Spartan player comparison for Christie.
"The guys had a great spring, summer and fall," Izzo said. "I think (the freshmen) are going to be really, really good, led by Max Christie, who I think could be (our) best recruited guard since Gary Harris."
Are these lofty expectations? Maybe so, as Harris was selected 19th overall in the 2014 NBA Draft after two seasons in East Lansing. Nonetheless, Izzo hasn't pulled a single punch when talking about his confidence in Christie and the freshmen.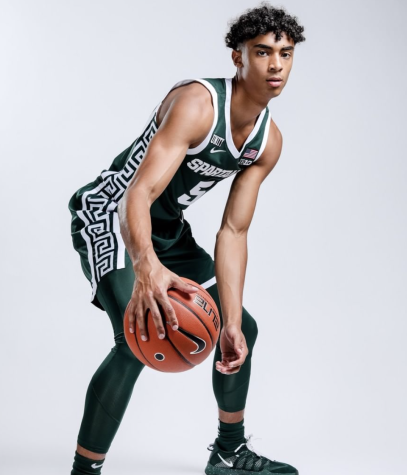 Needless to say, Izzo believes the team will be much improved and is excited to turn the page from last season's struggles. The Spartans were ranked sixth in the preseason AP Big Ten rankings. Perhaps a little lower than usual, but Izzo doesn't mind his team having to earn its stripes.
"I'm really excited about my team," Izzo said. "Not many times have I looked up in the last few years, four or five spots in front of me, and deservedly so. I think we're a little bit more unproven."
The Spartans will begin their "prove it" tour in just over a month, as they'll take on the Kansas Jayhawks on Nov. 9 as part of the 2021 Champions Classic at Madison Square Garden.
Trent Balley is the men's basketball beat writer for WDBM Sports. Follow him on Twitter at @TrentBalley for more coverage.