After shaky play early, Michigan State coasts against Rutgers
EAST LANSING – Michigan State returned from a four-game road trip for a home match against Rutgers. The Scarlet Knights came into the game winless in Big Ten play and MSU made sure they remained winless, earning a sweep, 25-21, 25-18 and 25-11.
The players were happy to be back.
"It was nice to be back at the Jenison," said outside hitter Meredith Norris.
"It's awesome…there's really no better feeling," added middle blocker Emma Monks.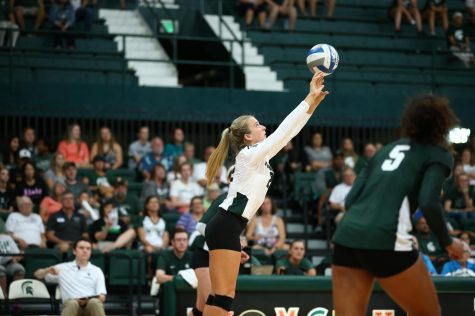 The Spartans got off to a fast start, jumping out to a 7-1 lead in the first set. Samantha McLean opened the scoring with an ace that established the tone quickly. Norris got two kills and Naya Gros added another in the barrage, helped by several Rutgers errors. After a very early timeout from the Scarlet Knights, MSU kept rolling, sustaining the lead as Lauren Swartz checked in for another pair of kills. 
After Rutgers successfully challenged a play by Poljan, they found some life, winning seven of the next 10 points off of some Spartan errors. After Rutgers' Caitlin Kikta recorded three straight aces to narrow the set to 20-18, MSU coach Cathy George called timeout.
Out of the timeout, it was MSU that found momentum as Norris scored two more kills. The Spartans hung on to win 25-21 off a Rutgers error.
Despite the set win, George had mixed feelings.
"I thought it was spotty," she said. "I thought there were times where we did things well that we were working on…we didn't execute as clean as we like to."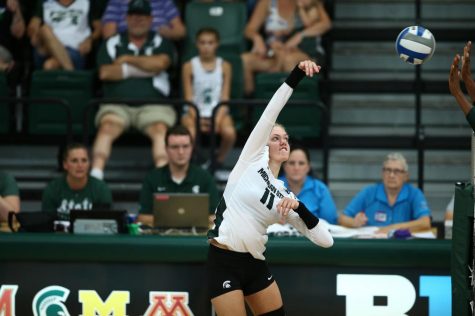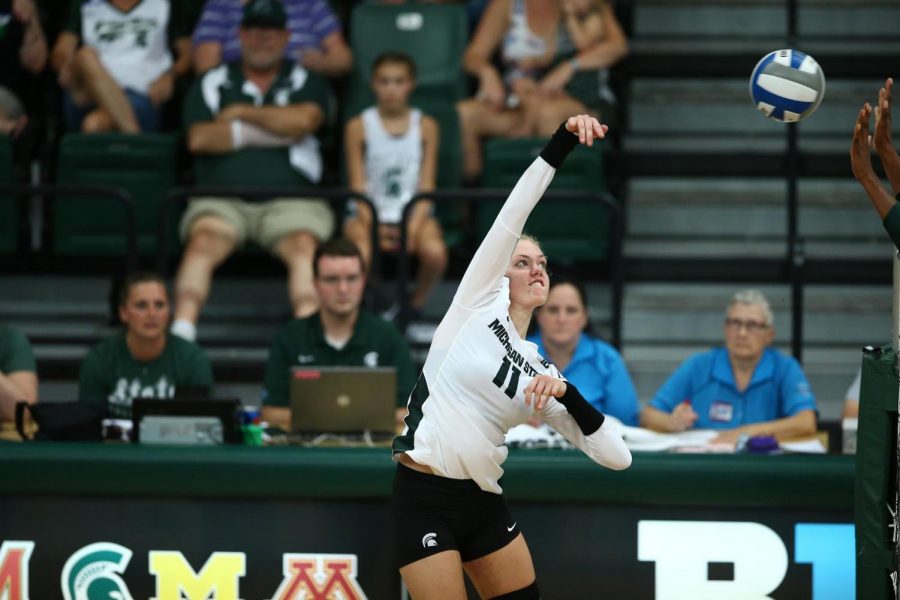 The second set started with the teams playing to a 4-4 tie that quickly resolved as MSU went on an 8-0 run. Gros recorded two blocks and two kills in the run, which ended with a service error.
Rutgers took four of the next five with stronger hitting and kept rolling from there, launching a comeback all the way up to a 14-14 tie. During the 9-1 run, Merle Weidt and Yana Kamshilina combined for three blocks for the Scarlet Knights, who looked unusually dominant in the middle. 
The Spartans responded with two aces from McLean and a kill from Norris, which jump started the MSU attack. At the same time, the Scarlet Knights fell apart, committing errors at a rapid rate. Rutgers scored only four more points in the whole set, as a service error gave MSU a 25-18 set victory.
"We had a few kinks here and there," said Norris.
In the third set, the Spartans started slow, falling behind 5-3 after several strong kills from the Scarlet Knights. The team ripped off a 4-0 run as Norris recorded a kill and an ace and Gros added a block and a kill. After a pair of Rutgers kills to bring the lead down to 8-7, the Spartans took control again and scored five in a row into the break.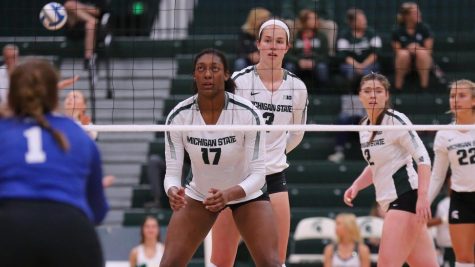 MSU got Monks involved, as she combined with Swartz for two blocks during the run. The timeout didn't slow down MSU, which took three of the next four, capped off with an ace from setter Audrey Alford. The Spartans put the set on cruise control as they sailed to a 25-11 victory. 
"I was asking them to just get out there and execute and play a little bit sharper," said George.
MSU's next game is at home against No. 8 Penn State at 2 p.m. on Oct 20.
Contact Ian Drummond at [email protected]. Follow him on Twitter @idrumma.