So close, yet so far: Spartans fall to Penn State despite strong execution on both ends
EAST LANSING – What similarities come to mind when you think of Penn State and Michigan State? Surely, the abundance of athletic success and the considerable student population for both universities register near the top of common knowledge tidbits.
A lesser known fact would perhaps be the fact that these two large educational institutions hold the distinction of being the oldest land-grant universities in the country.  
If we fast forward to the present day, the parallels between MSU and Penn State's 2019 field hockey campaigns are quite effortless to find. Both clubs have found victories hard to come by away from the friendly confines of home play, as evidenced by their cumulative 2-10 away record.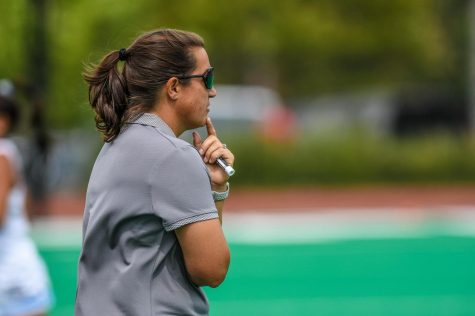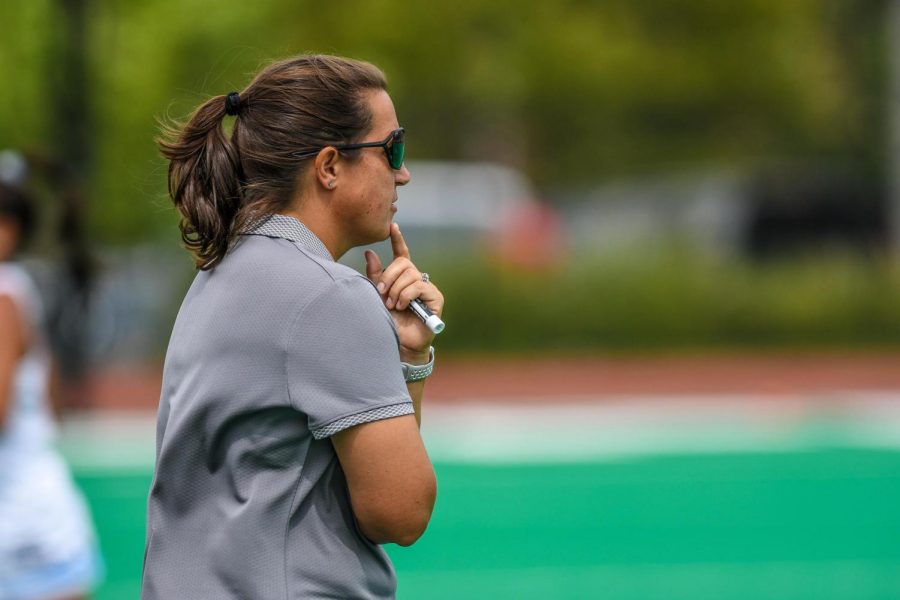 Both clubs have also been beaten by ranked opponents time and time again. Whereas MSU is 0-6 on the season against ranked foes, Penn State sports a meager 1-8 marka against ranked foes. One could make the argument that if it wasn't for the different team colors, it would be nearly impossible to distinguish between these two factions.
In a game that the Spartans needed to win to elevate themselves out of the conference basement, they squandered several corner opportunities and were vanquished by Penn State by a final score of 3-1. With the heartbreaking defeat, MSU drops to 6-8 on the season and 0-5 in conference. 
Despite the defeat, head coach Helen Knull was proud of how many offensive opportunities MSU managed to create throughout the course of the game.
"I thought we shot it a lot at their goalkeeper," Knull said. "We do need to look for the space around their keeper."
After an encouraging performance against Wake Forest on Sunday that saw the Spartans draw seven corners, it was the visitors who received a corner scoring opportunity less than a minute into the contest. Jade Arundell, who leads the Big Ten in saves made on the season with 103 in 13 games, once again showed why she is in the top 10 in saves per game in the NCAA by fighting off three hard Penn State shots through traffic.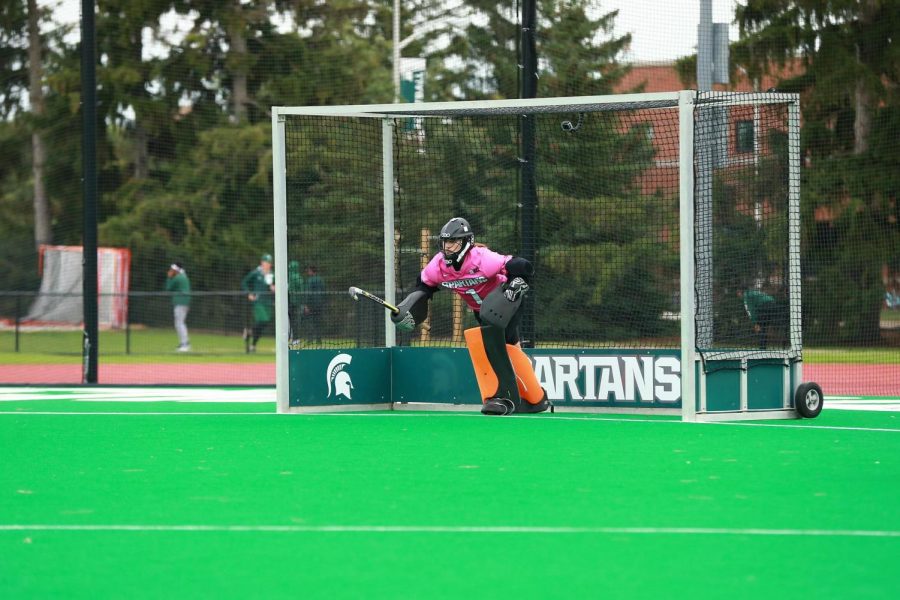 Her exceptional net presence afforded the MSU defensive effort the chance to settle down and pitch a first quarter shutout. Arundell mentioned after the game how she thought she played well, but could have been better.
"I thought I did an ok job," Arundell said. "The penalty stroke I thought I completely saved. I stood up and wondered why everyone looked so sad. I turned around and of course the ball was in the goal."
It took the Spartans all of 30 seconds in the second to draw their first corner chance of the game. Despite not scoring on the opportunity, MSU was able to make Penn State goalie Brie Barraco uncomfortable for the first time all day by collecting two hard shots on the corner.
This momentum would be short lived, as a sloppy turnover deep in the Spartan zone resulted in a wide-open scoring opportunity for Paitlyn Wirth and Penn State. Wirth would make the Spartans pay with a bottom right corner shot that squeaked by Arundell. This goal gave the visitors their first lead of the day, 1-0. 
Missed opportunities would define the rest of the period, and despite drawing multiple corners toward the waning seconds of the second, MSU would be unable to draw even with the Nittany Lions. Yet again, MSU would find themselves trailing to an opponent at halftime.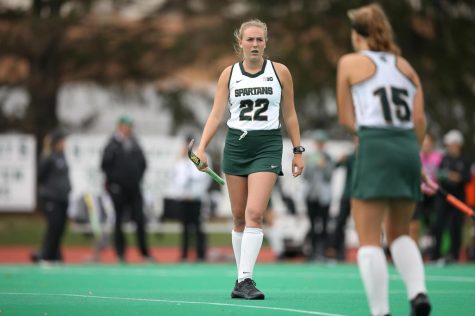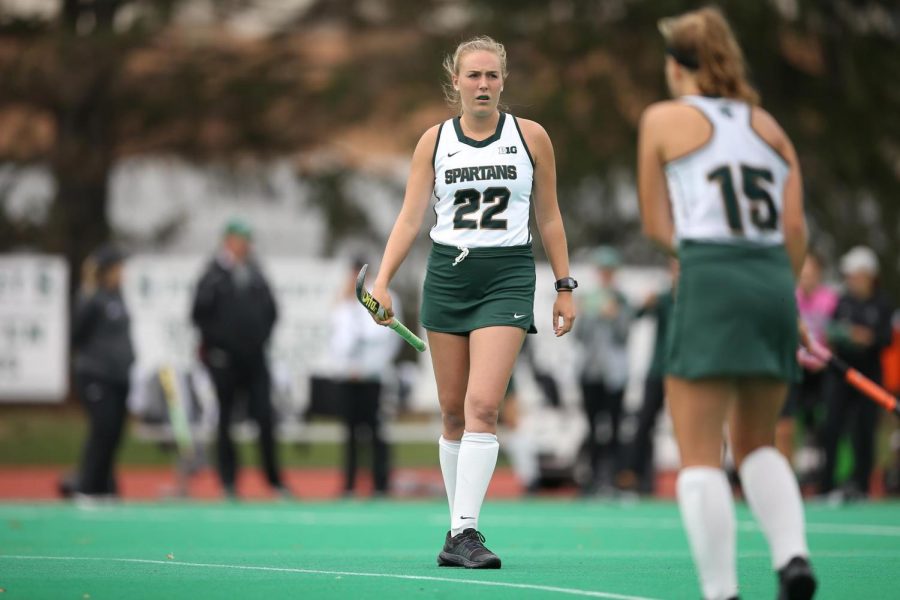 The Spartans would continue the crisp offensive execution in the third, as they would be the recipients of a couple of corner opportunities. However, slow passing and strong Penn State defense prevented the Spartans from getting a high percentage shot off.
MSU would further waste a golden chance to tie the game, as Meredith Ross would hit the post on a penalty stroke. Penn State would put the Spartans in a further bind, as Jemma Punch scored the second goal of the game for Penn State off an Arundell save and rebound. 
As the game entered the final period, it was shaping up to be yet another quarter in which MSU found themselves playing catch up, this time trailing 2-0.
At this point in the season, moral victories mean next to nothing. The Spartans once again would have their moments in the fourth, including a late Aisha Osinga goal to make things interesting down the stretch, but as the final horn sounded, it was yet another cruel reminder that the young Spartans are so close, but yet so far from being where they want to be.
They played well enough to win, but once again, couldn't quite break through when they needed to the most. Arundell mentioned how losing in a fashion such as this especially stings.
"It's absolutely ridiculous," Arundell said. "They (Penn State) didn't even seem happy, because they shouldn't have been happy. If we played really bad, I would be saying how they deserved to beat us. 3-1 in this situation is unjustifiable. The game should have been at least in overtime."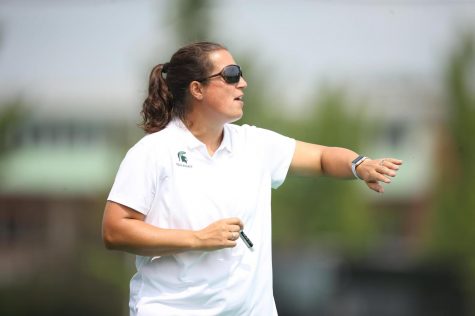 This sentiment would be echoed by Knull.
"I told the girls in the postgame that these games suck," Knull said. "It could have been 3-3, it could have been an overtime game or we could have been ahead. We had our opportunities today and we created opportunities today, which is a positive. I thought we pressed well, but I talked to the girls after the game and told them we've got to clean up within our circles and I feel like I've said this most of the season."
The Spartans will have an opportunity to obtain their first win over a ranked adversary this Sunday, when they welcome the No. 18-ranked Rutgers Scarlet Knights to East Lansing. Rutgers is currently 6-6 and 1-3 in conference play on the season.
Contact Nathan Stearns at [email protected] Follow him on Twitter @NathanStearns11. 
About the Writer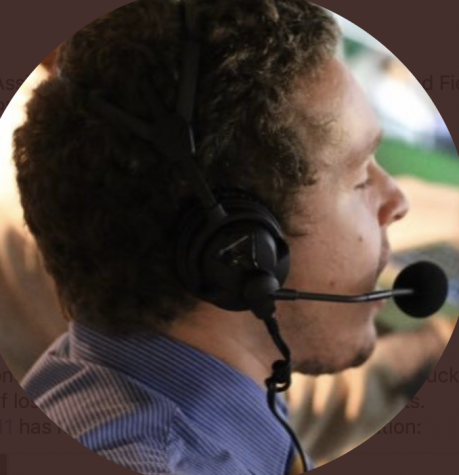 Nathan Stearns, Sports Broadcast Director
Nathan is a senior journalism major who serves as the Sports Broadcast Director for Impact 89FM. He previously served as the News Director and Sports Editorial Assistant for Impact. He also primarily covers football, along with men's and women's basketball, at Michigan State.