Spartans set to return home for final exhibition contest
EAST LANSING – Michigan State returns to Munn Ice Arena for its final exhibition game of the season. The Spartans will host the United States U-18 National Team Development Program (USNTDP) on Friday.
The Spartans return home after their first weekend series of the year in Marquette, Michigan against the Northern Michigan Wildcats. The teams split the weekend with the Spartans taking game one 5-3. But the Wildcats took game two the following day by a score of 2-0 after a game the Spartans would like to forget following some poor production from the Spartans' top line and a fluke goal that trickled past goaltender Drew DeRidder.
"In the first period we spent too much time feeling our way around the game and were back on our heels," MSU head coach Danton Cole said following the second game. "I thought we defended fairly well and we killed off most of that penalty where they scored the game-winning goal, so that was unfortunate. Sometimes you have to battle through it."
There will be no shortage of excitement and talent on the ice Friday. The USNTDP will bring with them two prospects in the top 25 for the 2020 draft class according to NHL.com.
Jake Sanderson is an interesting name for Spartan fans to watch for. Not just because he is the sixth rated defenseman in this year's draft class, but because he could end up on the board when the Red Wings, who are trying to improve their blue line, are making their pick.
Sanderson was the 18th best prospect listed on NHL.com, but he was not alone. Another USNTDP player who appeared on the list was Forward Ty Smilanic. He came in at 25th on the list and will be a tough player to contain due to his elite speed in the offensive zone.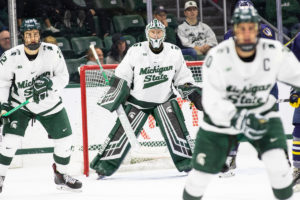 This matchup will not count on the record, but it will be a great way to see how the Spartans newly-boosted defense handles the elite speed and playmaking ability of some of the best young talent the country has to offer, which could be beneficial down the road when they start playing teams like Notre Dame and Penn State, who bring tons of speed.
MSU has beaten the USNTDP five times in a row and will look to make it a sixth before they head out west next weekend to take on Colorado College when the regular season resumes.
Contact Kyle Hatty at [email protected]. Follow him on Twitter @KyleHattyIN.