Michigan State wins a thriller against Indiana on homecoming
EAST LANSING, Mich. – Michigan State defeated Indiana 40-31 to cap off homecoming on a last-second field goal and a fumble recovery in the end zone as time expired.
Mark Dantonio and the Spartans returned home after Dantonio secured his historic 110th win, in which he passed Spartan legend Duffy Daughtery for most wins all-time as a Michigan State head coach. Dantonio continues to add to his count with his 111th win against Indiana.
"Still humble here to be the head coach at Michigan State," Dantonio said.
First Half
Michigan State struck first on their second drive, as Elijah Collins bounced outside on a 5-yard touchdown run. This was after a 30-yard strike from Brian Lewerke to Cody White down the sideline. It was Collins' third touchdown of the season.
Indiana went for a fourth-and-1 in its own territory with just under five minutes left in the first quarter. Antjuan Simmons got into the backfield to tackle Indiana's Sampson James for a 6-yard loss and a turnover on downs. Indiana came right back to stop the Spartans on a fourth-and-one during the ensuing drive.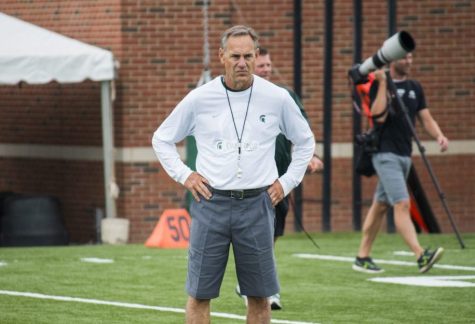 Indiana then drove down the field and found the end zone right before the first quarter ended. Michael Penix Jr. found Whop Philyor for a 28-yard touchdown to tie the game at seven points apiece. 
Brian Lewerke and the Spartans answered right back with a 75-yard drive, capping it off with a touchdown pass from Lewerke to Darrell Stewart Jr. giving Michigan state a 14-7 lead.
A pass interference call on Kalon Gervin in the end zone allowed for Indiana to get another chance to score. Penix Jr. called his own number and took a bootleg to the pylon to score for Indiana. The extra point tied the game up at 14.
Michigan State was able to score one more time before the half ended with a 26-yard connection through the air from Lewerke to Stewart, their second of the game. Stewart was able to get behind the Indiana secondary and break to the corner where Lewerke found him in stride. MSU went into half leading 21-10.
"It's a blessing to do it and a blessing to do it under a fantastic coach," Stewart said.
Second Half
Indiana came out in the second half with a field goal on its first drive. Penix Jr. picked apart the Michigan State secondary with short passes and screens, staying away from the interior of the Spartan defense. 
The drive was halted at the Michigan State 9-yard line, and Indiana settled for a 26-yard field goal from Logan Justus, making the score 21-17, Michigan State leading.
"Credit Indiana, I thought they did an outstanding job, especially on the offensive side of the ball," Dantonio said. "Penix was on fire there."
After a quick drive by Michigan State that resulted in a punt, Indiana came right back and drove 80 yards, easily moving the ball with quick passes and screens. Penix recorded a streak of 20 straight completions that was broken on the drive with an incomplete pass to the end zone. The next play Indiana took the lead 24-21 with a touchdown pass from Penix Jr. to Donovan Hale.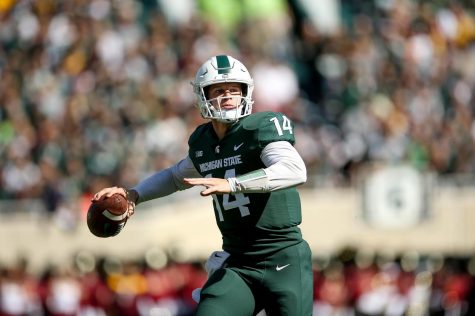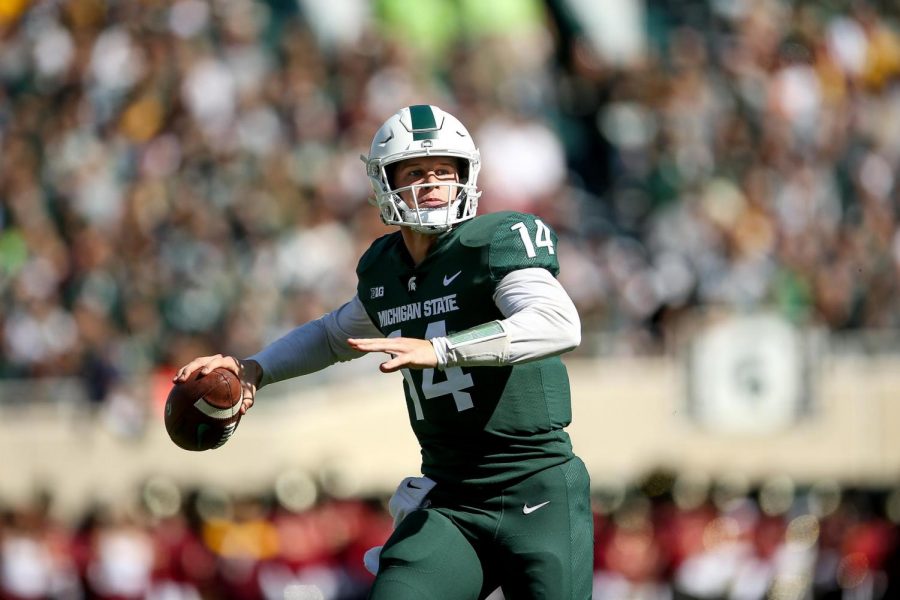 "Some of these games are not written up like they're supposed to be, but I mean that's football. Things are going to happen but you have to respond," Stewart said.
The key play for Michigan State in the fourth quarter was a punt return by Brandon Sowards, giving the Spartans great field position at the Indiana 26-yard line after a 5-yard penalty. Two plays later, Lewerke found tight end Matt Seybert for a 10-yard score, putting Michigan State up 28-24. It was Seybert's first touchdown of the game, and third in the past two weeks.
"Brian Lewerke comes in the huddle and it's sort of tight, crunch time and he says, 'This is fun' and I sort of just looked at him," Dantonio said. "But he played outstanding."
Although the Michigan State defense didn't look as good as it had in previous weeks, giving up its most points all season, it was able to get a big stop on third-and-1 with just over 10 minutes to play. Joe Bachie made the tackle in the backfield forcing Indiana to punt.
Michigan State's offense would take over after a touchback. It was able to kill a lot of time and Coghlin capped off the drive with a 44-yard field goal, just barely sneaking it over the crossbar putting the Spartans up 31-24 with 3:33 left in the game. 
Indiana tied the game with two minutes to go in the game with an 11-yard pass from Penix Jr. to Philyor. The Indiana drive included two pass interference calls and a roughing the passer against the Spartan defense.
"We were made for times like this," Stewart said. "This is adversity."
The first play of Michigan State's next drive was a 44-yard pass from Lewerke to Stewart. 
"I was thinking about running it there, had a guy kind of spying me a little bit. I didn't see a guy deep so I took a 50/50 ball with Darrell," Lewerke said.
Lewerke then took the ball for a 30-yard run down to the Indiana 1-yard line with just over one minute to go. 
"I was slowing down there because I wasn't sure if I should score, but that was a big play for us," Lewerke said.
The Spartans would then kneel down and rush once to get the clock down to eight seconds. Michigan State would take the lead 34-31 with a 22-yard field goal from Coghlin.
"I'm so excited for our football team, to handle adversity, come back in the fourth quarter and have to play a little bit from behind there," Dantonio said. 
Indiana tried to lateral its way to the touchdown, but went backward instead of forward. Mike Panasiuk forced a fumble on the last play and the ball rolled into the end zone as time expired. Michael Dowell recovered the ball in the end zone to cap off the win for Michigan State. 
"I'm so excited for our football team, to handle adversity, comeback in the fourth quarter and have to play a little bit from behind there," Dantonio said.
Contact Luke Saccone at [email protected] Follow him on Twitter at @luke_saccone4.