Spartans look to sustain offensive momentum against Indiana
EAST LANSING, Mich – After Michigan State earned an impressive 31-10 victory over Northwestern last Saturday, giving Mark Dantonio the title of winningest head coach in program history, the Spartans now look to sustain their momentum against Indiana on homecoming.
"This is the 11th time playing IU, and this past week, I thought they got back on track, as well. They played extremely hard as a football team. I think Tom Allen has done a very nice job there," Dantonio said. 
Michigan State will battle the Hoosiers for the Old Brass Spittoon, a trophy given to the winner of the annual contest since 1950. The Spartans have dominated the all-time series with Indiana, as the team currently holds a 47-16-2 record against the Hoosiers headed into play on Saturday.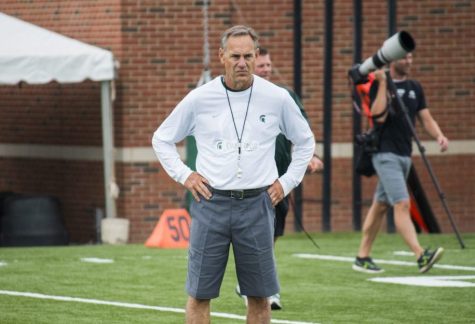 The Old Brass Spittoon currently resides in East Lansing, thanks to a 35-21 Michigan State triumph last season in Bloomington, Indiana. Quarterback Brian Lewerke threw for 213 yards and two touchdowns during last season's win, earning his team its second straight victory over the Hoosiers.
Both teams carry identical 3-1 records into the game, but the Spartans own a superior 1-0 record in conference play, while Indiana struggled to a 51-10 loss against Ohio State in its only Big Ten action of the young season. The Hoosiers do enter Saturday on the heels of a blowout 38-3 win over UConn.
Here's what to expect on Saturday when each team has the ball:
When Michigan State has the ball:
The Spartans enter Saturday coming off an impressive offensive performance against a physical and tough Northwestern defense. Lewerke has led the charge on offense this season, as he has completed 62.3% of his passes for 1,025 yards and seven touchdowns through four games.
Senior wide receiver Darrell Stewart Jr. has become Lewerke's favorite target in the passing game, and his top-ranked numbers on a national scale certainly reflect that. Stewart Jr. has caught 30 passes for 439 yards and one touchdown, ranking 10th in the nation with 109.8 receiving yards per game. He also remains tied for ninth in the nation with 7.5 receptions per game.
After an inconsistent role early in the season, redshirt freshman Elijah Collins has taken over as the Spartans' main running back entering Saturday's game. Collins has carried the ball 61 times for 357 yards and two touchdowns, emerging as one of the more promising featured running backs in recent memory for Spartan fans.
"I think our quarterback is playing well and when you're quarterback plays well, it always gives you a chance and he's playing well with only one pick, tough to sack, as well," Dantonio said.
Michigan State is still without left tackles Cole Chewins and AJ Arcuri, as they both remain absent from the offensive depth chart. Tyler Higby will start at left tackle for the second consecutive week, he's expected to be joined by left guard Luke Campbell, center Matt Allen, right guard Matt Carrick and right tackle Jordan Reid.
Indiana is ranked as the No. 21 team in the nation for passing yards allowed per game, only giving up 167.5 yards through the air per contest. The Hoosiers are also 52nd in the nation with 129.3 rushing yards allowed per game, combining with the pass defense to produce the 26th best defensive unit in the nation based on total defense.
Head coach and former defensive coordinator Tom Allen prides his Hoosier teams on their ability to play high-level defense, and so far in 2019, he has to be proud with the effort.
Kicker Matt Coghlin enters Saturday with an 8-for-12 mark on field goals this season after going 1-for-2 against Northwestern in windy conditions. Primary punt returner Cody White fumbled two punts against the Wildcats, forcing Dantonio to replace him with Brandon Sowards, who returned two punts for 26 yards.
"He was the First-Team All-Big Ten kicker last year and there's a reason he was that," Dantonio said on Coghlin. "He's been very good throughout summer camp, very good, probably missed two football games the whole camp."
When Indiana has the ball:
The Hoosiers have had two quarterbacks split starting duties due to injuries so far in 2019. Redshirt freshman Michael Penix Jr. started the first two games of the season before going down with an undisclosed injury against Eastern Illinois. Penix Jr. has completed 63.3% of his passes for 523 yards and three touchdowns.
Redshirt junior Peyton Ramsey has started the previous two games, completing 74.3% of his passes for 635 yards and five touchdowns. Allen has stated that the starter against Michigan State will be a game-time decision.
"I think you've got to take both into consideration," Dantonio said on Indiana's quarterback situation. "I know Penix is coming off an injury and he hasn't played and maybe it's a shoulder injury or an arm injury. So, we've got to take that into consideration with everything.
"But I also think Peyton Ramsey has done a great job. He's a gamer. He knows where to go with the ball. He gives you scramble ability. He understands the defenses he's reading."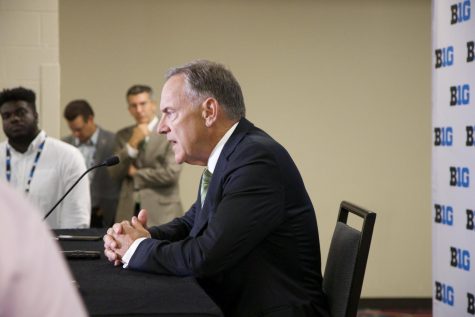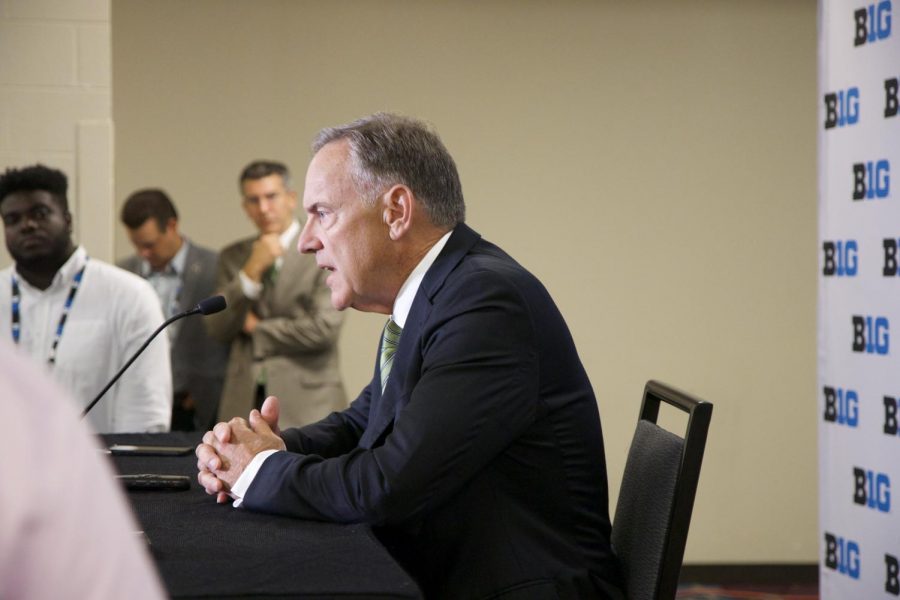 Indiana possesses a number of quality weapons in the passing game, including tight end Peyton Hendershot (234 yards), Whop Philyor (229 yards) and Donovan Hale (184 yards). The Hoosiers rank 20th in the nation with 308.5 passing yards per game.
The success of the running game is a different story, as Indiana sits at 102nd in the nation for rushing yards per game. Stevie Scott, who rushed 1,137 yards and 10 touchdowns as a freshman last season, has rushed for 215 yards and four touchdowns so far this season.
The Hoosiers' offense suffered a significant setback last week, when four-year starting left tackle Coy Cronk went down with a season-ending leg injury. Starting right tackle Caleb Jones filled in for Cronk on the left side following his injury.
Michigan State ranks 23rd in the nation with 176.0 passing yards allowed per game and third in rushing yards allowed with 52.3. Senior linebacker Joe Bachie leads the Spartans in tackles with 39, while Kenny Willekes has added 22 tackles.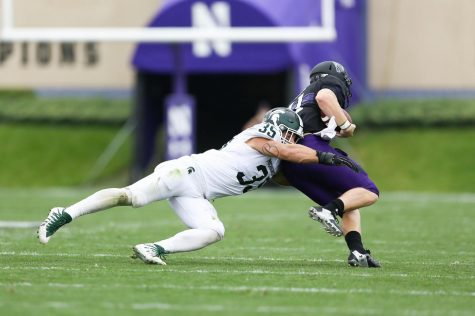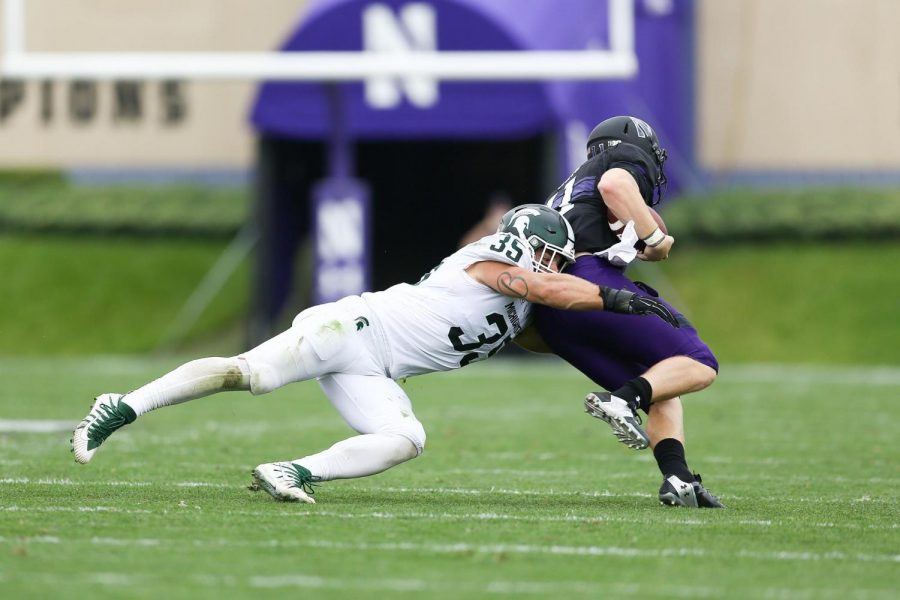 Indiana kicker Logan Justus is 6-for-6 in field goal attempts, with his longest field goal measuring in at 50 yards. Philyor handles the punt return duties for the Hoosiers, averaging 4.1 yards per return on seven returns.
"They (Indiana) have always been a football team that has been extremely competitive in every football game," Dantonio said. "They have lost games at the end of the game, as evidenced by some of the games we've had with them over the years."
Prediction:
Allen's defense gives the Spartans' offense some trouble early, but Lewerke breaks through in the second half to lead Michigan State to a comfortable victory. A second-half offensive explosion will be supported by a strong defensive effort throughout, with defensive coordinator Mike Tressel's unit holding the Hoosiers to less than 100 yards rushing and limiting big plays. Michigan State 28, Indiana 9.
Contact Luke Sloan at [email protected]. Follow him on Twitter at @LukeSloan_7.