A look at where the Spartans stand with Big Ten play approaching
EAST LANSING, Mich. – Michigan State volleyball has a record of 9-1 in non-conference play this year. Its only loss is a close five-set heartbreaker to Tennessee, at the time the No. 21 team in the country. That has to be a confidence booster, right?
Not so fast. The Spartans were here last year, too. That team went 12-1 in non-conference play. Its one loss? Also Tennessee. They proceeded to compile a 5-15 record in Big Ten play for a 17-16 overall record on the season. 
So you'll have to forgive me if I hesitate to draw too many conclusions from MSU's stellar record so far this season. The Big Ten is the best volleyball conference in the country, with a whopping six of its 14 teams cracking the AVCA top 25 poll.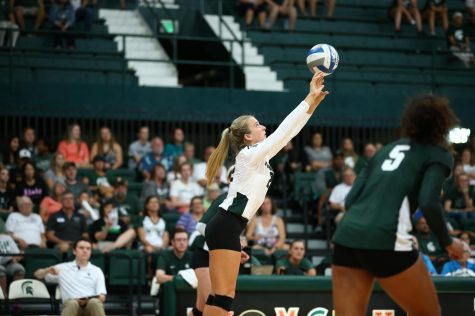 This includes three top-10 schools in No. 3 Nebraska, No. 5 Penn State and No. 7 Minnesota. Two other teams narrowly missed the top 25 but received votes, meaning that eight of the 14 teams in the conference had multiple rankers that thought they were a top 25 team. Michigan State is one of the other six. That's not a good position.
Despite this, looking at the season statistics, there's still cause for optimism. Naya Gros and Rebecka Poljan are dominating at middle blocker so far. They're the only pair of teammates to be in the top 15 in the conference in both hitting percentage and blocks. 
The Spartans have been ruthlessly efficient so far, allowing a Big Ten-best .185 hitting percentage from their opponents while hitting .281 on them, good for third in the conference. But the offense has shown little compared to its peers. 
Setter Audrey Alford is near the bottom of the pack in assists per set and only one player, Meredith Norris, barely cracks the top 15 in kills per set. This team is built around defending and forcing errors from opponents.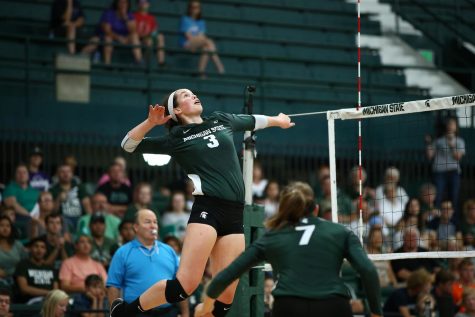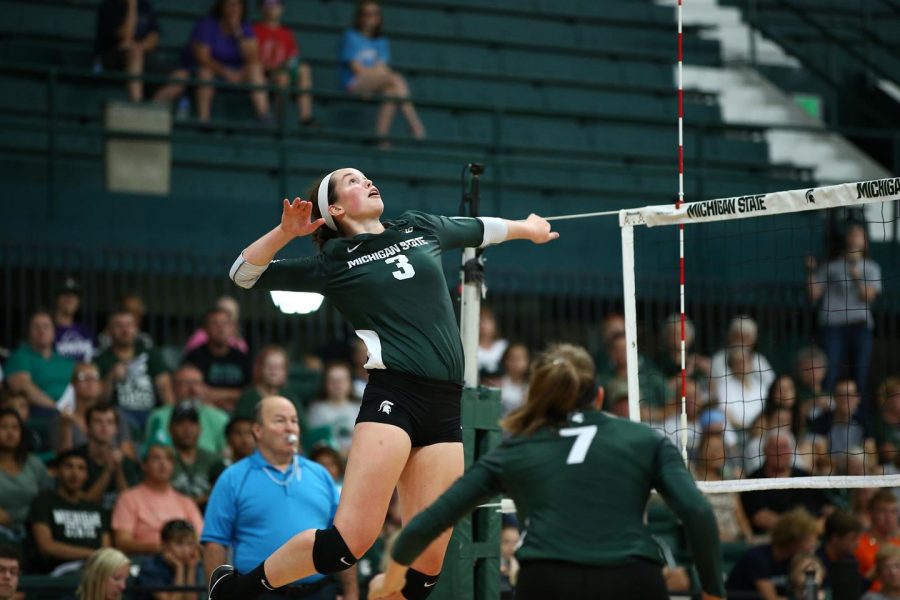 How will that fare in the Big Ten? It's hard to say. These Spartans are older than last year's group, which used many freshmen and first-time starters. They'll have Big Ten experience under their belt, and the statistics say they're executing their gameplan a little better than last year. 
Personally, I think this team has the potential to go .500 in conference play, even with so many highly-ranked opponents. 
Another benefit for MSU is that the schedule is very backloaded. MSU opens play Wednesday against No. 5 Penn State, but then doesn't play any of the eight teams receiving votes until their rematch with the Nittany Lions on Oct. 20. 
This may help the team ease itself into conference play and build confidence for the punishing back half. 
Or, there's an alternative perspective, provided to me recently by head coach Cathy George.
"I don't try to project where we're gonna be in the Big Ten. I leave that to the play," she said. If there's anything you know about the Big Ten, it's that anything can happen. So if you're gonna sit there and try to forecast what everybody's gonna do, it's not worth your time."
Wise words. We'll see the play Wednesday night; until then, it's all in my head.
Contact Ian Drummond at [email protected] Follow him on Twitter at @idrumma.