Dandron: Confusing end to ASU game as strange as Wildcats' recent dominance over MSU
EAST LANSING, Michigan – This weekend, Michigan State will travel to Evanston, Illinois to take on Northwestern. A game that has now taken on much more importance than some thought it may ever.
Last season, Clayton Thorson passed for 373 yards and scored four touchdowns in a 29-19 win over MSU. Thorson, one of Northwestern's best quarterbacks, in his career scored 11 touchdowns – eight passing and three rushing, while passing for 1,010 yards – in three career games against MSU.
That is exceptional.
Exceptional because Thorson had a career 61-to-45 touchdown to interception ratio, and only passed for just 10,000 yards in his career. The passing yardage he amassed against the Spartans was good for almost a tenth of his career passing yards: in just three of his 53 career starts.
"Their quarterback (Clayton Thorson) played well in those games, and execution. I would say execution, and then there's been some breakdowns," MSU head coach Mark Dantonio said. "Obviously again, anytime there's a play, there's a breakdown, and there's a team that executes and there's a team that has a breakdown, whether it's schematically or functionally or structurally, or whatever it is."
You look at those numbers, a big reason why the Wildcats were able to play so well against the Spartans and put up massive amounts of points whether it be on the road or at home. 
Now with Thorson gone, you would think that this could be a shoe in. Yet, Pat Fitzgerald and his exceptional defense lie in wait.
A big reason why now, coming off a 10-7 heartbreaker against Arizona State, this game has to be ever more important for Michigan State. 
As the Spartans arrive on those windy shores just north of the Windy City, familiar Lake Michigan staring back at them as they reflect on last week. Reflecting also on being faced with a team has had their number, winning four of the last five meetings. 
That loss to the Sun Devils, which seemingly flipped the script so many envisioned MSU would follow – choosing improv over theatrics as 12 men on the field and a 180-pound, freshman quarterback proved to be the bane of Mark Dantonio's pursuit of that seemingly elusive all-time win record.
Dantonio is faced with the tough task of defeating a team that some students graduating this spring may never see their football team defeat – one that was once the doormat of the Big Ten.
I heard students jokingly discussing that t the other day and wondered about the statement. 
What it said about what Fitzgerald has built using what Dantonio taught him during his team as an assistant at MSU was almost humorous.
It is interesting seeing Fitzgerald attend a Big Ten title game in 2018 with that extremely competitive Wildcat team that so many forgot early last season. 
It also says something about the mediocrity some may say the program at MSU has slipped into. 
Rose Bowl, Cotton Bowl and College Football Playoff appearances all in consecutive order like clockwork.
They are seemingly forgotten now, washed away by a win considered to be one of the worst in the Dantonio era – overlooking the ability of Herm Edwards to out-coach Dantonio and the confusion caused on the numerous field goal attempts last weekend. 
A coach's confusion overlooked by a Sun Devil leaping over the long snapper without penalty, so many things happened at the end of that game that now led to where I am with this.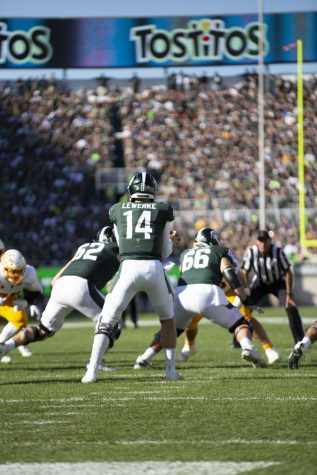 "I think that they need to take a good hard look at the officiating and that's all I'll say," Dantonio said after the loss to Arizona State last weekend. "Because there were some disputes out there. That's all I'll say about that, you got to play the game."
An easy cop out, blaming the refs is. After a loss where your team did not even play well enough to win.
It was a confusing mess, just as confusing as Northwestern's strange dominance over MSU the last five years, as confusing as to why this program has fallen into a rut that Dantonio may not survive.
The only way to turn things around is to get the monkey off his back this weekend – dejavu of the game against Western Michigan, except instead of the offense being called to step down. it's the head coach.
You look at that defense of Northwestern, donning a Holiday Bowl MVP at cornerback in JR Pace. 
A linebacking corp that holds the reigning Big Ten leading tackler in Blake Gallagher and Paddy Fisher – two studs that swallow up the middle of the field – and finally Joe Graziano, who has 22.5 career sacks. 
A frightening foe for an offensive line without a left tackle, forcing so many to look to cat call an unproven freshman in Devontae Dobbs into a position he truly is not ready to assume. 
Northwestern doesn't have the same firepower, especially if Isaiah Bowser doesn't play due to injury.
But that won't matter if the Spartan offense stumbles as it did at home last weekend.
Contact Joe Dandron at [email protected] Follow him on Twitter at @JosephDandronMI.