Spartans encounter challenging offense, fall to No. 3 UConn
EAST LANSING, Michigan – 31 shots. 12 corners. Two goals. This is what Michigan State women's field hockey had their hands full with today. After challenging tough east coast team University of Connecticut, they couldn't come out on top as they faced a hard 2-0 loss.
The game began with a lot of movement in the middle, with both teams feeling out each others style of play. UConn missed two penalty corners and MSU was still holding them up. That didn't last long when UConn's midfielder Abby Gooderham took a shot off a penalty corner and put the Huskies up 1-0.
"I just said to my team, UConn is ranked third for a reason. They are a very disciplined, quick team and they execute their chances and opportunities that they get," MSU head coach Helen Knull said. "We gave up a lot of corners, but I was pleased with how we contested their shots. Their ability to move the ball at that speed…they just created a lot more than we did today."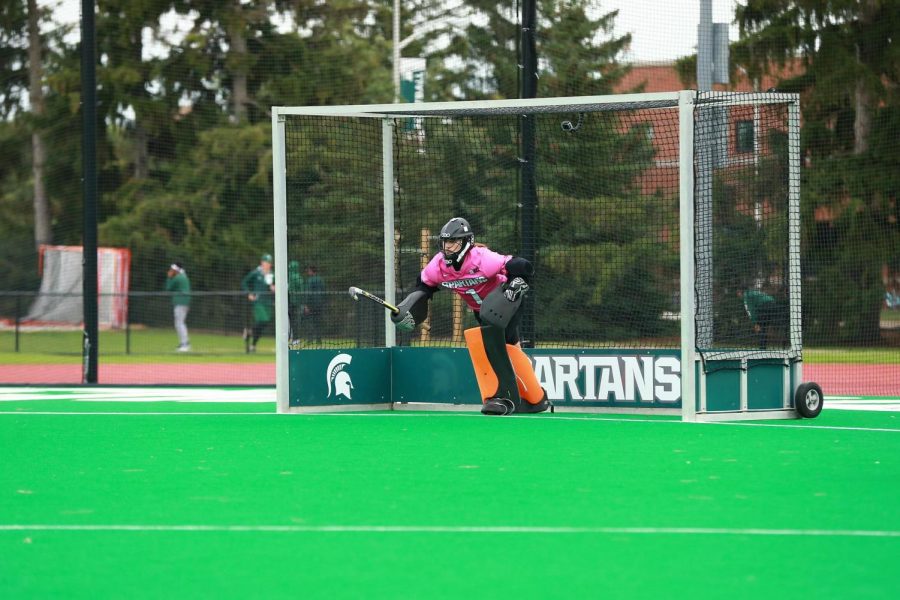 In the second quarter, UConn got on top of it early and continued to press. The Huskies came within inches of going up 2-0 but MSU goalkeeper Jade Arundell, who had 11 saves in the game, got in front and put a stop to it. Michigan State continued to struggle to get clear outs when needed. 
MSU had two penalty corners in the second period, but UConn goalkeeper Abby Lucas blocked the kick and kept MSU off the board. From that point in the second quarter, the pace of play started to slow down for both teams. MSU stiffened up considerably on the defensive side of the ball and brought that with them through the end of the game.
The third quarter was explosive for UConn. They had 11 shots and six penalty corners. With 13 minutes left on the clock, Gooderham got her second goal of the day with Svea Boker and Antonia Tiedtke helping with the assists. UConn took control of the ball the entire game, and executed with a total of 31 shots on goal compared to Michigan State's total of two.
"The lesson I would take from the game is that we can do it. That's simply what I would take from it. They're No. 3 in the nation, we're No. 25. Last year we only won five games. We weren't ranked and we were nowhere near that," Arundell said. "So we take that, yeah we might've lost but when one on one, we competed, we didn't give up no matter what. So from that, I don't take a negative I take home a positive."
Michigan State is full of young players, with only two seniors on the team. They're continuing to grow and learn from talented teams like UConn. The Huskies were able to track the ball with precision and didn't force anything, and that is what the Spartans want to do going forward.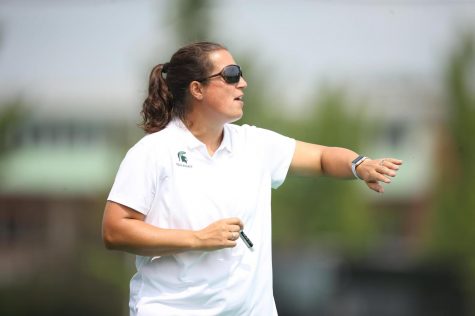 "I said to them (the team), this is where we have to emulate to be. I think that sometimes in losses you learn more than in wins, and I think today there were parts that we're talking about a lot. But we've got to start moving the ball to our right side and we're left and center most of the game. We've got to start implementing that into our game plan and executing it," Knull said.
"I think that whenever you play a top-five opponent, you get a little bit of a gut check, especially with a game like today. We've got to learn from it and we've got to try to take some of the things they did well against us and start doing it ourselves and recognizing that's how we want to start playing."
Michigan State starts Big Ten play next Friday, Sept. 20 at 3 p.m. against Indiana.
Contact Natalie Kerwin at [email protected] Follow her on Twitter at @NatalieKerwin1.