Kudo: Avoidable errors must be fixed now
Hikaru Kudo, Sports Broadcast Director
September 20, 2019
KALAMAZOO, Michigan – The errors need to be fixed, and they need to be fixed now.
Michigan State walked into the Western Michigan Tournament with a 6-1 record, with its lone loss coming to No. 21 Tennessee in a heartbreaking five-set loss.
The match against Auburn could have gone that way, but the Spartans recovered well.
But first with the issues.
Errors were the story of the first set for MSU. The Spartans booked seven service errors, including a pair by veteran libero Jamye Cox and one by graduate transfer Audrey Alford.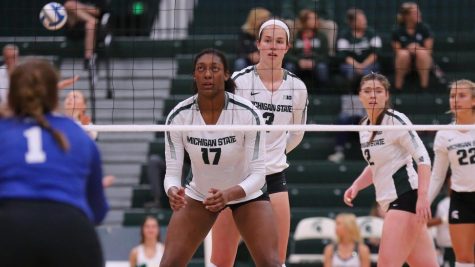 Entering this match, the Spartans averaged 6.43 errors per match. MSU had 16 total errors in the first set, after counting the additional nine attack errors made.
Naturally, the Spartans fell to Auburn 25-22 in the first set.
However, if MSU avoided errors as a whole, they would have won the set. The Spartans impressive hit average of .200 considerably outweighed the .154 average by the Tigers, while MSU delivered 13 kills compared to the seven kills delivered by Auburn.
It's not the issue of MSU not having the tools to be successful or even lacking them – even in the mess the Spartans created, true freshman Biamba Kabengele booked a career-high 15 kills for herself, leading all players on the court.
It's all the avoidable mistakes MSU made.
The Spartans did bounce back, albeit inconsistently.
MSU added an additional 31 errors in the three sets that followed, 43 total errors. An outrageous number of errors.
In comparison, their season-high coming into this match was 44 errors against No. 21 Tennessee, their lone loss this season thus far.
The reason the Spartans won to begin with was because Auburn made only five fewer errors, 39 to be exact.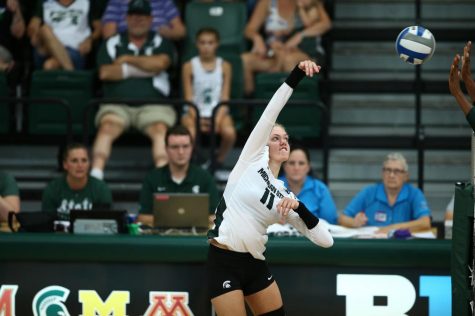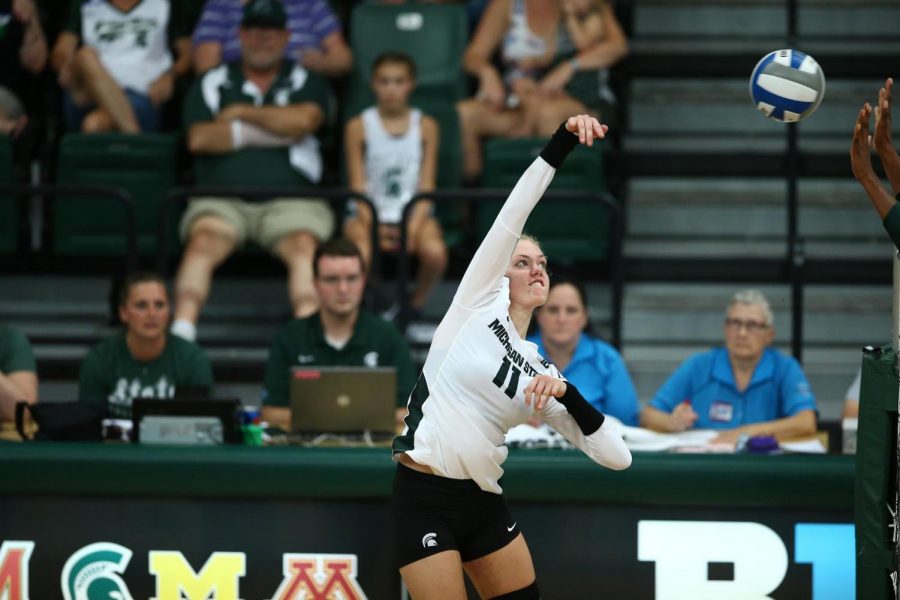 The inconsistency during this match was absolutely ridiculous.
And as a kick in the gut, it's all isolated in serving and attack errors.
The Spartans must focus the rest of the weekend making the least number of errors as physically possible if they want to defeat some of the house powerhouses in the Big Ten.
Playing an easier opponent than Auburn in IUPUI and Western Michigan should help.
All in all, if the Spartans want a shot to remain competitive in the Big Ten this year, or better yet, make the NCAA tournament after falling short last season, the errors must be fixed. And they must be fixed now.
The Spartans play IUPUI at 5 p.m. Friday and conclude their non-conference schedule tomorrow against Western Michigan at 5 p.m. on Saturday. Both matches will be held at University Arena.
Contact Hikaru Kudo at [email protected]. Follow him on Twitter at @HikaruKudo1.