McRae: When is it no longer an overreaction?
Alex McRae, Football Beat Reporter
September 15, 2019
EAST LANSING, Michigan – One image that will be forever seared into my mind is the photo of head coach Mark Dantonio denying a handshake from a coach that had out outcoached him for the second year in a row. After this, in his press conference Dantonio went on to blame the defense for "lapses" when the offense scored seven points, and the referees for suspect calls. I'm sorry, but that is a loser's mentality, I thought coach Dantonio's programs were supposed to be built on a foundation of accountability.
His comments after the loss, in my opinion are even worse than the loss itself. It shows a coach that is just in denial of the reality of his program. This loss is purely on him and his coaching staff. Did execution hurt at times? Most certainly. Did the PAC 12 referees call one of the worst games I've seen since the NFL replacement refs? Sure, but ultimately whose job is it to make sure the players are mentally and physically prepared to overcome such obstacles?
"A lot of things going on, some things we can control, some things we can't control," Dantonio said following the 10-7 loss to Arizona State "Too many missed opportunities, when you look at it – just missed opportunities."
One thing was made excruciatingly clear Saturday evening, this program will no longer be able to legitimately compete for Big Ten titles, let alone anything larger. This defense is the kind of squad Lincoln Riley dreams about. If it had been partnered with even a top-60 offense, it would be almost unbeatable, but for the second year in a row, it appears as if it will be wasted.
I can't help but address the nagging questions on my mind about what I'm sure will be on most Spartans fans minds once they've come to the same conclusions as I have. "How can you declare a team dead after three weeks?" and "If it is time to move away from Coach D, who is out there to replace him?" 
First off, the short answer is, you cannot. This team is only 2-1 and still has the "chance" to go 11-1, they still have the "chance" to win the Big Ten, but where I draw the line is my level of belief.
 I refuse to believe, let alone buy into the notion that a team that can only muster seven points on 406 total yards against a very young Arizona State team, coming off a 19-7 win against Sacramento State with a true freshman quarterback in his first ever road start, can win anything of significance.
 I refuse to believe that an offense that can put that product out on the field, can compete with upper level Big Ten opponents like Michigan, Wisconsin, Penn State or Ohio State. I found it ironic how during the game yesterday, around halftime when MSU was down 3-0, the public address announcer talked about a winning prize that included tickets to "the Michigan State bowl game." I turned around to some friends after hearing that and said "they might want to have a contingency plan."
On the second question, last night's debacle was reminiscent of the game in the desert last September, MSU's loss 16-13, the game in Lincoln, MSU's loss 9-6 the game at Spartan Stadium against a 1-10 Rutgers team, MSU fourth quarter comeback win 14-10, and the Redbox Bowl against Oregon last December, loss 7-6. Consequently, in six of Michigan State's last seven games the offense has gotten the ball in the end zone a TOTAL of four times, in those six they are somehow 2-5.
However, offensive woes are far more than a short-term overreaction. Since Connor Cook graduated, Michigan State's scoring offense has ranked 98th in 2016 (MSU went 3-9), 92nd in 2017 (MSU went 10-3), 122th in 2018 (MSU went 7-6) and, it appears to have not gotten any better in 2019. Outside of the game against WMU, the offense has scored a total of 14 points. If you remove what now appears to be an outlier, the offense would rank 127th out of 130 teams. 
This coaching staff is unable to field an offense that can score the football, whether it be because of drops in key moments, drive-killing penalties or poor play calling in the red zone, it ultimately all comes back to the coaches. Coaches that Mark Dantonio had every opportunity and excuse to fire last offseason, yet he merely shuffled the deck. Loyalty is clearly something Dantonio values very much, but much like any other job, in order to maintain a long leash and autonomy, you must execute and perform.
Since getting embarrassed by Nick Saban's Alabama squad in the College Football Playoff, Mark Dantonio has a total winning percentage of 53% with a Big Ten winning percentage of 48%. This following an era that spanned six seasons in which he set expectations and standards of winning with an 80% total winning percentage, 81% in conference. Dantonio may be the best coach Michigan State has ever had, but in the world of "what have you done for me lately?" It appears as if the game has passed him on. 
As for a possible replacement, the thought of going through a coaching search shouldn't hold a program back from seeking something better than total mediocrity. I couldn't tell you who to hire, but I could tell you that there is a coach out there that, if they had been on the sideline last night, Michigan State would have won.
Fans will argue this criticism is unfair, pointing to the offensive yardage gained, Dantonio's overall record and the defensive prowess. To them I ask, "When is it no longer an overreaction?" How long will you be willing to accept anemic offenses wasting championship caliber defenses? Is that what Michigan State football has become?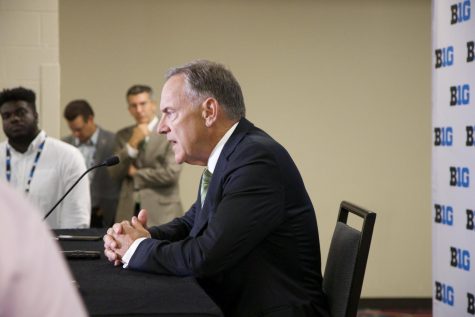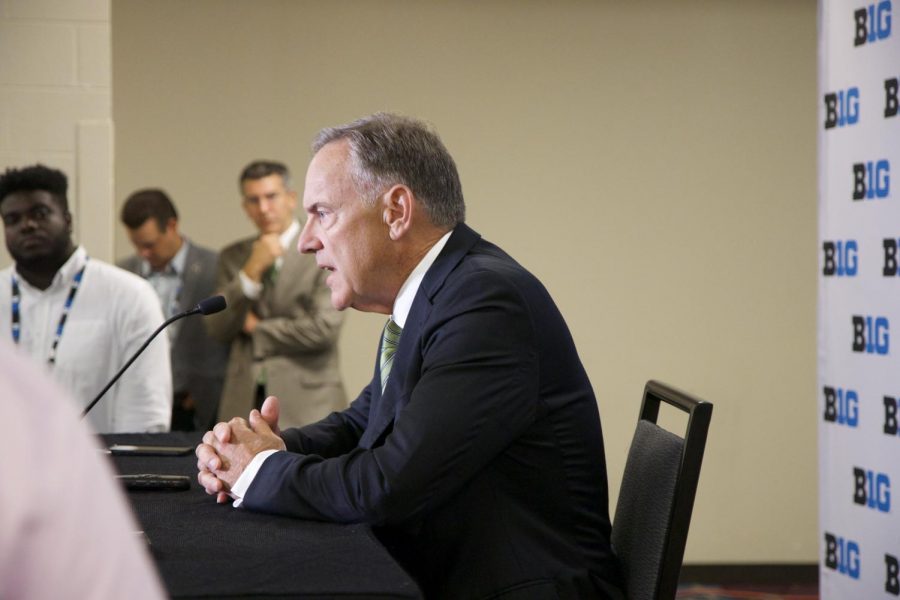 A Rose Bowl in 2014, a Cotton Bowl in 2015 and a College Football Playoff appearance in 2016 feel like a past lifetime. In college football, four seasons is a lifetime, and in the last four seasons Michigan State has been nothing more than a slightly above .500 football team. Is that acceptable? Not if you want to seriously compete on a national stage.
Will this Michigan State administration fire Dantonio? Hell no they won't. The worst part is, he is fully aware of that. Total security, guaranteed security, at any position, guarantees lesser performances. You need the threat of losing something more than a football game to encourage improvement.
I truly believe that until a new athletic director is hired, Mark Dantonio's position, as well as the positions of every coach on the staff will be safe for better or for worse.
Twitter: @Amac595
Email: [email protected]