Spartans take final game of series behind two home runs from Echols
Chloe West, General Assignment Reporter
April 7, 2019
EAST LANSING, Mich. – On a beautiful spring day at Secchia Stadium, the Spartans looked to defeat the Terrapins in the final game of their weekend series. After winning the second game on Saturday, the Spartans were determined to finish the weekend strong.
Maryland picked up the momentum right off the bat, scoring a run in the top of the first. Although, the Spartans came back swinging when outfielder Ebonee Echols hit a home run to bring in her teammate Mackenzie Meech.
Starting pitcher Alli Walker confidently started the second inning, striking out Gracie Voulgaris and Regan Kerr. As the top of the fourth approached, Alli Walker took a seat on the bench and Jordan Watson was brought in to finish the game.
The scoring started to pick up for the Spartans as they entered the bottom of the fourth. Kaitlyn Eveland led it off with an RBI double. The Spartans kept this energy by pounding out more singles to keep the bases occupied. Melanie Baccay and Meech both hit RBI singles to raise the score. All around, the Spartans were contributing one by one.
To raise the bar, Echols hit her second home run of the game to bring in Meech and raise the score to 9-3.
"They were good confidence boosters for me because I was struggling a little bit this weekend," said Echols on her home runs. "I knew as long as a kept confidence in myself I would be able to get it together and succeed with the help of my teammates along the way."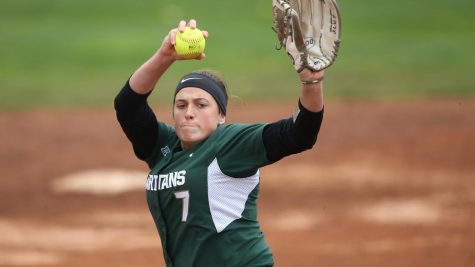 The Terps couldn't score against the rest of the way against Watson, who kept Maryland at bay.
The bottom of the fifth approached with the Spartans still holding a 9-3 lead. The Terps would end up making two pitching changes this inning, Kiana Carr and and Sami Main couldn't handle the Spartans.
After two walks and a sacrifice bunt, the Spartans had loaded the bases. Two more walks thrown from the Terps gave MSU a "walk-off" win for the day. In the end, the final score showed 11-3.
"I think it is really important for us to keep this energy. Even though it's not a non-conference game, it will help us for the non-conference game up next." Echols said.
Michigan State will take on Central Michigan on Tuesday, first pitch is scheduled for 4 p.m.