NBA talk Tuesdays: Pistons' success not a mirage as team barrels toward postseason
All stats and records are prior to the game against Brooklyn on Mar. 11
After taking a week off, burning up in the sands of Florida, we are back to talk some more NBA, and of course being from the state of Michigan, we have to talk about the Detroit Pistons.
But first, sidenote: the Miami Heat have an incredible fan base.
I had the opportunity to go watch the Heat play the Hawks over break and will admit that American Airlines Arena is one of the best sporting environments I have ever been part of. The Miami natives love the Heat and Dwyane Wade, it was crazy to see a fan base rally around a guy who is coming off the bench, yeah, the bench! Pretty wild to see what was actually a very competitive game.
Okay back on track now with the Pistons. Remember when I said they were a Blake Griffin injury away from mediocrity? Yeah I still believe that. This team, however, is playing at the highest level I have seen since Griffin came to Motor City. The fans are beginning to rally around the brand of winning basketball we are seeing at Little Caesars Arena.
Of course as I write this the Pistons are getting trounced 61-35 at the half against "DLoading" – D'Angelo Russell – and the Brooklyn Nets.
Since the All-Star break, sike, I mean February
The Pistons are currently 8-1 since the All-Star break, and since defeating the Dallas Mavericks on Jan. 31, they are 13-3. Detroit has only lost three times since the beginning of practically February. And while this team is far from a championship contender, the quality of play that we are seeing from the Pistons right now is one I haven't seen since Brandon Jennings and the Pistons went on a seven-game winning streak and beat the Spurs in 2015.
That team eventually ran off the rails because of a ruptured achilles suffered by Jennings, which practically ended the high level of play we saw from Jennings and the team.
I feel that this team is different, despite trading Stanley Johnson and Reggie Bullock at the deadline, the Pistons have found guys like rookie Bruce Brown and second-year shooting guard Luke Kennard. Kennard has really rounded into form recently, and I along with many others believed he wouldn't amount to what we are seeing today after watching Donovan Mitchell get picked right after him in the 2017 draft.
Kennard is averaging 17 points per game in March, one of the brightest of bright spots for a roster that needs shooters to spread the floor for the frontcourt tandem of Andre Drummond and Griffin. This development from him, which is a small sample size I understand, has shown many pundits that this guy can straight hoop and may be able to develop into the starter the Pistons expected him to be. Chris Mullin comparisons be damned.
But of course, since the all star break! The Pistons are leading the league in 3-point shooting since Feb. 1, going more than 40 percent from deep. This means that yes, they are even above the Golden State Warriors. The success started before the All-star Break, with the team also leading the league in net rating at 9.4. This is also since Feb 1, which speaks to that 13-3 record I mentioned earlier.
I get that's a lot of numbers, so let me break it down into simpler terms. The Pistons are playing very damn well since February, not just the All-Star break alone.
It is a smaller sample size, but Dwane Casey also has realized the newfound success. The coach praised his team after their fifth consecutive win on Sunday afternoon.
"We gotta continue to play defense, that's the number one thing, you don't get too far in the rankings if you don't defend first," Casey told reporters. "That's one thing we are doing right now is defending. Second, we gotta continue to move the basketball, screen, make the right decisions with the basketball on the offensive end. But first we gotta defend and I think we're doing that much better."
This team has been defending well, with the No. 7 ranked defense in the league since February. They are benefiting from the faltering Celtics and playing their games in the Eastern Conference, owning a 99 percent chance (according to FiveThirtyEight) to make the playoffs. This comes after Sunday's 131-108 win and the Brooklyn and Miami losses prior to this Monday.
Playoffs or bust
The second part of this piece focuses on the Pistons' postseason prospects, as the team is in line for the sixth seed. They would currently play the Pacers, which is favorable seeing as Indiana is led in scoring by Bojan Bogdanovic in the absence of Victor Oladipo.
The Pistons are barreling towards their first postseason appearance since 2015-16, when they were swept by the Cleveland Cavaliers. But one thing be noted, this team is much different from the one that made the postseason several years back. They are playing team basketball, and for as much as I rip apart Reggie Jackson in my own time, he is genuinely playing some of his best basketball. He fits well alongside Brown, Langston Galloway, Kennard and newcomer Wayne Ellington.
It also cannot go without being noted that Griffin is playing some of, if not the best basketball of his career. His per-game averages are great, averaging a career high in points per game at 25.3 to go with more 30-point games than Kawhi Leonard, Lebron James, Russell Westbrook and Kyrie Irving. That's crazy for a guy who sits at 29 years old and was considered to be washed up by many.
This combined with the inspired play of Drummond will make for a formidable playoff tandem, barring a late-season collapse. This is showing that this team could potentially earn the fifth seed and even win a series.
I was talking to a friend of mine at our studios the other day and he told me that he thinks the Celtics could get beat by the Pistons in a seven-game series. When was the last time you heard that? It's crazy to think this team could make the playoffs and with the way they are playing currently, potentially win a playoff series. That's something that hasn't happened since 2008.
Of course only time will tell how Detroit fares in its hopes for the postseason, but this is something the city is burning for as the other three teams toil away. The newfangled Little Caesars Arena is crying for a home playoff game, and so are the fans. It's in the hands of Casey, Griffin and the Pistons now.
Follow @JosephDandronMI on Twitter for annoying sports tweets and email [email protected] for story ideas. 
About the Writer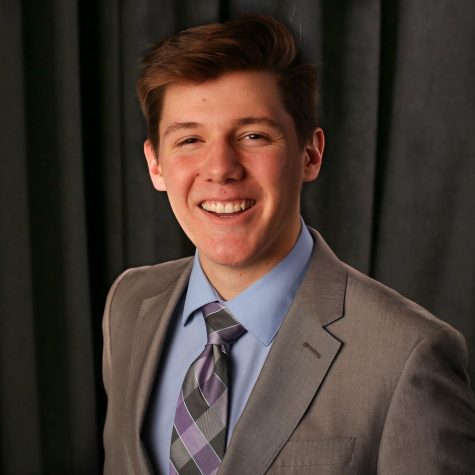 Joe Dandron, Station Manager
Joe is a junior journalism student from Montague, Michigan. Joe serves as the Station Manager for Impact 89FM after spending his sophomore and junior year as Sports Director. Joe covers primarily MSU football, cross country and track and field but fills in covering men's and women's basketball. Joe also broadcasts these sports and has a degree focus in writing, editing, and reporting.  Joe currently works at the Lansing State Journal as a news assistant covering prep sports in the Lansing area and...