Michigan State defeats Brown 68-50, Hauser reaches 1,000 career points
EAST LANSING – The Michigan State men's basketball team earned its seventh win of the season after defeating Brown 68-50 on Friday night. Senior Joey Hauser led the Spartans with 22 points and reached 1,000 career points in the latter half of the game against the Bears. 
The Spartans improve to 7-4 on the season, while the Bears are now 6-5. The Bears were on a five-game win streak before facing MSU. 
"I'm the happiest guy in America now that the 11 games of Hell are over," head coach Tom Izzo said. "Trust me when I say we need some practice time because we probably have less than any team in the country."
The Spartans had a slow shooting performance to start the game, only shooting 1-7 in the first four minutes. The rhythm picked up after senior guard Tyson Walker made a layup and a deep three-pointer in back-to-back possessions to extend the lead to 9-5 after six minutes. 
Junior guard A.J. Hoggard, who scored a career-high 23 points in the win against Penn State on Dec. 7, scored 17 points against Brown. Hoggard shot 4-4 from the free-throw line and the entire team went 6-6.
"It's probably one of my best free-throw shooting teams," Izzo said. "We're not great on nights getting to the line. We'll have to practice that too."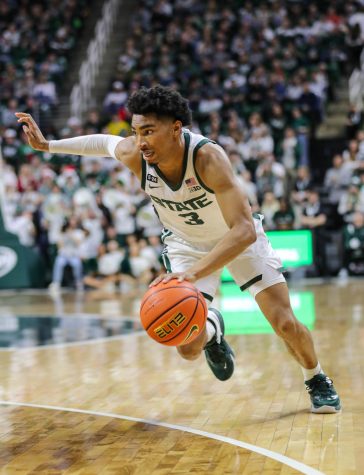 The Spartans finished the first half shooting 38.7% from the floor. Sophomore guard Jaden Akins showed off his range with pair of three-pointers in the first half. He ended the game with three threes and nine points.  
"Jaden Akins is getting better. He's getting healthier," Izzo said. "I don't expect him to be there [at 100% fitness] until Christmas."
MSU went into halftime with a healthy 32-18 lead. 
The Spartans continued their hot scoring streak in the second half, shooting 45% (15-33) and making four three-pointers. Hauser made a three-pointer from the top of the arc to open the scoring in the second half. 
"We didn't set the world on fire offensively," Izzo said. "We're working on our offense. That's where we're a little out of sync."
Hauser received an enormous ovation from the Breslin Center crowd after he subbed off late in the game. Hauser transferred from Marquette in 2020 and has been a fan favorite for many at MSU. 
Apart from his 22 points, Hauser recorded five rebounds and four assists to lead the Spartans to their seventh win of the season. Hauser scored 12 points in the win against Penn State. 
"I don't know if anyone's ever been excited about finals week but we definitely get some time off. I think mentally and physically, we get some time off," Hauser said. "It definitely caught me by surprise [reaching 1,000 career points]."
On the other side, Brown guard Paxson Wojcik led his team with 10 points and 13 rebounds. Wojcik's father, Doug, is an assistant coach for Michigan State. 
Wojcik played at Loyola Chicago before transferring to Brown in 2021. 
MSU guards Davis Smith, Nick Sanders and Steven Izzo played in the final minutes of the game as the Spartans held a comfortable 20-point lead.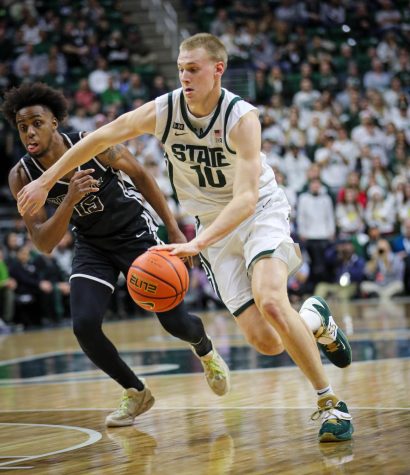 After the final whistle, Michigan State players huddled over Hauser to celebrate his memorable night.
"It was a really cool moment, but definitely even more special to have my teammates surround me and congratulate me," Hauser said.
The Spartans will return to the hardwood when they host Oakland on Wednesday, Dec. 21. Tip-off from the Breslin Center is scheduled for 6:30 p.m.