Spartan softball goes 2-1 in weekend matchup against Purdue
The Michigan State softball team won two games out of three in a weekend road series against the Purdue Boilermakers in West Lafayette.
In Game 1 on Friday, the Spartans shut out the Boilermakers 8-0. MSU was led by strong-hitting performances from senior catcher Kendall Kates and senior outfielders Courtney Callahan and Abby Joseph, who all recorded multiple hits in the game to lead the Spartans to the victory. Sophomore right-handed pitcher Ashley Miller also had a strong pitching performance, recording six strikeouts in the win. 
The scoring wouldn't come until the third inning when Jessica Mabrey doubled to right field. Callahan would then hit a single with a bunt that she followed up with a steal at second base. Junior first baseman Camryn Wincher then hit a flyout to center while picking up an RBI, allowing Mabrey to score the first run of the game.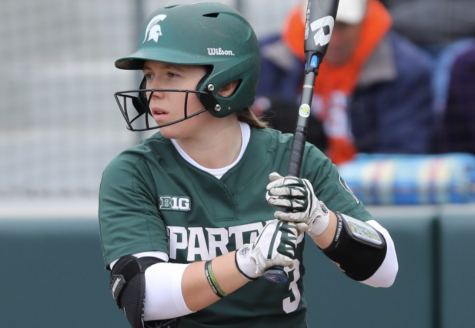 The game started getting out of reach in the top of the fifth inning when a double from Calahan, a single from Wincher, a triple by Kates, and a single for senior outfielder Mackenzie Meech all contributed to a four-run inning.
In Game 2 on Saturday, the Spartans once again shut out the Boilermakers, winning 6-0. Miller and junior left-handed pitcher Sarah Ladd both had strong pitching performances in the shutout win. Miller recorded four strikeouts and allowed no hits in four innings pitched to earn her 13th win of the year. 
Ladd also had a strong day, striking out two Boilermakers in three innings pitched, as the Spartans only gave up one hit in the shutout win. 
Kates homered for the Spartans in the 4th inning, while Senior outfielder Abby Joseph and Meech drove in two runners to help lead the Spartans to the victory.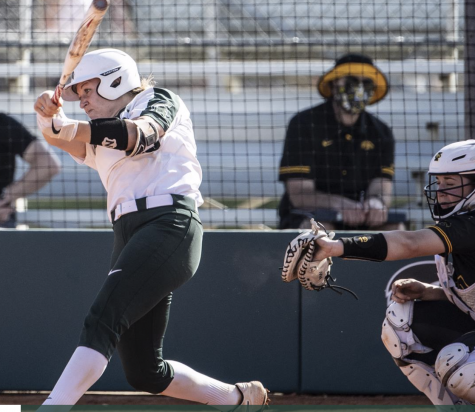 In Game 3 on Sunday, the Boilermakers were finally able to start rolling on offense and would win 3-2 over the Spartans to avoid the sweep. The Spartans opened up the scoring with Joseph's triple that drove in fifth-year second baseman Catie Ladd in the second inning. 
Purdue third baseman Olivia McFadden's singles in the 3rd and 5th innings drove in three Boilermaker runs to give Purdue the 3-2 win.
The Spartans now move to 23-25 on the year with a 3-14 record in Big Ten play. They will return home this week to Secchia Stadium for their final home weekend series against the Maryland Terrapins before they close out the regular season with a road weekend series against the Rutgers Scarlet Knights.