Seven-run second inning dooms MSU in 13-5 loss to Ohio State
COLUMBUS, OH – After two hours of rain and snow delayed the start of MSU's scheduled game against Ohio State on Saturday afternoon, the Spartans fell 13-5 to the Buckeyes after starter Harrison Cook only went two innings and allowed seven earned runs.
With the loss, the Spartans dropped to 12-14 on the season and 1-3 in Big Ten play. Cook saw his season record drop to 0-3 and his ERA balloon to 10.08.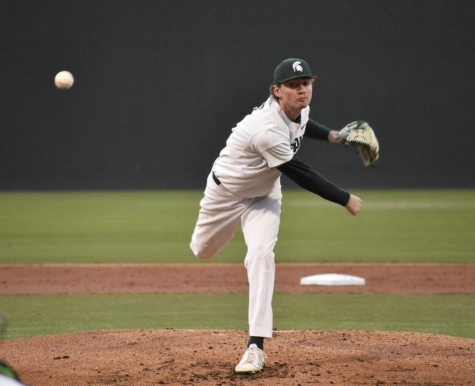 The Buckeyes improved to 10-16 on the season and 1-4 in Big Ten play with the resounding win.
OSU sophomore pitcher Nate Haberthier started the game by striking out the first three batters in order. Cook started the bottom of the inning by forcing a flyout followed by a strikeout. Freshman left fielder Trey Lipsey smacked a single to left-center, but Cook ended the inning by striking out sophomore center fielder Kade Kern.
The second inning saw a similar performance from Haberthier as he notched two more strikeouts in the second. Haberthier finished with seven strikeouts and three earned runs in 4 ⅔ innings of work. Relief pitcher Jake Johnson would pick up the win after going 1 ⅓ innings and notching a strikeout.
For OSU, its offense smacked Cook in the second inning en route to a seven-run frame. Cook  started off walking designated hitter Blayne Robinson. Singles by senior third baseman Colton Bauer and second baseman Tyler Pettorini left the bases loaded; a sacrifice fly to center field by catcher Archer Brookman brought Robinson home to give OSU the 1-0 lead. RBI singles from right fielder Mitch Okuley and senior shortstop Marcus Ernst further prolonged Cook's rough inning. Senior first baseman Zach Dezenzo would score the fourth run of the game after being driven in thanks to an RBI triple from Lipsey. He would subsequently be driven in with a single from Kern. 
Cook would be removed after the second inning, giving way to Jack Brockhaus. He would give the MSU bullpen some much-needed innings, retiring 10 batters and only allowing one earned run.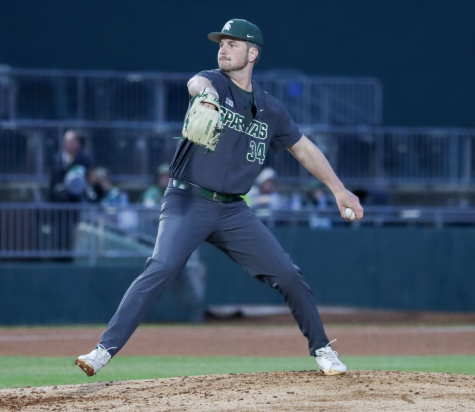 The Spartan offense, led by third baseman Dillon Kark and second baseman Mitch Jebb, would score a run in the fourth inning and two in the fifth, but the OSU offensive onslaught proved to be too much to overcome. A five-run sixth inning doomed the Spartan; relief pitcher Dominic Hann only retired one batter while giving up four earned runs.
MSU scored five runs on nine hits, accompanied by five total walks. Kark was the only Spartan with multiple hits; eight different players registered a hit for the Spartans.
As a team, the Buckeyes pounded out 20 hits and manufactured four walks. Lipsey had a career-high five hits to go along with four RBI's. The Southfield, Michigan native helped to spearhead an offense that saw eight different players register a hit.
The Spartans and Buckeyes will wrap up the three-game series with a doubleheader on Sunday afternoon. MSU will be looking to snap a five-game losing streak. First pitch is scheduled for 1:05 p.m.