MSU adds pair of forwards for 2022-23 class
EAST LANSING — Michigan State has announced two additional signings for the upcoming 2022-23 season, adding freshman Gavin Best and graduate transfer Justin Jallen to the roster. Both players are set to join fellow Spartan signees Matt Basgall, Daniel Russell, and Tiernan Shoudy as part of a revamped MSU lineup. 
"Gavin and Justin will both add to our depth up front and scoring" MSU coach Danton Cole said.  "Gavin uses his speed and smarts well to be an effective 200-foot player. Justin will join our program as a grad transfer from Brown, where he's been among his team's top scorers each year.  Justin brings a veteran presence and will add leadership to our returning corps.  We're looking forward to having them join us this summer to prepare for next season.  We're excited about what we believe they can contribute to Spartan hockey and Michigan State University."
Best, a native of Richfield, Minnesota, has spent the last two seasons playing in the North American Hockey League with the Minnesota Magicians. He is currently second on the team in points (52) and is tied for the team lead in assists (33). He also has 19 goals in 53 games this season. 
Best also comes into the program having played three seasons of high school hockey. He earned All-Conference honors in his senior year and led Blake School to a third-place finish in the 2020 Minnesota Class 2A boys hockey state championship. Best also played golf in high school, earning All-Conference accolades twice and a team state title in 2017.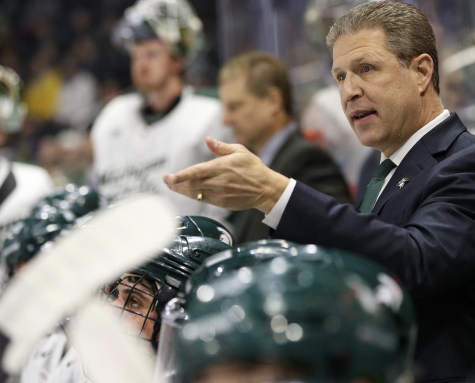 Jallen joins the Spartans having played 94 career games at Brown University. The St. Paul, Minnesota native was an assistant captain last season and was a Second Team All-Ivy League selection. He led the Bears last season with 17 points and amassed 42 points (27 goals) in his four seasons with the team; Jallen scored at least eight goals and 12 points in each of his three seasons at Brown.
Jallen also played in the NAHL before his collegiate career, appearing in 58 games for the Northeast Generals. He amassed 47 points in the 2017-18 season, with 23 of those points being goals. He was also a member of his high school golf team and played high school hockey with St. Paul Academy. 
Best and Jallen now comprise two of four incoming forwards for next year's roster, with fall signees Tiernan Shoudy and Daniel Russell as the others. All four will be certain to battle for time in the forward corps with the loss of seniors Mitchell Lewandowski, Adam Goodsir and Mitchell Mattson. 
As of now, the Spartans have one incoming defenseman, freshman Matt Basgall. With the loss of seniors Cole and Christian Krygier and Dennis Cesana, who signed a contract with the Florida Panthers, the Spartans have six defenseman on the roster heading into 2022-23. 
The roster will be sure to shake up a lot heading into the offseason as the Spartans will look for pieces to bolster depth scoring and shore up the defense.