Michigan State swept by Northwestern, falls to 16-13 on the season
EVANSTON—After winning five straight games over the likes of Oakland and Central Michigan, Michigan State was looking to knock off No. 11 Northwestern on the road, a team it hadn't beaten since May 12, 2018 in any capacity.
That nearly four-year losing streak stretching the past eight games will last a little longer. 
The Spartans were swept by the Wildcats in a three-game set and outscored 20-7. With the sweep, the Spartans dropped to 16-13 on the season and 0-3 in Big Ten play. MSU also saw its road record drop to 3-10.
In Game 1 of the doubleheader on Friday, the Spartans were shut out 3-0 and only recorded one hit off the bat of sophomore second baseman Zaqaui Dumas while committing three errors.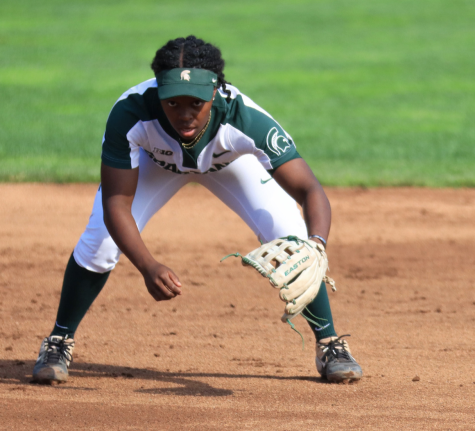 Northwestern senior pitcher Danielle Willams recorded her 12th win of the year in the shutout win; MSU starting pitcher Ashley Miller's pitching record dropped to 9-6 on the season despite going six innings of no earned runs (three unearned). She also struck out nine Wildcat batters and saw her season ERA drop to 0.70.
The dormant MSU offense would wake up in the evening tilt but struggled on defense en route to an 8-6 defeat. The Spartans recorded 10 hits and four walks while the Wildcats generated only five hits.
However, the Spartans once again did their pitchers no favors by committing three errors which were directly responsible for three Northwestern first inning runs. MSU also yielded seven walks. Dumas had a two-run home run in the second inning for the Spartans, but the struggles of starting pitcher Sarah Ladd ultimately doomed MSU.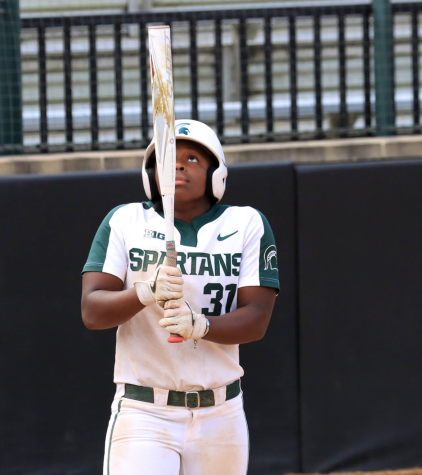 Ladd struggled with her control in only one inning of work, giving up three earned runs, two walks and four hits. Freshman pitcher Ashley Martin would subsequently give up five walks in five innings of work, but would only surrender two earned runs.
Center fielder and leadoff hitter Jessica Mabrey had a solid offensive showing for the Spartans in Game 2, getting on base four times (two hits and two walks). In total, seven different players recorded at least one hit for MSU. 
Saturday's game was moved to Sunday due to inclement weather in the area, but once again, the Spartans committed three errors and lost to the Wildcats 9-1. Despite three innings of two-run ball from Miller, MSU only mustered one run on two hits and three walks.  This, combined with a grand slam from Northwestern right fielder Rachel Lewis in the sixth inning, doomed the Spartans to their third consecutive loss. 
MSU will now head back home to square off against Detroit Mercy in a doubleheader on Tuesday afternoon before welcoming in Toledo on Wednesday. The Spartans will then host Ohio State for a three-game set over the weekend before welcoming in Oakland on April 5.