Impact of Russian-Ukraine War on Michigan
People all over Michigan have been feeling the impact of the Russian invasion in Ukraine since the middle of February. 
Shortly after the invasion, sanctions were heavily piled on Russia's economy. One of these sanctions included barring Russia from using the Society for Worldwide Interbank Financial Telecommunications (SWIFT) banking system, preventing Russian banks from participating in the international payment network.
Other sanctions included closing airspace from any Russian aircraft, freezing the assets of Russian oligarchs, including President Putin himself, and banning the export of oil refinery equipment.
The sanctions have hit the Russian economy hard. For days, the Russian Ruble has been devalued by 38% since the new year.
Michigan itself is not immune to the effects of the Russian invasion. One product Michiganders will notice a price difference is fueling their gas tanks. Russia is the second-largest producer of crude oil in the world. The invasion of Ukraine has sparked an increase in oil prices globally. 
The invasion created an immediate global supply shock, making the oil market volatile. Businesses involved with oil immediately shunned Russian oil, working to remove Russian oil from their daily global supply.  
Here in Michigan, citizens are feeling it in their wallets. Gas station attendees have also been managing customers asking if gas prices have already increased. "I've had at least five customers come in and ask if their prices are going up already. And so with all the expectation, I'm expecting it myself to go up," said Zuhair Jafar, who was interviewed by WLNS. As of March 8, Lansing's gas prices average around $4.25 per gallon for regular gas.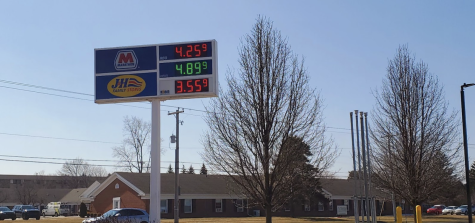 Crude gas prices are expected to continue increasing gradually through the Spring, depending on the course of the conflict and if sanctions are directly targeted at Russian oil production. To combat rising gas prices, Biden authorized former Michigan Governor and current Secretary of Energy, Jennifer M. Granholm, to release 30 million barrels of oil from the Strategic Petroleum Reserve. In addition, 30 other countries are doing similar actions to stabilize the oil market, which should help decrease how much gas prices rise in Michigan. 
Other areas of trade will also be affected by this conflict as well. For example, businesses based in Michigan with ties to Russian businesses have postponed their plans.
 "I have clients that range from FIN-TECH companies to healthcare, called med-tech companies, to mobility companies," Jonathan Quarles, the founder of the BTL group, said. Jonathan Quarles is also CEO of the BTL Group, with vast experience in global finance and businesses. 
The impact is expected to be as dramatic as for businesses located in Europe, especially those close to the Russian border.